Musterknaben
Director: Johannes Knittel, 74 Min., Black-White, Feature Film
Deutsche Demokratische Republik (DDR)
DEFA-Studio für Spielfilme, 1959
Film/Video Format

35 mm

Length in m

2014

Other Title

Das Beschwerdebuch; Alles aus Liebe

English Title

The Goodies

Premiere Date

Release Date (for Cinema)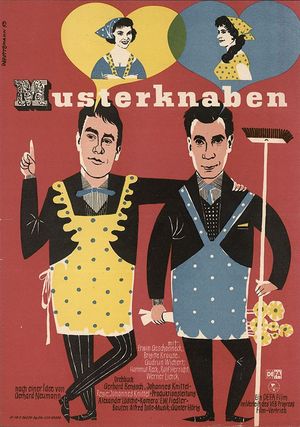 Short Summary (English)
The friends Bassi and Edwin, both of them construction workers, are the black sheep of their brigade. They are constantly late for work and basically unreliable. Furthermore, Bassi and Edwin neglect their housemates, as do, in fact, all the brigade's members. After they meet the pretty girls Thea and Susi, however, they start changing their attitudes. The young ladies are part of same living community, and when Bassi and Edwin pick them up for a date they barge into a turbulent residents meeting. For fun, Bassi and Edwin pretend to be the expected officials - not knowing that they are going to have trouble to get out of these responsible roles.
(Quelle: filmportal)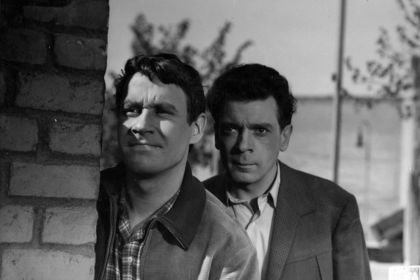 Film Crew
Script

Gerhard Bengsch
Johannes Knittel

Cast

Hartmut Reck (Bassi)
Rolf Herricht (Edwin)
Brigitte Krause (Thea)
Gudrun Wichert (Susi)
Erwin Geschonneck (Arthur Wedel)
Peter Marx (Kaiser)
Paul R. Henker (Scholz)
Fritz Diez (Weber)
Gerd Biewer (Benno Graf)
Gabriele Hoffmann (Sabine)
Hans Klering (Grimm)
Peter Kiwitt (Matzke)
Werner Lierck (Tetzlaff)
Lotte Loebinger (Klara Wedel)
Edith Volkmann (Frau Grimm)
Dorothea Thiesing (Frau Matzke)
Maika Joseph (Frau Tetzlaff)
Sabine Thalbach (Röschen Grimm)
Max Klingberg (Närrischer)
Walter Stolp (Wirt)
Oswald Foerderer (Fuhrmann)
Johannes Maus (Arbeiter)
Wolf Lucas (Bootsverleiher)
Günther Polensen (Schaffner)
Senta Cordel (Frau mit Tasche)
Paula Schindler (Frau auf dem Dampfer)
Helga Raumer (Volkspolizistin)
Ursula Fröhlich (Frau am Fenster)
Axel Triebel (Mann im Büro)
Ilse Bastubbe (Sachbearbeiterin)
Werner Dissel (Ober)
Waldemar Jacobi (Pförtner Heinrich)
Jean Brahn (Fahrer Krause)
Gustav Püttjer (Schiffer)
Agnes Kraus (Alte Lehrerin)
Ursula Braun (Ursula Kaiser)
Habbo Lolling (Junger Arbeiter)
Irmgard Weber (Frau in der Wohnungsverwaltung)
Ursula Goin (Sekretärin)
Peer Jäger (Kuddel)
Dieter Brose (Heini)

Musical Performance

Dresdner Tanzsinfoniker (Leitung: Günter Hörig)

Costume Design

Walter Schulze-Mittendorff

Make-Up

Georg Macionga
Elfriede Hermann
Rosemarie Wittke

Unit Production Management

Heinz Ullrich
Bruno Schlicht
Wolfgang Bertram
Short Summary (German)
Der junge Bauarbeiter Bassi und Edwin sind die ständig verschlafenden schwarzen Schafe ihrer Brigade. Die Brigade wiederum vernachlässigt ihre Paten-Hausgemeinschaft. Und wie der Zufall es will, begegnen Bassi und Edwin zwei netten Mädchen, Thea und Susi, die in eben dieser Hausgemeinschaft leben. Als die beiden Jungen den Mädchen ihre Aufwartung machen wollen, geraten sie in eine turbulente Hausversammlung. Der Vorsitzende Wedel ist mit untauglichen Methoden dabei, die inaktiven Kleinbürger aufzurütteln, und erwartet zur Unterstützung einen Funktionär. Bassi und Edwin übernehmen spaßeshalber dessen Funktion und geraten unversehens in die Pflicht. Sie hatten nicht gewusst, dass es sich um "ihre" Hausgemeinschaft handelt. So wandelt sich das Liebesabenteuer nicht nur privat in eine ernste Angelegenheit.
(Quelle: Das zweite Leben der Filmstadt Babelsberg. DEFA-Spielfilme 1946-1992)
Short Summary (Other Languages)
Bassi ed Edwin, due giovani operai edili, sono le pecore nere della loro squadra, che a sua volta trascura la comunità abitativa che le è stata affidata. Il destino vuole che Bassi ed Edwin incontrino due simpatiche ragazze, Thea e Susi, che vivono proprio in quella comunità. Andando a trovarle, i ragazzi incappano in un'agitata riunione di condominio in cui Wendel, l'amministratore, per risvegliare gli animi degli inoperosi condomini, chiama in auto un funzionario. Per scherzo, Bassi ed Edwin si spacciano per funzionari e vengono chiamati a fare il proprio dovere. L'avventura amorosa si tramuta ben presto in una faccenda seria. (Italienisch)