Nebelnacht
Director: Helmut Nitzschke, 84 Min., Black-White, Feature Film
Deutsche Demokratische Republik (DDR)
DEFA-Studio für Spielfilme, 1968
Film/Video Format

35 mm

Length in m

2316

Other Title

Gefährliches Schweigen

English Title

The Foggy Night

Premiere Date

Release Date (for Cinema)

Literary Source

Rank, Heiner: "Nebelnacht", Roman

Releases

DVD: ICESTORM Entertainment GmbH / www.icestorm.de
Short Summary (English)
When a motorcyclist dies in an accident, lieutenant Kreutzer and his colleague Arnold receive the order to investigate the backgrounds of this mysterious case. Although the leads point to murder, head physician Dr. Nikolai, the driver of the car involved in the accident, maintains his innocence and even has an alibi. With a lot of arduous detail work, Kreutzer follows all leads and evidence. Both Nikolai's colleagues and his son act suspiciously. Eventually, Kreutzer convicts the criminal who secretly used the physician's car for his criminal dealings.
(Quelle: filmportal)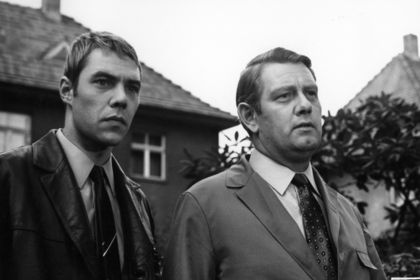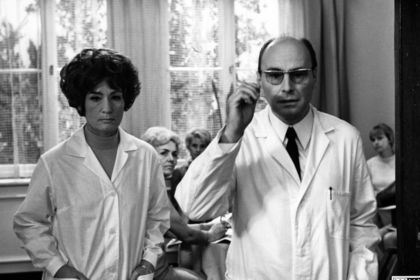 Film Crew
Script

Heiner Rank
Helmut Nitzschke

Cast

Peter Borgelt (Oberleutnant Kreutzer)
Gunter Schoß (Unterleutnant Arnold)
Hannjo Hasse (Dr. Egbert Nikolai)
Hans-Peter Minetti (Karl Svenson)
Gisela Büttner (Katja Alverdes)
Inge Keller (Mathilde Nikolai)
Rolf Hoppe (Herr Kranephul)
Käthe Reichel (Sachbearbeiterin)
Erika Pelikowsky (Frau Klettenbaum)
Marianne Wünscher (Frau Hecht)
Lissy Tempelhof (Frau Stouder)
Sabine Krug (Frau Kranephul)
Hans Hardt-Hardtloff (Hermann Hecht)
Wolfgang Pampel (Werner Findeisen)
Ernst Meincke (Bruno Hecht)
Herbert-Wolfgang Krause (Dieter Nikolai)
Barbara Adolph (Oberschwester Inge)
Herbert Sievers (ABV Noack)
Paul Berndt (Dr. Fritsche)
Friedrich-Wilhelm Junge (Dr. Süring)
Dorit Gäbler (Schwester Erika)
Heidi Pfanne-Weigelt (Schwester Ursula)
Gudrun Ritter (Sekretärin von Dr. Nikolai)
Günter Schubert (Herr Peters)
Brigitte Wähner (Frau Kreutzer)
Ernst-Georg Schwill (Mechaniker)
Gerlind Schulz (Mädchen im Gartencafé)
Rudolf Fleck (Wächter)
Herrmann Ramoth (Kriminaltechniker)
Jochen Hentschel (Peter Burgwedel)
Claudia Kutzera (Maria)

Unit Production Management
Short Summary (German)
Oberleutnant Kreutzer untersucht mit seinem jüngeren Kollegen Arnold einen Verkehrsunfall, bei dem ein Motorradfahrer ums Leben kam. Die Spuren deuten auf vorsätzliche Tötung. Verdächtig ist der Chefarzt Dr. Nikolai, dessen Wartburg am Unfall beteiligt war. Trotz eines Alibis verhält er sich merkwürdig, unter den Kollegen seiner Klinik gibt es Spannungen, auch sein Sohn zeigt auffälliges Benehmen. Kreutzer geht in präziser Kleinarbeit allen Spuren, jedem Verdacht nach, gerät dabei manches Mal in Widerspruch zu seinem jungen Assistenten, der zu vorschnellen Schlussfolgerungen neigt. Am Ende hat sich seine Methode ausgezahlt. Er kann den Täter, der Dr. Nikolais Wagen für krumme Geschäfte benutzte, stellen.
(Quelle: Das zweite Leben der Filmstadt Babelsberg. DEFA-Spielfilme 1946-1992)
Short Summary (Other Languages)
Il tenente Kreutzer indaga con Arnold, suo giovane assistente, su un incidente stradale costato la vita a un motociclista. Le tracce fanno presagire che si sia trattato di un omicidio premeditato. I sospetti ricadono sul Dr. Nikolai, medico primario, e sulla sua Wartburg. Nonostante abbia un alibi, il medico si comporta in modo strano, si scontra con i colleghi e anche suo figlio adotta un comportamento atipico. Kreutzer segue meticolosamente ogni pista, trovandosi spesso in contraddizione con il suo giovane assistente, propenso alle facili conclusioni. Alla fine il suo metodo darà buoni risultati: Kreutzer individua il colpevole, che aveva usato la macchina del Dr. Nikolai per dei loschi affari. (Italienisch)