... nichts als Sünde
Director: Hanus Burger, 105 Min., Color, Feature Film
Deutsche Demokratische Republik (DDR)
DEFA-Studio für Spielfilme, 1965
Film/Video Format

35 mm

Length in m

2890

Other Title

Was ihr wollt

English Title

Nothing But Sin

Premiere Date

Release Date (for Cinema)

Literary Source

Shakespeare, William: "Was ihr wollt", Komödie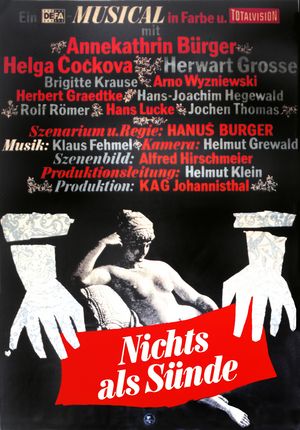 Short Summary (English)
Based upon Shakespeare's "Twelfth Night", the movie tells the story of the Duke of Illyria who is in love with the Countess Olivia. Olivia, however, keeps eluding him. When the Duke sends her a page to bring her a message, Olivia falls in love with the messenger who is in fact a woman called Viola. After she was shipwrecked on the shores of Illyria, Viola assumed the role of her missing brother. She cannot return Olivia's love because she, in turn, adores the Duke. Soon, however, her missing brother reappears and the fast-paced comedy on mistaken identities comes to a happy ending for all parties involved in the love entanglements.
(Quelle: filmportal)
Film Crew
Script

Hanus Burger
Maurycy Janowski
Helmut Grewald
Alfred Hirschmeier
Ingrid Reschke (geb. Meyer)

Cast

Helga Cočkova (Viola)
Annekathrin Bürger (Olivia)
Brigitte Krause (Maria)
Arno Wyzniewski (Herzog Orsino)
Herwart Grosse (Malvolio)
Hans Lucke (Narr)
Hans-Joachim Hegewald (Junker Tobias)
Rolf Römer (auch: Rolf Specht) (Junker Andreas)
Herbert Graedtke (Sebastian)
Jochen Thomas (Antonio)
Rolf Herricht (Fernsehreporter)
Peter Kiwitt (Majordomo)
Günter Rüger (Barbier)
Joachim Siebenschuh (Einer der vier Beatles)
Dieter Schaarschmidt (Einer der vier Beatles)
Werner Möhring (Einer der vier Beatles)
Joachim Fuchs (Einer der vier Beatles)
Paul Lewitt (Schneidermeister)
Sabine Thalbach (Bürgersfrau)
Agnes Kraus (Bürgersfrau)
Hans-Jürgen Plust (Kapitän)
Hannes Vohrer (Langer Matrose)
Elke Rieckhoff (Blinker-Mädchen)
Georg Irmer (Sbirre)
Hans-Eberhard Gäbel (Adjudant von Antonio)
Alfred Lux (Pirat)
Vera Byl (Junges Mädchen)
Fredy Barten (Dicker Bürger)
Karin Bischof (Jungfrau / Gärtnermädchen)
Günther Schwarzlose (Shakespeare)
Brigitte Riemann (Gärtnermädchen)
Monika Reeh (Gärtnermädchen)
Carlos Rom (Clown)
Rainer Elvers (Clown)
Angelika Gründel (Junges Mädchen)
Emil Schomburg (Garkoch)
Thea Beyer (Fischfrau)
Kurt Zabel (Fechter)
Hermann Tornow (Fechter)
Heinz-Peter Sehmisch (Fechter)
Karl-Heinz Saar (Fechter)
Willy Wenghöfer (Fechter)
Rudi Bernburg (Page)
Edeltraud Bleinagel (Junges Mädchen)
Christa Müller (Junges Mädchen)
Inge Merten (Junges Mädchen)
Roland Kuchenbuch (Gärtnerbursche)
Walter Nickel (Gärtnerbursche)
Bernd Bartoszewski (Gärtnerbursche)
Armin Mechsner (Gärtnerbursche)
Wolfgang Winkler (Gärtnerbursche)
Stefan Jerzy Zweig (Gärtnerbursche)

Assistant Director

Ingrid Reschke (geb. Meyer)
Christa Müller

Assistant Camera

Klaus Groch
Herbert Kroiss

Script Editing

Maurycy Janowski
Traudl Kühn

Music

Klaus Fehmel
Karl-Ernst Sasse (Musikbearbeitung)

Sound

Wolfgang Höfer
Günter Lambert (Musik)

Musical Performance

Jutta Hoffmann (Gesang (Viola))
Annekathrin Bürger (Gesang (Olivia))
Brigitte Krause (Gesang (Maria))
Fred Frohberg (Gesang (Herzog Orsino))
Gerry Wolff (Gesang (Malvolio))
Manfred Krug (Gesang (Narr))
Rolf Römer (auch: Rolf Specht) (Gesang (Junker Andreas))
Hans-Joachim Hegewald (Gesang (Junker Tobias))
Manfred Raasch (Gesang (Sebastian))
Chorsänger des Staatlichen Rundfunkkommitees (Gesang)
Ballett der Deutschen Staatsoper Berlin (Tanz)
Tanzorchester des Berliner Rundfunks (Leitung: Günter Gollasch)
DEFA-Sinfonieorchester (Leitung: Lothar Seyfarth)

Make-Up

Günter Hermstein
Ursula Funk
Inge Merten

Unit Production Management

Text

Günther Deicke
Maurycy Janowski

Design

Hannes Vohrer (Choreografie)
Short Summary (German)
Der liebestrunkene Herzog von Illyrien sendet seinen Pagen als Boten zur angebeteten Gräfin Olivia, die sich der Werbung des Herzogs schon lange entzieht und nun in dessen Pagen verliebt. Der aber ist ein Mädchen: Viola, die nach einem Schiffbruch an Illyriens Küste strandete und sich in Männerkleidern als ihr verschollener Bruder ausgibt. Sie wiederum ist in ihren Herrn, den Herzog verliebt. Ein turbulentes Verwechslungsspiel beginnt, in dessen Verlauf Violas Bruder wieder auftaucht. Am Ende bekommen beide Frauen den Mann ihres Herzens.
(Quelle: Das zweite Leben der Filmstadt Babelsberg. DEFA-Spielfilme 1946-1992)
Short Summary (Other Languages)
Il Duca d'Illiria, ebbro d'amore, invia il suo paggio dall'amata Contessa Olivia, che si sottrae alle sue avances, innamorandosi, invece, del paggio. In realtà il ragazzo si chiama Viola. Sopravvissuta a un naufragio lungo le coste dell'Illiria, la ragazza ha deciso di travestirsi da maschio e spacciarsi per suo fratello, disperso dopo l'incidente. Viola è innamorata del suo padrone, il Duca. Dopo uno scambio di ruoli piuttosto burrascoso, durante il quale rispunta il fratello di Viola, la storia trova il suo lieto fine ed entrambi le donne conquistano l'uomo dei loro sogni. (Italienisch)