Pole Poppenspäler
Director: Arthur Georg Otto (auch: Artur) Pohl, 88 Min., Color, Feature Film
Deutsche Demokratische Republik (DDR)
DEFA-Studio für Spielfilme, 1954
Film/Video Format

35 mm

Length in m

2403

English Title

Pole Poppenspaeler

Premiere Date

Release Date (for Cinema)

Literary Source

Storm, Theodor: "Pole Poppenspäler", Novelle

Releases

DVD: ICESTORM Entertainment GmbH / www.icestorm.de
Short Summary (English)
On his travels, Paul, a journeyman from northern Germany, runs into a childhood friend, Lisei, a puppeteer's daughter. They fall in love and get married. Together with Lisei's father, the young couple moves to Paul's hometown.
Although Paul himself is accepted - even respected - by the stuck-up and snooty citizens, the young woman is rejected by the town dwellers, who are imbued with class arrogance. Paul stands up for his wife but the scorn and abuse heaped on her weigh heavily upon him. Lisei and her father are deeply hurt by all the insults. Yet, the old man wants to take up puppetry again and Paul encourages him in this undertaking. But the opening night turns into a complete flop and the old puppeteer dies. Now, Lisei and Paul stand together even more closely they show a bold front to the people's class arrogance.
Source: Progress Film-Verleih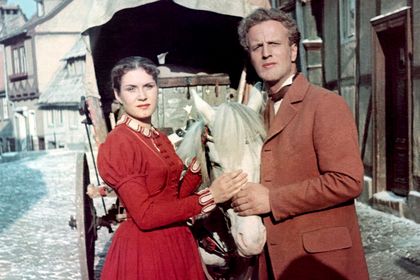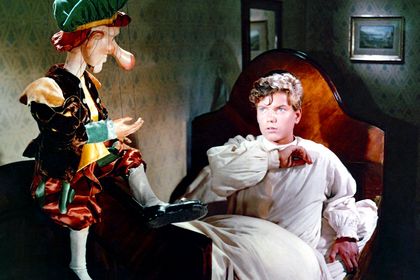 Film Crew
Director

Arthur Georg Otto (auch: Artur) Pohl

Script

Arthur Georg Otto (auch: Artur) Pohl

Cast

Heliane Bei (Lisei)
Ines Henning (Lisei als Kind)
Heinz Höpner (Paul Paulsen)
Wolfgang Schwarz (Paul als Kind)
Willi Kleinoschegg (Vater Tendler)
Paula Braend (Frau Tendler)
Annemarie Hase (Kröpellieschen)
Leny Marenbach (Frau Paulsen)
Wilhelm Koch-Hooge (Herr Paulsen)
Lou Seitz (Meisterin)
Herbert Richter (Auktionator)
Rudolf Klix (Probst)
Aribert Grimmer (Mechaniker Schmidt)
Agnes Kraus (Frau Schmidt)
Egon Vogel (Schnittwaren-Händler)
Rudolf Schröder (Geselle Heinrich)
Charles Hans Vogt (Gefängnisinspektor)
Eduard Bornträger (Arzt)
Michael Chevalier (Sohn)
Willi Puhlmann (Sohn)
Herbert Rüdiger (Bürger)
Nico Turoff (Fleischer)
Fredy Barten (Fleischer)
Hans Hellenberger (Kommissar)
Else Korén (Mutter im Auktionssaal)
Erwin Luck (Kapitän)
Erich Nadler (Bürger)
Ellen Plessow (Bürgerin)
Arthur Reppert (Bürger)
Friedrich Radtke (Stadtausrufer)
Klara (auch: Cläre) Reschke (Bürgerin)
Leo Sloma (Wirt)
Axel Triebel (Bürger)
Egon Grell (Jüngerer Sohn)
Harald Redocke (Jüngerer Sohn)
Otto Sommer (Stellmacher)
Hans Hell (Schreiber)
Kirsten Schmidt (Kind im Auktionssaal)
Ursula Röschmann (Frau Endersen)
Margarete Kässbaum-Hess (Frau am Fenster)
Eduard Korschat (Freund von Paul)
Bernd Czymai (Freund von Paul)
Hubert Temming (Bürger)
Bruno Hagemeister (Bürger)
Hans-Olaf Hanko (Bürger)
Paula Schindler (Bürgerin)
Fred Adrian (Bürger)
Ursula Mundt (Bürgerin)
Ingrid Barkmann (Bürgerin)
Toni Meitzen (Bürger)
Michaeline Reichert (Bürgerin)
Genia Lapuhs (Bürgerin)
Else Sanden (Bürgerin)
Erich Reimers (Bürger)
Elisabeth Suessenguth (Bürgerin)
Kurt Pfeiffer (Bürger)
Walter Salow (Bürger)
Gabriele Hartmann (Bürgerin)

Make-Up

Alois Strasser
Elfriede Kuster

Animation

Karl Iwowski (Marionetten)
Ilse Iwowski (Marionetten)
Short Summary (German)
Auf seiner Wanderschaft begegnet der norddeutsche Handwerker-Geselle Paul seiner Freundin aus Kindertagen wieder, der Puppenspieler-Tochter Lisei. Die beiden lieben sich, heiraten, und Paul kehrt mit Lisei und ihrem alten Vater in seine Heimatstadt zurück. Er ist ein angesehener Handwerker, doch die von Standesdünkel geprägten Bürger sind nicht bereit, die Ehefrau zu akzeptieren. Die fortwährenden Schmähungen bedrücken Lisei und den Vater, doch Paul steht fest zu ihnen. Er ist sogar einverstanden, daß der Schwiegervater sein Puppenspiel wieder aufnimmt. Die erste Vorstellung wird zu einem Fiasko, das der Alte nicht überlebt. Die Liebe von Lisei und Paul jedoch ist stark, sie trotzen dem Spott und dem Hochmut der Leute.
(Quelle: Das zweite Leben der Filmstadt Babelsberg. DEFA-Spielfilme 1946-1992)
Short Summary (Other Languages)
Durante un'escursione, Paul, un apprendista artigiano, rincontra Lisei, la figlia di un burattinaio con cui è andato all'asilo. I due s'innamorano, si sposano e Paul ritorna con lei e il suocero nella sua città natale. Benché lui sia uno stimato artigiano, i concittadini si rifiutano di accettare la moglie e il suocero. Malgrado tutto, quest'ultimo decide di riprendere la sua attività di burattinaio, ma l'insuccesso della prima rappresentazione lo uccide. Paul e Lisei non si lasceranno mettere i piedi in testa e continueranno ad affrontare le beffe e la superbia della gente. (Italienisch)