Professor Mamlock
Director: Konrad Wolf, 100 Min., Black-White, Feature Film
Deutsche Demokratische Republik (DDR)
DEFA-Studio für Spielfilme, 1960 - 1961
Film/Video Format

35 mm

Length in m

2735

English Title

Professor Mamlock

Premiere Date

Release Date (for Cinema)

Literary Source

Wolf, Friedrich: "Professor Mamlock", Drama

Releases

DVD: ICESTORM Entertainment GmbH / www.icestorm.de
DVD: University of Massachusetts (UMASS) - DEFA Film Library / www.umass.edu/defa
Short Summary (English)
Set during the Weimar Republic, Professor Mamlock ist he story of a prominent Jewish professor of surgery whose belief in reason and humanity makes him blind to the increasing threat of anti-Semitism. Based on the 1933 play renowned social critic Friedrich Wolf, which was censored by the Nazis, the film was directed by the son of the playwright.
Quelle: DEFA Film Library - Shadows and Sojourners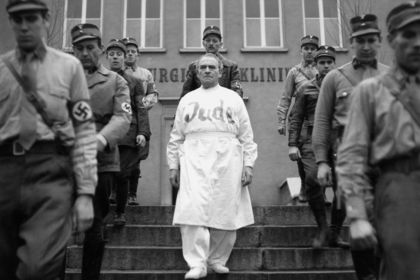 Film Crew
Script

Karl Georg Egel
Konrad Wolf

Camera

Werner Bergmann
Günter Ost (Kameraführung)

Cast

Wolfgang Heinz (Prof. Mamlock)
Ursula Burg (Ellen Mamlock)
Hilmar Thate (Rolf Mamlock)
Lissy Tempelhof (Dr. Inge Ruoff)
Doris Abeßer (Ruth Mamlock)
Ulrich Thein (Ernst)
Harald Halgardt (Dr. Hellpach)
Herwart Grosse (Oberarzt Dr. Carlsen)
Peter Sturm (Dr. Hirsch)
Franz Kutschera (Dr. Werner Seidel)
Kurt Jung-Alsen (Bankier Schneider)
Günter Naumann (Kurt Walter)
Agnes Kraus (Schwester Hedwig)
Günter (auch: Günther) Grabbert (Simon)
Manfred Krug (SA-Sturmbannführer)
Hans Flössel (Druckereimeister)
Hans Teuscher (SA-Krankenpfleger)
Johannes Maus (Verhörender SA-Mann)
Bruno Carstens (Patient)
Marianne Daudert (Mutter des kleinen Kurt)
Norbert Moedebeck (Kind Kurt)
Greti Emmer (Funkenmariechen)
Sonja Voigt (Faschingsprinzessin)
Horst Giesen (Faschingsprinz)
Ellen Weber (Frau am Tor)
Wilhelm Besendahl (Kriminalbeamter)
Wolf Thiessen (Kriminalbeamter)
Wolfgang Schmittke (Turnlehrer)
Dieter Kores (Freund von Ruth)
Jürgen Henschke (Freund von Ruth)
Johannes Curth (Oberstudienrat)
Margrit Tippmann (Kind)
Walter E. Fuß (Mamlock als jüngere Mann)
Gisela Graupner (Patientin)
Heide Kipp (Patientin)
Karl-Helge Hofstadt (Patient)

Music

Hans-Dieter Hosalla
Ludwig van Beethoven (9. Sinfonie)

Unit Production Management

Consulting

Walther Pollatschek (literarisch)
Ursula Voigt-Figuth (medizinisch)
Awards
II. Internationales Filmfestival Neu Delhi (1961): Silberne Lotosblume
II. Internationales Filmfestival Moskau (1961): Goldmedaille
Short Summary (German)
Eine deutsche Universitätsstadt zu Beginn des Jahres 1933. Professor Mamlock ist Jude und Chef einer chirurgischen Klinik. Politik interessiert ihn nicht, auch nicht die Warnung vor den Nazis. Er setzt auf Staat, Familie und humanistische Prinzipien. Den verwundeten Kommunisten Walter versorgt er zwar medizinisch, aber er versteht ihn nicht. Seinem Sohn Rolf weist er die Tür, als dieser zum Widerstandskämpfer wird. Seiner Tochter Ruth glaubt er nicht, dass man sie als Jüdin aus der Schule geworfen hat. Auch die völkischen Reden des Dr. Hellpach hat er nie ernst genommen. Erst als auch er seine Arbeit verliert und von SA-Leuten aus der Klinik geführt wird, bricht sein Glaube an Recht und Ordnung zusammen. Durch die Intervention eines einflussreichen Unternehmers bekommt er seine Arbeitserlaubnis wieder. Als Chefchirurg muss er jedoch die Entlassungsliste der anderen jüdischen Mitarbeiter unterschreiben. Mamlock weigert sich, es kommt zur Auseinandersetzung mit dem kommissarischen Leiter Dr. Hellpach, in deren Verlauf sich die Ärztin Inge Ruoff, Mitglied der NSDAP, auf die Seite Mamlocks, stellt. Aber Mamlock sieht für sich keinen Ausweg und wählt den Freitod.
(Quelle: Das zweite Leben der Filmstadt Babelsberg. DEFA-Spielfilme 1946-1992)
Short Summary (Other Languages)
All'inizio del 1933 in una cittadina universitaria tedesca, il professore ebreo Mamlock è primario di un ospedale chirurgico. Non s'interessa alla politica, non prende neanche sul serio gli avvertimenti sull'avvento dei nazisti, ma crede solo nello Stato, nella famiglia e nei suoi principi umanistici. Così, non nega le cure al comunista Walter, pur non capendo le sue ragioni, caccia suo figlio di casa quando questo decide di combattere nella resistenza e non crede a sua figlia Ruth, allontanata da scuola perché ebrea. Il professore non crede neanche ai discorsi populisti del suo capo, il Dr. Hellpach. Quando le SA arrivano in clinica per portarlo via, Mamlock si ricrede. Grazie all'aiuto di un influente imprenditore ottiene nuovamente il permesso per lavorare, ma da primario deve sottoscrivere il licenziamento di altri collaboratori ebrei. Rifiutandosi, si scontra con il Dr. Hellpach. Benché la dottoressa Inge Ruoff, membro della NSDAP si schieri dalla sua parte, il professor Mamlock non vede più via di scampo e si suicida. (Italienisch)