Quick Animation
Director: Gabor Steisinger, Color, Animation Film
Deutsche Demokratische Republik (DDR)
DEFA-Studio für Trickfilme, 1989
Film/Video Format

35 mm

Length in m

334

Type of Animation

Realfilm, Zeichentrickfilm

English Title

Lively Animation

Releases

DVD: ICESTORM Entertainment GmbH / www.icestorm.de
Short Summary (English)
Scenes of a big city follow one another and turn into alienated settings using grafitti painting and rap music.
(source: University of Massachusetts (UMASS) - DEFA Film Library)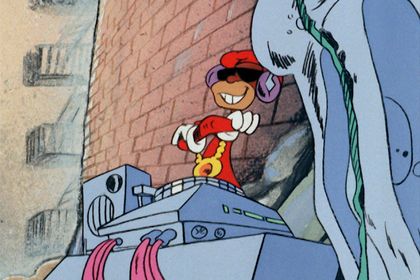 Film Crew
Camera

Christoph Stolle (Realkamera)
Steffen Nielitz (Trickkamera)

Film Editing

Hanna Fürst (geb. Knieriem)

Music

Alexander Morawitz (Pseudonym: Electric B)
Manfred Mammitzsch (Musikdramaturgie)
Gabor Steisinger (Choreografie)

Musical Performance

Christiane Bobolina Herbold (Pseudonym: Bobo)
Quick Animation (Musikgruppe) (Streetjazz (im Abspann))

Design

Gabor Steisinger (Hintergründe)
Awards
Staatliches Prädikat (1990): wertvoll
Short Summary (German)
Im Graffitistil werden zu Rap-Musik Großstadtszenen, ironisch verfremdet, aneinandergereiht.
(Quelle: Die Trick-Fabrik. DEFA-Animationsfilme 1955-1990)