Reife Kirschen
Director: Horst Seemann, 97 Min., Color, Feature Film
Deutsche Demokratische Republik (DDR)
DEFA-Studio für Spielfilme, 1972
Film/Video Format

35 mm

Length in m

2699

Other Title

Ankunft einer bestimmten Liebe

English Title

Ripe Cherries

Premiere Date

Release Date (for Cinema)
Short Summary (English)
Brigadier Helmut Kamp is in his mid-forties and believes that he has got his life under control. He owns a house in Thuringia, has a loving wife and two adult daughters, and is regarded as an experienced foundation builder who is treated with respect in his workplace. But then things change at one go: His wife Elfriede tells him that she is pregnant for the third time. At the same time, Kamp has to go to the Baltic Sea where a nuclear power plant is about to be built. Then, shortly after giving birth to her third child, Elfriede dies in a car accident, and his daughter Ingrid moves in with him together with the newborn and her own little child because she broke up with her friend. But all this is too much for Kamp, who becomes depressive. But then he meets a female Soviet engineer at the construction site - and Ingrid also finds a new love there. Eventually, Kamp gets over his depressions and takes on a responsible position as a party secretary.
(Quelle: filmportal)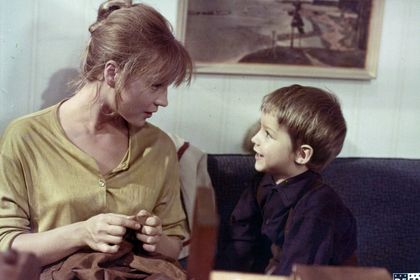 Film Crew
Film Editing

Anneliese Hinze-Sokolow (auch: Sokoloff, Sokolowa, Hinze)

Cast

Günther Simon (Helmut Kamp)
Traudl Kulikowsky (Ingrid Kamp)
Helga Raumer (Elfriede Kamp, seine Frau)
Martin Trettau (Tiller)
Arno Wyzniewski (Dr. Beißert)
Eberhard Esche (Dr. Ika)
Fred Delmare (Lehnert)
Günter Wolf (Scholz)
Werner Lierck (Figaro)
Claudia Poppe (Helga Kamp)
Margarita Wolodina (Swetlana Saizowa)
Wiktor Kolpakow (Hotelportier)
Willi Schrade (Kurt)
Horst Jonischkan (Heinz)
Jörg Knochée (auch: Knoche) (Karl)

Assistant Director / Co-Director

Scenario

Manfred Richter
Horst Seemann

Costume Design

Barbara Braumann (geb. Müller)

Make-Up

Britta Kersten
Peter Vohs
Dieter Wagner
Short Summary (German)
Brigadier Helmut Kamp, Mitte Vierzig, ist ein erfahrener und geschätzter Fundamentbauer. Er hat ein Haus in Thüringen, zwei erwachsene Töchter. Da eröffnet ihm seine Frau Elfriede, auch über die Vierzig, daß sie ein Kind erwartet. Zur gleichen Zeit erhält Kamp den Auftrag, am Fundamentbau eines Kernkraftwerks an der Ostsee mitzuarbeiten. Kurz nach der Geburt ihres Kindes stirbt Elfriede bei einem Verkehrsunfall. Tochter Ingrid, die selbst ein kleines Kind hat, trennt sich von ihrem egoistischen Freund und geht mit den beiden Kindern zum Vater in den Norden, während die jüngere Tochter in Thüringen bleibt, um das Abitur zu machen. Ingrid lernt auf der Baustelle einen sympathischen Mann kennen und Kamp eine sowjetische Ingenieurin. Nach der Überwindung seiner Depressionen übernimmt Kamp eine neue verantwortungsvolle Tätikeit. Er wird Parteisekretär.
(Quelle: Das zweite Leben der Filmstadt Babelsberg. DEFA-Spielfilme 1946-1992)
Short Summary (Other Languages)
A quarant'anni Helmut Kamp è un esperto e stimato costruttore di fondamenta, con una casa in Turingia e due figlie adulte. Sua moglie Elfriede, anche lei quarantenne, gli confessa di aspettare un figlio. Contemporaneamente Kamp accetta di collaborare alla costruzione di una centrale nucleare sul Mar Baltico. Poco dopo la nascita dell'ultimo figlio, Elfriede muore in un incidente stradale. Ingrid, la figlia maggiore, già madre anche lei, si separa dal compagno egoista e raggiunge con i due bambini suo padre, mentre la sorella minore rimane in Turingia per l'esame di maturità. Sul cantiere Ingrid conosce un simpatico ragazzo, mentre Kamp fa amicizia con una sovietica ingegnere. Dopo aver superato la depressione, Kamp torna a ricoprire un incarico di responsabilità diventando segretario di partito. (Italienisch)
Helmut Kamp, travailleur du bâtiment, 45 ans, deux filles, doit participer à la construction d'une centrale atomique sur la côte Baltique. Sa femme attend un 3ème enfant. Helmut doit-il une nouvelle fois vivre de longs mois loin de sa famille? (Französisch)
(source: Archives Seine Saint Denis)