Revue um Mitternacht
Director: Gottfried Kolditz, 103 Min., Color, Feature Film
Deutsche Demokratische Republik (DDR)
DEFA-Studio für Spielfilme, 1962
Film/Video Format

35 mm

Length in m

2833

Other Title

Prügelknaben; Keiner will's kalt

English Title

Midnight Revue

Premiere Date

Release Date (for Cinema)

Releases

DVD: ICESTORM Entertainment GmbH / www.icestorm.de
DVD: University of Massachusetts (UMASS) - DEFA Film Library / www.umass.edu/defa
Short Summary (English)
Despite the fact that Kruse, a production manager, had neither suitable actors nor appropriate specialists, he thoughtlessly boasted that he could direct a revue film. In order to keep his boast from exploding in his face, Kruse brings together four people: a dramatic adviser, a composer, a writer and an architect - and saddled them with the task of turning his idea into a film.
Except for Alexander Ritter, a rather unknown composer, who applied himself to the project with boundless enthusiasm, the other members of the team were hopelessly overtaxed by the project. Initially the production assistant, Claudia Glück, who seriously questioned Ritter's competence, as well as the rest of the team understandably mistrusted Ritter because he had absolutely no experience in composing material for revue films. However, what he lacked in experience he more than made up with his creative energy and his enthusiasm for the project. Not only were all of his colleagues' doubts soon cast aside, but Ritter also captured the heart of Claudia, the pretty colleague who initially mistrusted him most.
And the revue - how could it possibly be otherwise became a roaring success.
Source: Progress Film-Verleih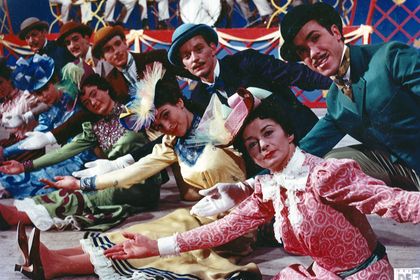 Film Crew
Script

Gerhard Bengsch
Kurt Bortfeldt

Cast

Christel Bodenstein (Claudia Glück)
Manfred Krug (Alexander Ritter)
Werner Lierck (Theo)
Claus Schulz (Eberhard Gallstein)
Hans Klering (Herbert Schöninger)
Gerry Wolff (Jens Holle)
Johannes Arpe (Otto Kruse)
Jochen Thomas (Hans Knüller)
Willi Schwabe (Paul Bielack)
Nico Turoff (Max)
Agnes Kraus (Störungsstelle)
Nicole Felix (Nicole)
Georg Irmer (Kellner)
Klaus Groß (auch: Gross) (Kellner)
Heinz-Walter Mörke (Pianist)
Günter Arndt (Junger Liebhaber)

Assistant Director

Ursula Pohle
Anita Franke

Assistant Camera

Peter Dietrich
Peter Dietrich

Musical Performance

Julia Axen
Helga Brauer
Collins
Fanny Daal
DEFA-Sinfonieorchester (Leitung: Karl-Ernst Sasse)
Hartmut Eichler
Nicole Felix
Fred Frohberg
Günter Hapke
Hemmann-Quintett (Musikgruppe)
Tanzorchester des Berliner Rundfunks (Leitung: Günter Gollasch)

Costume Design

Hans Kieselbach
Helga Scherff

Make-Up

Klaus Becker
Waltraud Becker
Liddy (auch: Liddi; Lydia) Beyer

Production Management

Erich Kühne
Heinz Kuschke

Unit Production Management

Christel Kruse
Erwin Rose
Short Summary (German)
Vier Personen - ein Dramaturg, ein Komponist, ein Autor und ein Architekt - werden vom Produktionsleiter Kruse, der sich etwas leichtfertig verpflichtet hat, einen Revuefilm zu drehen, zur Realisierung des kühnen Vorhabens zusammengerufen. Der einzige, der sich hemmungslos an die große Aufgabe herantraut, ist der kleine Komponist Ritter. Die Produktionsassistentin Claudia ist nicht die einzige, die dem unerfahrenen, aber enthusiastischen Mann mißtraut. Ritter jedoch gelingt es nicht nur, die Bedenken der anderen zu zerstreuen und ihre Kreativität zu aktivieren, er gewinnt am Ende auch Claudia. Und selbstverständlich gelingt das Werk zu einer flotten mitreißenden Revue, deren musikalische, tänzerische und artistische Nummern sich sehen lassen können.
(Quelle: Das zweite Leben der Filmstadt Babelsberg. DEFA-Spielfilme 1946-1992)
Short Summary (Other Languages)
Un drammaturgo, un compositore, un autore e un architetto vengono convocati dal direttore di produzione Kruse che, in maniera un po' affrettata, ha accettato di realizzare un musical. L'unico pronto a realizzare l'impresa è il piccolo compositore Ritter. Claudia, l'assistente di produzione, non è certo l'unica a non fidarsi di lui. Eppure, con la sua abilità, Ritter non riesce solo a dissipare i dubbi degli altri, stimolando la loro creatività, ma conquista anche Claudia. Con i suoi contributi artistici, musicali e di ballo il musical è un vero successo. (Italienisch)