Roman einer jungen Ehe
Director: Kurt Maetzig, 102 Min., Black-White, Feature Film
Deutsche Demokratische Republik (DDR)
DEFA-Studio für Spielfilme, 1951
Film/Video Format

35 mm

Length in m

2824

Other Title

Ehe im Westen

English Title

Story Of A Young Couple

Premiere Date

Release Date (for Cinema)

Releases

VHS: ICESTORM Entertainment GmbH / www.spondo.de/defa
DVD: University of Massachusetts (UMASS) - DEFA Film Library / www.umass.edu/defa
Short Summary (English)
A young married couple - both of them actors - work in the divided city of Berlin. Agnes, the young woman, is on location in East Berlin, and Jochen, her husband, works at the Westend Theater in West Berlin. This young marriage is in danger of breaking up as they vehemently defend their diametrically opposed views. The way they see politics, art and the world differs extremely. Agnes, for example, is proud of the film she is appearing in, but Jochen forcefully rejects the film's subject matter. They split up. Agnes moves to East Berlin for good. And they file for divorce. When the two see each other again in court, however, they make it up again. Meanwhile, Jochen has become unemployed, which brings him round to accepting Agnes's decision.
Source: Progress Film-Verleih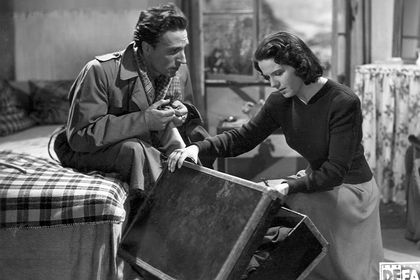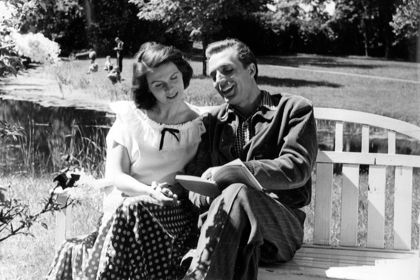 Film Crew
Cast

Yvonne Merin (Agnes Sailer)
Klaus-Peter Thielen (Jochen Karsten)
Willy A. Kleinau (Dr. Ulrich Plisch)
Hilde Sessak (Carla)
Harry Hindemith (Burmeister)
Martin Hellberg (Möbius)
Hanns Groth (Lutz Frank)
Alfons Mühlhofer (Ernst Winkler)
Horst Preusker (Jonas)
Waltraud Kogel (Astrid Kern)
Albert Garbe (Otto Dulz)
Brigitte Krause (Brigitte Dulz)
Gisela Rimpler (Felicitas Bach)
Friedrich Gnaß (Hotelportier)
Egon Brosig (Standesbeamter)
Hans Rodenberg (Amerikanischer Regisseur)

Production Design

Otto Erdmann
Franz F. Fürst

Composer

Ernst Hermann Meyer (Lied vom neuen Haus)
Wilhelm Neef
Short Summary (German)
Eine junge Schauspielerehe im geteilten Berlin droht zu zerbrechen. Jochen arbeitet am Westend-Theater und Agnes filmt in Ostberlin. Ihre Ansichten, von den unterschiedlichen politischen Milieus geprägt, driften immer mehr auseinander. Agnes ist stolz auf ihren neuen Film, Jochen ist entsetzt über dessen Thema. Es kommt zum Bruch, Anna zieht ganz nach Ostberlin. Als sie sich im Gericht zum Scheidungsprozeß treffen, versöhnen sie sich. Jochen hat inzwischen keine Arbeit mehr und begreift, daß Agnes den richtigen Weg gegangen ist.
(Quelle: Das zweite Leben der Filmstadt Babelsberg. DEFA-Spielfilme 1946-1992)
Short Summary (Other Languages)
Nella Berlino divisa, una giovane coppia di cineasti sta per separarsi. Jochen lavora preso il teatro di Westend, mentre Agnes gira a Berlino est. I loro punti di vista, influenzati dai diversi ambienti politici, li allontanano sempre di più. Agnes è fiera del suo nuovo film, la cui tematica inorridisce Jochen. I due decidono di separarsi e Agnes si trasferisce definitivamente a Berlino est. Incontrandosi nuovamente in tribunale per la sentenza di divorzio, i due tornano a fare pace. Jochen, ormai disoccupato, capisce che Agnes ha preso la strada giusta. (Italienisch)