Rotation
Director: Wolfgang Staudte, 87 Min., Black-White, Feature Film
Deutschland (Sowjetische Zone)
DEFA-Studio für Spielfilme, 1948 - 1949
Film/Video Format

35 mm

Length in m

2297

English Title

Rotation

Premiere Date

Release Date (for Cinema)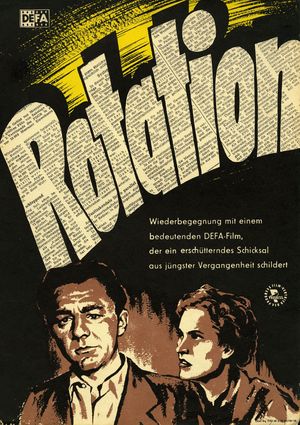 Short Summary (English)
Rotation is a drama of a non-Jewish German family in the 1930s and 40s. The father tries to remain apolitical, but is nevertheless drawn into collusion with Nazi policies when his son becomes a member of the Hitler Youth and betrays his father. The film concludes with a message to future generations: they must see to it that the crimes of the past are never repeated. Another Staudte classic, the film's pacifist mesage and the footage from Leni Riefnstal's Olympia were censored by the Soviet authorities.
Source: DEFA Film Library - Shadows and Sojourners
Film Crew
Script

Wolfgang Staudte
Erwin Klein

Cast

Paul Esser (Hans Behnke)
Irene Korb (Lotte Behnke)
Karl-Heinz Deickert (Helmuth Behnke)
Brigitte Krause (Inge, Helmuth Behnkes Freundin)
Reinhold Bernt (Kurt Blank)
Reinhard Kolldehoff (Rudi Wille)
Werner Peters (Udo Schulze)
Albert Johannes (Personalchef "VB")
Theodor Vogeler (SD-Mann)
Walter Tarrach (SD-Mann)
Valeska Stock (Hebamme)
Ellen Thenn-Weinig (Frau Salomon)
Klemens Herzberg (Herr Salomon)
Hans-Erich Korbschmitt (Ein Besucher)
Maria Loja (Die Wirtin)
Wolfgang Kühne (Ein Schauspieler)
Alfred Maack (Hauswirt)
Margit Rocky (Vorarbeiterin in einer Weberei)
Siegfried Andrich (SS-Mann)
Hugo Kalthoff (SS-Offizier in Moabit)
Carlo Kluge (Ordonanz)
Helmut Hain (Luftschutzmann)
Georg-August Koch (SD-Mann)
Kitty Franke (Flüchtlingsfrau)
Herbert Mahlsbender (SS-Mann im Gefängnishof)
Gerd Ewert (Adjutant)
Rudi Beil (MG-Schütze)
Albert Venohr (Arbeiter am Fabriktor)
Hans Emons (Arbeiter am Fabriktor)
Helmuth Bautzmann (Arbeiter am Fabriktor)
Walter Diehl (Arbeiter am Fabriktor)
Eduard Matzig (Arbeiter im Rotationssaal)
Peter Marx (Arbeiter im Rotationssaal)
Johannes Knittel (Arbeiter im Rotationssaal)
Hans Schille (Arbeiter im Rotationssaal)
Gerd Robat (Arbeiter im Rotationssaal)
Friedrich Teitge (Arbeiter im Rotationssaal)

Assistant Director

Hans Heinrich (geb. 1911)

Make-Up

Friedrich (auch: Fritz) Havenstein

Production Management

Herbert Uhlich
Peter-Klaus Niemetz (Produktionsleitung-Assistenz)

Unit Production Management
Awards
Locarno Film Festival (1954): Goldener Leopard
Short Summary (German)
Berlin von 1932 bis 1946. Der Maschinenmeister Hans Behnke ist tüchtig, und Politik interessiert ihn nicht. Bis er eines Tages von seinem Schwager gebeten wird, eine Druckmaschine zu reparieren, auf der antifaschistische Flugblätter hergestellt werden. Von seinem eigenen Sohn Helmuth verraten, der in der Hitlerjugend zu einem fanatischen Nazi erzogen wurde, kommt Behnke ins Zuchthaus. Nach Kriegsende stehen sich der befreite Vater und der aus der Gefangenschaft heimkehrende Sohn gegenüber. Helmuth hat kaum Hoffnung, dass ihn der Vater aufnehmen wird, doch der schließt ihn in seine Arme. Gemeinsam wollen sie ein neues Leben aufbauen.
Filmtext: Ellen Blauert (Hrsg.): Die Mörder sind unter uns. Ehe im Schatten. Die Buntkarierten. Rotation. Vier Filmerzählungen nach bekannten DEFA-Filmen. Berlin: Henschelverlag 1969.
(Quelle: Das zweite Leben der Filmstadt Babelsberg. DEFA-Spielfilme 1946-1992)
Short Summary (Other Languages)
Negli anni fra il 1932 e il 1946 a Berlino, Hans Behnke è un esperto macchinista, che non s'interessa di politica. Un giorno suo cognato gli chiede di riparare una stampante, con cui vengono realizzati dei volantini antifascisti. Tradito da suo figlio Helmuth, divenuto grazie alla Hitlerjugend un fanatico nazista, Behnke finisce in carcere. Dopo la fine della guerra padre e figlio si rincontrano. Helmuth non pensa che il padre lo riaccoglierà, ma vedendolo quest'ultimo lo abbraccia. Assieme inizieranno una nuova vita. (Italienisch)