Rotschlipse
Director: Helmut Dziuba, 81 Min., Color, Feature Film
Deutsche Demokratische Republik (DDR)
DEFA-Studio für Spielfilme, 1977
Film/Video Format

35 mm

Length in m

2230

English Title

Red Ties

Premiere Date

Release Date (for Cinema)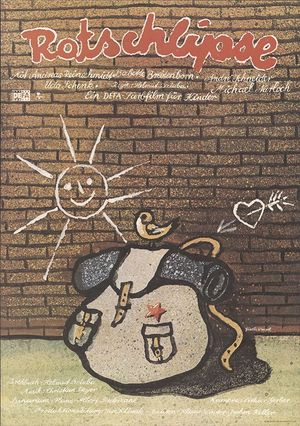 Short Summary (English)
Hotte is the leader of a teenage gang. In 1927, the gang aims to prevent the Red Young Pioneers from raising money meant for a KPD holiday camp. Since Hotte wants to make an impression on the pioneer Sonni, he quits the obstructions and suggests a competition in which both groups are meant to collect as much money for the holiday camp as possible. Soon, Hotte realizes that he is in bad company and decides to join the Young Pioneers. Since there are only few vacant places left, Hotte - who perceives that he is not actually welcome - voluntarily resigns from taking part in the camp holiday. Soon, however, he learns that the members of his former gang plan to attack the camp together with some members of the SA. He follows them and manages to prevent the sabotage just in time, thereby making a strong impression on Sonni.
(Quelle: filmportal)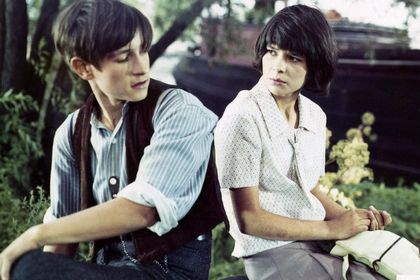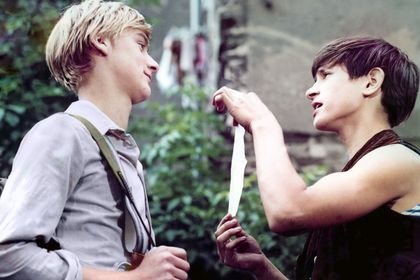 Film Crew
Cast

Andreas Reinschmidt (Hotte)
Babette Breitenborn (Sonni)
André Schneider (Mante)
Dirk Beckmann (Bürschte)
Kerstin Beyer (Traudchen)
Andreas Tiegs (Krücke)
Michael Döring (Paule)
Udo Schenk (Werner)
Michael Narloch (Adi Kalweit)
Hildegard Alex (Mutter von Sonni)
Käthe Reichel (Filitzen)
Günter Wolf (Genosse Beyer)
Joachim Tomaschewsky (Rektor)
Christoph Engel (Turnlehrer)
Hubert Hoelzke (Hauswirt)
Harald Warmbrunn (Sturmführer Wille)
Christa Löser (Küchenfrau)
Wolfgang Greese (Kommissar)
Horst Papke (Kumpel Klötz)
Willi Schrade (Kumpel Schäfer)
Werner Dissel (Alter Genosse)
Lothar Tarelkin (Junger Genosse)
Detlef Gieß (Junger Genosse)
Renate Usko (Traudchens Mutter)
Harald Moszdorf (Hauswirt)
Annemarie Siemank-Ripperger (Küchenfrau)
Arnim Mühlstädt (Müllkutscher)
Gerd Grasse (Arbeiter)
Max Klingberg (Straßenfeger)
Thea Schmidt-Keune (Gemüsefrau)
Nico Turoff (Lumpenmatz)
Willi Neuenhahn (Wachtmeister)
Alfred Block (Heinrich)
Rosemarie Herzog (Frau am Fenster)
Horst Giese (Mann am Fenster)
Arnd Teiche (Atze)
Steffi Hiller (Lotti)
Peter Weigel (Erich)
Axel Münch (Kulle)
Dietmar Schmidt (Stelze)
Lutz Tessarek (Waldi)
Peter Kuhn (Trompeter)
André Gerhard (Hengst)
Andrea Linke (Gretel)
Frank Grunwald (Jürgen)
Bert Kalke (Richard)
Mario Liebenow (Rolle)
Uwe Hoell (Geiger)
Olaf Schuldt (Knoten)

Assistant Director

Peter Schmitz
Ilse Goydke

Assistant Camera

Frank Bredow
Detlef Hertelt
Klaus Goldmann
Waltraut Pathenheimer

Production Design

Klaus Winter
Jochen (auch: Joachim) Keller

Sound

Peter Dienst
Christfried Sobczyk

Make-Up

Kurt Tauchmann
Horst Schulze
Christa (auch: Christel) Grewald

Props

Lothar Karbe
Wolfgang Hammer

Unit Production Management

Harald Andreas
Heinz-Jürgen Schmidt
Awards
1. Nationales Festival für Kinderfilme der DDR in Kino und Fernsehen Gera (1979): Ehrendiplom der Kinderjury
Short Summary (German)
1927 sammeln Rote Jungpioniere in einem Berliner Arbeiterviertel Geld für ein Ferienlager, das die KPD für die Kinder organisieren will. Hotte, Anführer einer Bande Rowdys, schlägt nach anfänglichen Störversuchen einen Sammelwettbewerb vor, weil er der hübschen Sonni aus der Pioniergruppe imponieren will. Bald darauf verlässt er die Bande und schließt sich den Pionieren an. Die Plätze im Lager sind knapp, und da es gegen seine Teilnahme Vorbehalte gibt, verzichtet er freiwillig. Doch er fährt den Pionieren heimlich nach, als er herausbekommt, dass einige Mitglieder seiner alten Bande zusammen mit SA-Leuten einen Sabotageakt auf das Lager vorbereiten. Zusammen mit dem Pionierleiter Werner und alarmierten Arbeitern aus einer nahe gelegenen Ziegelei kann der Anschlag verhindert werden.
(Quelle: Das zweite Leben der Filmstadt Babelsberg. DEFA-Spielfilme 1946-1992)
Short Summary (Other Languages)
Nel 1927, in un quartiere operaio di Berlino, i giovani pionieri rossi raccolgono soldi per finanziare il campo vacanze organizzato dal Partito Comunista Tedesco per i bambini. Per far colpo sulla bella Sonni, Hotte, il capo dei teppisti, propone di organizzare una colletta. Poi decide di abbandonare la sua cricca, per entrare a far parte dei pionieri. I posti disponibili al campo vacanze sono pochi e visto che molti sono scettici a farlo partecipare, Hotte rinuncia volontariamente. Seguendo di nascosto il gruppo, scopre che alcuni ragazzi della sua vecchia banda intendono sabotare assieme alle SA il campo. Con Werner, capo dei pionieri, e con l'aiuto di un gruppo di operai di una vicina fabbrica di mattoni, Hotte riesce a evitare l'attacco. (Italienisch)