Rüpel
Director: Bärbl Bergmann, 61 Min., Black-White, Feature Film
Deutsche Demokratische Republik (DDR)
DEFA-Studio für Spielfilme, 1962
Film/Video Format

35 mm

Length in m

1671

Other Title

Das verwunschene Haus; Nicko

English Title

Guide Dog Ruepel

Release Date (for Cinema)
Short Summary (English)
A new pupil has joined the seventh grade and - as is often the case - is met with scepticism. What is more: Mathias' classmates are angry because he is frequently late, goes home early and, on top of it, performs badly at school. They have to acknowledge, however; that he is very gutsy. This proves especially true when it becomes a question of passing a dangerous test: who can hold out longest in the ice cellar?
The pupils use this trial of courage to pressurize Mathias, hoping to figure out what his secret is but he keeps quiet. They therefore lock him up and run away. Heiner sets Mathias free mainly because his guilty conscience torments him. He actually knows what problem Mathias is grappling with: his mother is blind and Heiner was to blame for the death of her guide dog "Bella". Since then, Mathias has had to take care of his mother and run many errands. On a school outing of the seventh grade, the pupils find out about Mathias' misfortune. They now put their heads together to find a way of helping Mathias and his mother. Finally they come up with a solution: Heiner's dog "Rüpel" is to become the new guide dog.
Source: Progress Film-Verleih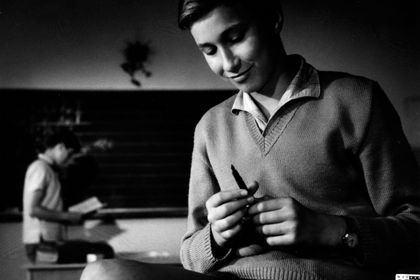 Film Crew
Film Editing

Ursula Zweig
Monika Schindler (geb. Behrendt)

Cast

Karl Friedrich Schorsch (Heiner)
Lutz Dieckmann (Mathias)
Rudolf Micklejewski (Peter)
Vera Eichel (Hannelore)
Lissy Tempelhof (Mutter von Mathias)
Ilse Bastubbe (Lehrerin)
Otto Stark (Ausbilder in der Blindenhundeanstalt)
Dieter Perlwitz (GST - Ausbilder)
Ruth Kommerell (Mutter von Heiner)
Maika Joseph (Portierfrau)
Hans Feldner (Vorsitzender der Prüfungskommission)
Georg Thies (Lehrer)
Agnes Kraus (Frau Krause)
Horst Lommatzsch (Herr Krause)
Paul Krakau (Mitglied der Prüfungskommission)
Gerhard Buch (Mitglied der Prüfungskommission)
Friedrich Teitge (Briefträger)
Helga Bialek (Peters Schwester)
Leni Dallmer-Lucas (Eine Frau)
Roderich Sondermann (Ausbildungs-Assistent)
Helga Raumer (Keifende Frau)
H. Heinze (Scheintäter)
Gunter Druck (Schüler)
Dieter Grützmann (Schüler)
Jürgen Schulz (Schüler)
Peter Hellwig (Schüler)
Susanne Schnelle (Schülerin)
Regina Kops (Schülerin)
Elisabeth Kistner (Schülerin)

Script Editing

Eleonore Schmidt-Schwarze

Make-Up

Bernhard Kalisch
Edeltraud Schöttler

Unit Production Management
Short Summary (German)
Über Mathias, den Neuen in der 7. Klasse, sind die anderen Schüler verärgert. Er hat schlechte Zensuren, kommt meist zu spät und verschwindet manchmal früher. Aber mutig ist er, das haben die Zwölfjährigen schon bemerkt. Bei einer Mutprobe (wer hält es am längsten im Eiskeller aus?) wollen sie den Grund für sein Verhalten herausbekommen. Doch der Junge schweigt, und so lassen sie ihn eingesperrt allein. Heiner aber befreit ihn. Er kennt Mathias' Problem und ist nicht ganz unschuldig daran. Mathias' Mutter ist blind, und Heiner hat durch egoistisches Verhalten den Tod ihres Hundes Bella verschuldet. Seitdem muss Mathias seiner Mutter bei einigen Wegen helfen. Bei einem Ausflug erfährt die ganze Klasse davon, und die Schüler haben eine Idee, wie sie die Sache wieder in Ordnung bringen können: Heiners Hund Rüpel soll von nun an Blindenhund sein.
(Quelle: Das zweite Leben der Filmstadt Babelsberg. DEFA-Spielfilme 1946-1992)
Short Summary (Other Languages)
Gli alunni di seconda media sono arrabbiati con il nuovo compagno Mathias, che prende brutti voti, arriva sempre in ritardo e alle volte esce anticipatamente di scuola. Al ragazzo non manca certo il coraggio: rinchiuso dai compagni in una cella frigorifero, non svelerà il suo segreto, che Heiner conosce bene, perché in parte colpevole. La mamma di Mathias, infatti, è cieca e Heiner comportandosi da egoista, ha ucciso il suo cane Bella. Da quel giorno Mathias deve sempre accompagnare la madre quando va in giro. Durante una gita scolastica tutta la classe viene a conoscenza del problema, ma trova subito una soluzione: d'ora in poi sarà Rüpel, il cane di Heiner, a farle da guida. (Italienisch)