Saure Wochen - Frohe Feste
Director: Wolfgang Schleif, 87 Min., Black-White, Feature Film
Deutsche Demokratische Republik (DDR)
DEFA-Studio für Spielfilme, 1950
Film/Video Format

35 mm

Length in m

2370

English Title

Hard Days - Happy Days

Premiere Date

Release Date (for Cinema)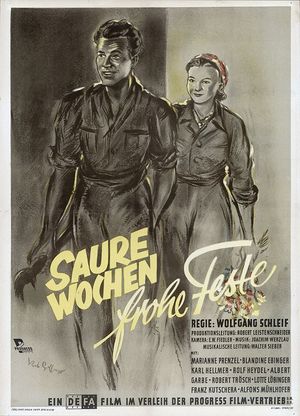 Short Summary (English)
The Henningsberg power plant celebrates its four-year anniversary. On this occasion, a theatre performance is planned, but the program of the performance leads to an argument between young workers and veterans. While, the old workers would like to see a cheesy musical comedy titled "Gärtnerliesl", the young workers would rather like to perform a progressive political revue that satirizes everyday life at the power plant. But despite all rivalry, when one of the plant's turbines sustains damage, all workers tackle the problem together. And although on the day of the party, "Gärtnerliesl" cannot compete with the show put on by the young workers, the veterans prove to be good sports and join in the general applause.
(Quelle: filmportal)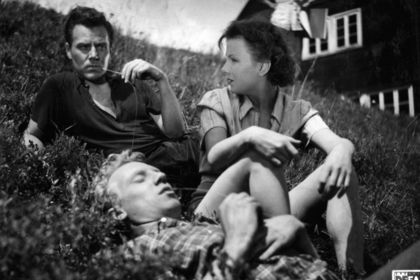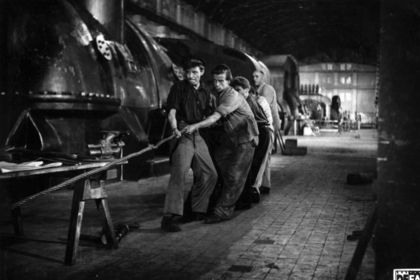 Film Crew
Script

Wolfgang Schleif
Hermann Werner Kubsch

Cast

Marianne Prenzel (Lotte Thieme)
Blandine Ebinger (Adele)
Karl Hellmer (Karl Knöller)
Robert Trösch (Direktor Rossberg)
Albert Garbe (Oskar Kumlich)
Klaus Becker (Gustel)
Rolf Heydel (Hans May)
Franz Kutschera (Anton Gerdinger)
Alfons Mühlhofer (Max Schweitzer)
Lotte Loebinger (Berta Böhme)
Hans Klering (Andreas Iske)
Aribert Grimmer (Meister Balke)
Lutz Götz (Ingenieur)
Mimi Mitell (Frau Knöller)
Albert Venohr (Schaffner)
Rudolf Kästner (Dirigent der Werkkapelle)
Bruno Lopinski (Regierungsvertreter)
Hannelore Wüst (Elvira)
Walter Weinacht (Meister)
Gerda Hausding (Sekretärin)
Josef Tietze (Kumpel Pöschmann)
Friedrich Wilhelm Dann (Leiter des Werkchores und Inspizient)
Hans Fiebrandt (BGL-Vorsitzender)
Paul Pfingst (Jüngerer Arbeiter und Gehilfe von Berta)
Edgar Engelmann (Gerhard)
Brigitte Krause (Sofie)
Hans-Edgar Stecher (Karli)
Karla Runkehl (Frieda)
Dieter Schnerk (Georg)
Waltraud Backmann (Margarete)
Viola Recklies (Mitglied der Jugendgruppe)
Lilo Walter (Mitglied der Jugendgruppe)
Ulla Wollank (Mitglied der Jugendgruppe)
Kurt-Otto Fritsch (Mitglied der Jugendgruppe)
Sonja Haacker (Mitglied der Jugendgruppe)
Waltraut Kramm (Mitglied der Jugendgruppe)
Werner Uschkurat (Mitglied der Jugendgruppe)
Werner Schnabel (Mitglied der Jugendgruppe)
Heinz Schönberner (Mitglied der Jugendgruppe)
Rainer Geisler (Mitglied der Jugendgruppe)

Production Design

Wilhelm Vorwerg
Alfred Schulz

Script Editing

Kurt Stahlschmidt (auch: Adalbert)

Music

Joachim Werzlau
Walter Sieber (Musikalische Leitung)

Unit Production Management
Short Summary (German)
Ein Theaterwettstreit entbrennt anlässlich der vierjährigen Jubiläumsfeier im Kraftwerk Hennigsberg. Die alten Hasen wollen die musikalische Kitsch-Klamotte "Gärtnerliesl" aufführen. Die Jugend ist dagegen und plant ein eigenes Programm, mit dem sie in kabarettistischer Weise Ereignisse aus dem Werk aufspießen will. Vorher müssen alle aber erst einmal gemeinsam bei einer Turbinen-Havarie zupacken. Am Festtag fällt die "Gärtnerliesl" mit Pauken und Trompeten durch, während das Programm der Jugend großen Beifall findet, dem sich die Rivalen anschließen.
(Quelle: Das zweite Leben der Filmstadt Babelsberg. DEFA-Spielfilme 1946-1992)
Short Summary (Other Languages)
In occasione del quarto anniversario della centrale elettrica di Henningsberg, le vecchie e le nuove generazioni si sfidano a teatro. Mentre le vecchie volpi pensano di portare in scena un classico piuttosto kitsch, i giovani vogliono allestire un'opera prima, un cabaret sulle vicissitudini della centrale. Ma prima della prima giovani e vecchi devono risolvere un'avaria delle turbine. Arrivati al giorno di festa, lo spettacolo degli anziani sarà un flop e quello dei giovani un grande successo. (Italienisch)