Schlösser und Katen
Director: Kurt Maetzig, 202 Min., Black-White, Feature Film
Deutsche Demokratische Republik (DDR)
DEFA-Studio für Spielfilme, 1956
Film/Video Format

35 mm

Length in m

5567

Other Title

I. Teil: Der krumme Anton, II. Teil: Annegrets Heimkehr - Der Gerade und der Krumme, Der Schein

English Title

Castles And Cottages (1. Crooked Anton, 2. Annegret's Homecoming)

Premiere Date

Release Date (for Cinema)

Releases

DVD: ICESTORM Entertainment GmbH / www.icestorm.de
DVD: University of Massachusetts (UMASS) - DEFA Film Library / www.umass.edu/defa
Short Summary (English)
It is May 1945 in a Mecklenburgian village. The Count, up to now landowner, has fled. The land reform is imminent. The Communists have ideals, but they lack any kind of technical equipment or horses. The landed proprietors promise their assistance only in return for drudgery. In this situation, hunched Anton has a brainwave. Seventeen years ago he married Marthe, who gave birth to a child by the young Count, who had started an affair with her "just for fun". At least they have a certificate of heir ship confirming the child's paternal origin. This certificate should now help Annegret to make her fortune ... However, others are after the certificate as well: the Countess, who has excellent use for it in her divorce case; the Count himself, who would be penniless if had to payout the Countess because of this certificate; the bailiff, who would like to marry his son off profitably to Annegret; the landowner, Wittig, who speaks venomously about "the reds". Hunched Anton manoeuvers between all parties, almost losing his family in the process. Marthe leaves him, and Annegret moves to the city. .
But slowly things are getting better in the village: better technology becomes available, new farmer's houses are built. However, there are still quarrels about the certificate of heir-ship.
When Annegret returns to the village as an agriculturalist, she is shunned by almost everyone.
Meanwhile, the first cooperative has been founded. But sabotage and rumours are still rife in the village. When the young chairwoman of the agricultural cooperative is murdered, the village is on the verge of panic. But then the workers and the peasants unite to defend their rights. Only hunched Anton keeps behaving in an extremely individualistic way: At the border, he strikes down the bailiff in self- defence and, as a result, has to go to prison. Here, however, he begins to listen to reason and comes back to his senses so that he can now be accepted into the large circle of the rural family at Annegret's wedding.
Source: Progress Film-Verleih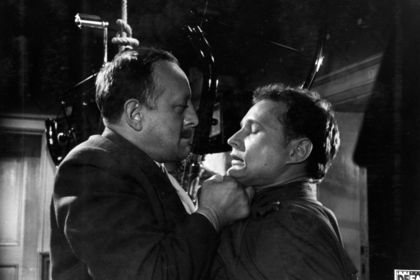 Film Crew
Script

Kurt Barthel (Pseudonym: Kuba)
Kurt Maetzig

Cast

Raimund Schelcher (Krummer Anton)
Erika Dunkelmann (Marthe)
Karla Runkehl (Annegret)
Erwin Geschonneck (Bröker)
Harry Hindemith (Kalle)
Wilhelm Puchert (Jens Voss)
Angelika Hurwicz (Hede)
Dieter Perlwitz (Klimm)
Helga Göring (Christel Sikura)
Hans Finohr (Der alte Sikura)
Kurt Dunkelmann (Wittig)
Ekkehard Schall (Ekkehart)
Lotte Loebinger (Die alte Sikura)
Otto Saltzmann (Paderski)
Otto Krone (Palm)
Erich Franz (Mann mit Lederjacke)
Marga Legal (Elisabeth Bröker)
Traute Sense (Gräfin von Holzendorf)
Martha Beschort-Diez (Frau Wittig)
Barbara Berg (Ute Wittig)
Maria Wendt (Helene Klimm)
Heinz Kögel (Graf von Holzendorf)
Annelise Matschulat (Frau Palm)
Paul R. Henker (Pastor Popp)
Hans Klering (Bräuning)
Hans W. Hamacher (Schwager von Bräuning)
Horst Kube (Betrunkener Bursche)
Ludwig Sachs (Alter Bauer)
Albert Zahn (Karsten)
Ulrich Thein (Agronom)
Karl Kendzia (Bauer Mallmann)
Karl Brenk (Bauer Kanne)
Hermann Wagemann (Bauer Weigant)
Herbert Rüdiger (Bauer Einsiedel)
Gertrud Brendler (Frau Paderski)
Ditha Cullmann (Frau Fritsching)
Ingeborg Chrobok (Einzelbäuerin Dotzauer)
Paul Pfingst (Fritsching)
Alexander Papendiek (Sowjetischer Leutnant)
Gustav Püttjer (Postbote)
Ursula Weiß (Magd)
Maria Besendahl (Ollsch Voss)
Walter Stickan (Heber)
Elfriede Florin (Frau Heber)
Jean Brahn (Koch / Mann am Glücksrad)
Ursula Mundt (Magd)
Heinz Jennerjahn (Großbauer)
Jochen Thomas (Großbauer)
Leonhard Ritter (Großbauer)
Paul Lipinski (Ein Herr)
Willi Rother
Ellen Plessow (Tante)
Gertrud von Bastineller (Eine Dame)
Liska Merbach (Eine Dame)
Gertrud Hiller (Eine Dame)
Harry Steinbeck (Schweizer)
Heinz Isterheil (Kämmerer)
Werner Senftleben (Voigt)
Erwin Behling (Kutscher)
Karl-Heinz Weiß (Ein Bauer)
Frank Michelis (Ein Bauer)
Käte Alving (Eine Bäuerin)
Else Sanden (Eine Bäuerin)
Peter A. Stiege (Kommissar in Zivil)
Dora Thomsczeck (Wirtschafterin des Pfarrers)
Erhard Markgraf (Bursche)
Einar List (Annegrets Junge)
Irene Hett (Flüchtlingsfrau)
Ilona Ringer (Flüchtlingsfrau)
Lieselotte Fiebig (Flüchtlingsfrau)
Wanda Bräuninger (Flüchtlingsfrau)
Ursula Blank (Flüchtlingsfrau)
Alfhild Deleuil (Flüchtlingsfrau)
Ursula Röschmann (Flüchtlingsfrau)
Waltraut Kramm (Flüchtlingsfrau)
Grete Carlsohn (Flüchtlingsfrau)
Hela Gruel (Flüchtlingsfrau)
Elke Radtke (Kind von Sikura (jünger))
Evelin Radtke (Kind von Sikura (jünger))
Hannelore Schmidt (Kind von Sikura (älter))
Brigitte Schmidt (Kind von Sikura (älter))

Assistant Director

Bernd Braun
Doris Borkmann

Scenario

Kurt Barthel (Pseudonym: Kuba)

Make-Up

Gerhard Zeising
Erna Hallas

Props

Theo (auch: Theodor) Görgens

Unit Production Management

Heinz Walter
Heinz Fröhlich
Short Summary (German)
Teil I: Ein mecklenburgisches Dorf 1945. Die gräfliche Familie flüchtet vor der Roten Armee gen Westen. Zurück bleiben Knechte, Mägde, Landarbeiter - unter ihnen der "krumme Anton", ehemals Kutscher des Grafen. Sein Leben lang getreten und verspottet, hofft er nun auf ein bisschen Glück für seine Tochter Annegret. Er besitzt ein Schriftstück des Grafen, das Annegret bei ihrer Hochzeit 5.000 Mark und ein halbes Dutzend Bettbezüge garantiert. Anton hatte vor 17 Jahren Annegrets Mutter Marthe, die vom Grafen gewaltsam geschwängert worden war, geheiratet. Seine Familie weiß nichts von dem Schriftstück, aber der Gutsinspektor Bröker. Der will seinen Sohn mit Annegret verheiraten und damit das ganze Erbe des Grafen, der keine legitimen Kinder hat, bekommen. Die ahnungslose Annegret wird zum Opfer seines Intrigenspiels und verlässt das Dorf, als ihre wahre Herkunft bekannt wird. Sie glaubt, daß der Traktorist Klimm, den sie liebt, keine Grafentochter akzeptiert, denn als junger Genosse arbeitet er mit Eifer am Aufbau der neuen Gesellschaft.
Teil II: Jahre später kehrt Annegret heim, mit einem Diplom als Zootechnikerin in der Tasche und einem Sohn auf dem Arm. Der Kampf im Dorf jedoch ist nicht zu Ende - weder der politische noch der persönliche. Anton krallt sich noch immer an sein Schriftstück, und Bröker, nun bei der Deutschen Saatgutgenossenschaft angestellt, rächt sich an Annegret wegen der verlorenen "Erbschaft". Er wiegelt die Bauern, die ihren neuen Methoden ohnehin skeptisch gegenüberstehen, gegen sie auf. Während des Aufstands um den 17. Juni 1953 erleiden die "alten Kräfte" eine Niederlage, und auch Anton begreift nun, dass sein Schriftstück nichts wert ist. Zwischen Annegret und Klimm findet endlich die Hochzeit statt.
Filmtext: Schlösser und Katen. Roman nach dem Filmszenarium von Kuba. Halle/Saale: Mitteldeutscher Verlag 1970.
(Quelle: Das zweite Leben der Filmstadt Babelsberg. DEFA-Spielfilme 1946-1992)
Short Summary (Other Languages)
Parte I: Nel 1945 una famiglia di conti fugge dall'Armata Rossa nell'ovest, lasciando nel villaggio del Meclenburgo i domestici e i contadini, fra cui anche "Anton il gobbo", cocchiere del conte. Da sempre deriso e bistrattato, Anton si augura ora un po' di fortuna per sé e sua figlia Annegret. In una lettera, infatti, il conte promette di donargli 5000 marchi e una dozzina di corredi il giorno del matrimonio della figlia. Questo perché 17 anni prima Anton ha sposato Marthe, la mamma di Annegret, rimasta incinta dopo essere stata stuprata dal conte. Nessuno in famiglia sa della lettera, tranne l'ispettore Bröker, che spera di maritare suo figlio con Annegret per aggiudicarsi la dote e l'eredità del conte, rimasto senza legittimi eredi. Venendo a sapere degli intrighi, Annegret lascia il villaggio per seguire l'amato Klimm, che tuttavia vuole ricostruire una società migliore e sicuramente non accetterà la figlia di un conte.
Parte II: Anni dopo Annegret ritorna a casa, con una laurea in zootecnica e un figlio, ma le lotte in paese, personali e politiche, continuano. Anton si aggrappa ancora alla sua lettera, mentre Bröker si vendica su Annegret per la mancata "eredità", incitando i contadini contro di lei. Nella rivolta del 17 giugno del 1953 le "vecchie forze" subiscono una sconfitta e Anton capisce, che la sua lettera non ha alcun valore. Finalmente Annegret sposa Klimm. (Italienisch)