Schneewittchen
Director: Gottfried Kolditz, 62 Min., Color, Feature Film
Deutsche Demokratische Republik (DDR)
DEFA-Studio für Spielfilme, 1961
Film/Video Format

35 mm

Length in m

1707

English Title

Snow White

Premiere Date

Release Date (for Cinema)

Literary Source

Gebrüder Grimm: "Schneewittchen", Märchen

Releases

DVD: ICESTORM Entertainment GmbH / www.icestorm.de
DVD: University of Massachusetts (UMASS) - DEFA Film Library / www.umass.edu/defa
Short Summary (English)
Everyone at court is fond of Snow White because of her kindness, friendliness and readiness to help. Her vainglorious stepmother; tormented by jealousy and envy, pursues her with hatred. When her magic mirror tells her one day that it is not she - Her Royal Majesty - but rather Snow White who is the fairest of all, she decides to have her stepdaughter put to death. The hunter is to carry out this gruesome deed in the forest. He feels compassion for her and lets her go free. Snow White eventually reaches the Seven Dwarfs who give her a warm reception. But the queen soon finds this out from the mirror. Beside herself with rage, she now wants to kill Snow White herself. She tricks the innocent girl with lethal presents. The dwarfs succeed twice to save her and the third time the love of a young king and the clumsiness of a pallbearer bring her back to life. The wedding follows immediately and the evil stepmother is, of course, invited too. Fear-stricken, she takes to flight.
Source: Progress Film-Verleih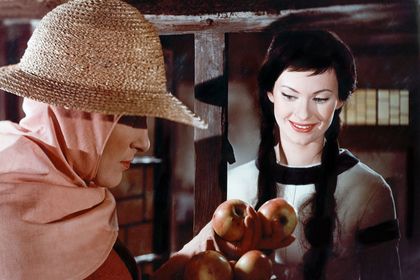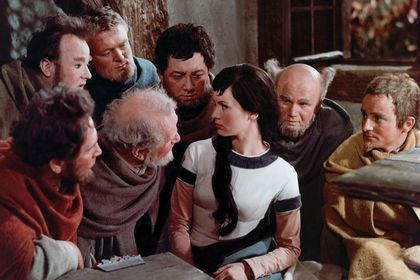 Film Crew
Cast

Doris Weikow (Schneewittchen)
Marianne Christina Schilling (Königin)
Wolf-Dieter Panse (Junger König)
Harry Hindemith (Jäger)
Steffie Spira (Alte)
Arthur Reppert (Rumpelbold)
Jochen Koeppel (Purzelbaum)
Georg Irmer (Packe)
Fred Delmare (Naseweis)
Heinz Scholze (Puck)
Willi Scholz (Huckepack)
Horst Jonischkan (Pick)
Albert Zahn (Reitknecht)
Fritz Schlegel (Koch)
Horst Buder (Küchenjunge)
Arno Wyzniewski (Diener der Königin)
Hanna Rieger (Magd)
Kurt Sperling (Gast des Königs)
Fredy Barten (Gast des Königs)
Hans-Joachim Engelmann (Gast der Königin)
Walter E. Fuß (Fanfarenbläser)
Georg Thies (Diener der Königin)
Ursula Köppen (Dame der Gesellschaft)
Sylvia Simdorn (Dame der Gesellschaft)
Inge Otto (Dame der Gesellschaft)
Karin Kornatis (Dame der Gesellschaft)
Veronika Axmann (Dame der Gesellschaft)
Astrid Much (Dame der Gesellschaft)
Gudrun Peters (Dame der Gesellschaft)
Brigitte Becker (Dame der Gesellschaft)
Christa Parthier (Dame der Gesellschaft)
Erika Grüneberg (Dame der Gesellschaft)
Gisela Schreiber (Dame der Gesellschaft)
Heidi Ortner (Dame der Gesellschaft)
Waltraud Schröder (Dame der Gesellschaft)
Sabine Lehmann (Dame der Gesellschaft)
Ilona Schmidt (Dame der Gesellschaft)

Script Editing

Margot Beichler
Gudrun Rammler

Make-Up

Gerhard Zeising
Eva Nendel
Klaus Becker
Günter Hermstein

Unit Production Management

Horst Schmidt
Heinz Gellert
Short Summary (German)
Aus Eifersucht und Neid will die böse Königin ihre Stieftochter Schneewittchen töten lassen. Der damit beauftragte Jäger jedoch lässt das Mädchen im Wald laufen. Schneewittchen gelangt zu den sieben Zwergen und findet bei ihnen freundliche Aufnahme. Bald erfährt die Königin durch ihren Spiegel davon. Außer sich vor Zorn, will sie Schneewittchen nun selbst töten. Verkleidet macht sie sich auf den Weg, und beim dritten Versuch gelingt ihr schließlich die Tat. Schneewittchen aber wird wieder zum Leben erweckt, und der junge König nimmt sie mit auf sein Schloss. Zur Hochzeit wird auch die böse Stiefmutter eingeladen, die vor lauter Angst die Flucht ergreift.
(Quelle: Das zweite Leben der Filmstadt Babelsberg. DEFA-Spielfilme 1946-1992)
Short Summary (Other Languages)
Piena d'invidia, la regina cattiva chiede a un cacciatore di uccidere la figliastra Biancaneve, ma l'uomo lascia che la ragazza scappi nel bosco, trovando rifugio dai sette nani. Venuta a sapere dal suo specchio dell'inganno, la regina decide di uccidere la ragazza con le sue stesse mani. Ma il bacio di un principe riporterà la ragazza in vita. Invitata al loro matrimonio, la matrigna cattiva fuggirà. (Italienisch)