Schwarze Panther
Director: Josef Mach, 87 Min., Color, Feature Film
Deutsche Demokratische Republik (DDR)
DEFA-Studio für Spielfilme, 1966
Film/Video Format

35 mm

Length in m

2393

Other Title

Die Prinzessin will leben

English Title

Black Panthers

Premiere Date

Release Date (for Cinema)

Releases

DVD: ICESTORM Entertainment GmbH / www.icestorm.de
Short Summary (English)
Carvelli, a trapeze artist, has planned a sensational highwire act for his seventeen-year-old daughter, Martina. The act which Carvel Ii has in mind for Martina has never been done before. He is, however, determined to stage this new trapeze act with his daughter. Carvelli's act never gets off the ground because of Martina's fear of the high-wire.
Instead of being drawn to the high-wire, Martina is drawn to the black panthers in the circus arena. She has not only taken a fancy to them, but to their trainer, Dittrich, as well. Despite Dittrich's warnings concerning the dangers of working with the wild cats, Martina decides to become a tamer. In order to learn all the ins and outs of animal care, Martina begins an apprenticeship at a zoo.
A tragic accident almost occurs during a evening performance in the circus arena: Dittrich is dangerously threatened by the panthers. Suddenly Martina jumps into the ring, and positioning herself at Dittrich's side, she brings the excited animals under control - secretly, night for night, she has been training with the panthers.
Source: Progress Film-Verleih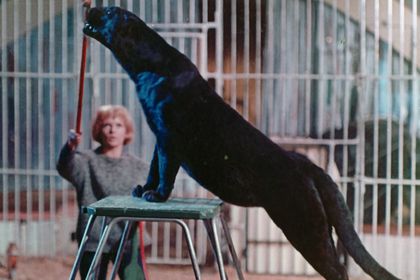 Film Crew
Script

Dorothea Richter
Paul Berndt

Film Editing

Anneliese Hinze-Sokolow (auch: Sokoloff, Sokolowa, Hinze)

Cast

Angelika Waller (Martina)
Christine Laszar (Christina)
Hannjo Hasse (Leon)
Helmut Schreiber (Dittrich)
Horst Kube (Paul)
Gerd Ehlers (Direktor)
Willi Schrade (Assistent Müller)
Ivan Malré (Spielleiter)
Horst Jonischkan (Peter Bosanzo)
Werner Dissel (Feldmann)
Günter Junghans (Werner Weber)
Otmar Richter (Hans)
Gisbert-Peter Terhorst (Ulli)
Klaus-Jürgen Kramer (Gerhard)
Walter Stolp (Wirt)
Ilse Voigt (Frau vom Bulldoggenchef)
Walter E. Fuß (Bulldoggenchef)
Václáv Mrskoc (Jongleur Fred)
Karin Buchali (Partnerin von Fred)
Astrid Deinzer (Mädchen mit Affen)
Hans Heinrich Gülzow (Arzt)
Klaus Bamberg (Mann mit Tropenhelm)
Hans Feldner (Zweiter Wirt)
Klaus Bliedtner (Artist)
Michael Iwanowski (Artist)
Julius Ehmke (Clown Bubi)
August Ehmke (Clown Jule)
Doris Laporte (Klischnigg-Uta)
Hanno Coldam (Clownerie mit Löwen)
Die 7 Köhlers (Artisten mit Schleuderakrobatik)
Ehepaar Schwenk (Luftpärchennummer)
Die Kristellis (Springer auf dem Netz)
Balto-Truppe (Ballakrobatik)
Petsamos-Truppe (Mädchen auf dem Seil)

Musical Performance

Ballett des Friedrichstadt-Palastes Berlin (Tanz)

Make-Up

Lothar Stäglich
Christa (auch: Christel) Grewald

Unit Production Management

Design

Gisela Walther (Choreografie)
Short Summary (German)
Der Artist Carvelli möchte mit seiner 17-jährigen Tochter Martina ein sensationelles Duo am Perch werden. Martina aber stellt fest, dass die Hochseilartistik ihr nicht liegt. Sie hat Angst. Mit Kleinigkeiten aber will sie sich auch nicht abgeben und beschließt, Dompteuse zu werden. Die schwarzen Panther haben es ihr angetan. Dompteur Dittrich, den sie liebt, will sie jedoch nicht zu den gefährlichen Tieren lassen. Also beschließt sie, den Beruf von der Pike auf zu lernen und nimmt eine Tierpfleger-Lehre im Tierpark an. An ihrem letzten Abend kommt es in der Zirkusmanege zu einem Zwischenfall. Dittrich wird von den Panthern bedroht. Und plötzlich steht Marina neben ihm im Käfig und bändigt die Raubkatzen. Sie hatte nachts heimlich mit ihnen trainiert.
(Quelle: Das zweite Leben der Filmstadt Babelsberg. DEFA-Spielfilme 1946-1992)
Short Summary (Other Languages)
L'artista Carvelli vuole esibirsi con sua figlia Martina in un sensazionale numero alla fune. Ma la ragazza soffre di vertigini e preferisce diventare una domatrice di pantere. Dittrich, il domatore di cui la ragazza è innamorata, si rifiuta di farla avvicinare ai felini. Martina decide, così, di imparare il mestiere da zero, accettando un tirocinio da allevatrice allo zoo. Una sera, nel maneggio del circo, si verifica un incidente: minacciato da una pantera, Dittrich viene salvato da Martina, che doma il felino. Di notte si era segretamente allenata a domare gli animali. (Italienisch)