Sheriff Teddy
Director: Heiner Carow, 68 Min., Black-White, Feature Film
Deutsche Demokratische Republik (DDR)
DEFA-Studio für Spielfilme, 1957
Film/Video Format

35 mm

Length in m

1859

English Title

Sheriff Teddy

Premiere Date

Release Date (for Cinema)

Literary Source

Pludra, Benno: "Sheriff Teddy", Kinderbuch
Short Summary (English)
In 1957, Kalle's parents move from Berlin's West Sector to its East Sector. The boy does not like this at all. After all, he was leader of the "Teddy Gang" in West Berlin, had the grand name "Sheriff Teddy" and could lead a "gangster" life like in the cheap action and detective stories he devours.
Here in the East, he is merely the "newcomer" and can forget exciting things like gangs and being a leader. Nor can he impress anyone with his thrillers. On the contrary:
Andreas, who shares his school bench, tramples on his trashy literature in the schoolyard. Not even his knuckleduster instills any respect in the boys. Rather; they badmouth him as a "coward".
Kalle is furious - especially with Andreas - and wants to get his own back. So he tries to mobilize his "Teddy Gang" into action. But it all misfires. Kalle changes very gradually and starts liking school. He sees how much fun Andreas and the others are having riding around enthusiastically on their bikes...But along comes Kalle's brother who gets him entangled in shady dealings. He goes through a rough time. If Andreas had not stepped in to help, who knows what would have happened...
It is a tough learning process for Andreas but he eventually feels at home in his new surroundings.
Source: Progress Film-Verleih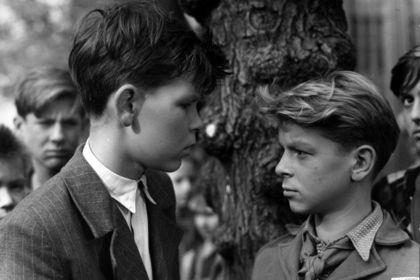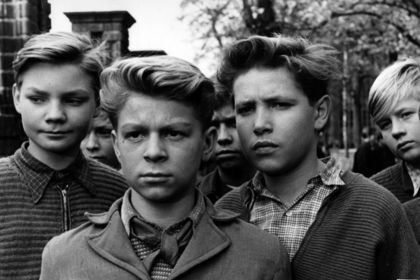 Film Crew
Script

Benno Pludra
Heiner Carow

Cast

Gerhard Kuhn (Kalle)
Axel Dietz (Andreas)
Günther Simon (Lehrer Freitag)
Erich Franz (Herr Becker)
Else Wolz (Frau Becker)
Helga Göring (Frau Müller)
Hartmut Reck (Robbi)
Gerhard Rachold (Mucki)
Fred Düren (Konsumpacker)
Rolf Ripperger (Junger VP-Offizier)
Erich Mirek (Herr Zahn)
Käte Alving (Zimmervermieterin)
Waltraud Kogel (HO-Verkäuferin)
Rudolf Christoph (Polizeikommissar)
Wilhelm Gröhl (Zeichenlehrer)
Paul Streckfuß (Zeitungsverkäufer)
Georg Soboleff (Mann mit Lederkoffer)
Christiane von Trümbach (Frau am Bahnhof)
Hermann Beelitz (Zollbeamter)
Elsa Grube-Deister (Straßenbahnschaffnerin)
Willi Wietfeldt (Mann am Bahnhof Friedrichstraße)
Nico Turoff (Betrunkener)
Dorothea Thiesing (Frau im HO-Geschäft)
Elli Hall (Frau am Alexanderplatz)
Augustin Kovacz (Mann am Alexanderplatz)
Valentin Claus (Mann am Alexanderplatz)
Peter Gröger (Halbstarker am Alexanderplatz)
Horst Buder (Halbstarker am Alexanderplatz)
Alexander Noevoy (Albi)
Wolfgang Stein (Lutz)
Peter Gensing (Schlaks)
Jürgen Schulz (Fips)
Helmut Benthin (Fips 2)
Wolfgang Binder (Bodo)
Manfred Schmidt (Schnecke)
Illario Hönicke (Spinne)
Jürgen Holzapfel (Padde)
Doris Koch (Jojo)

Assistant Camera

Peter Süring
Brigitte Wegener

Make-Up

Hanns (auch: Hans) Wosnik (auch: Wosnick)

Unit Production Management

Fritz Brix
Otto Ziesenitz

DEFA Photography

Eberhard (auch: Franz-Eberhard) Daßdorf
Short Summary (German)
Der 13-jährige Kalle zieht mit seinen Eltern von West- nach Ostberlin. In seinem alten Kiez galt er was, war Sheriff der Teddy-Bande. Die neue, andersartige Umgebung passt ihm nicht, und noch weniger seinem großen Bruder Robbi, der im Westteil krummen Geschäften nachgeht. Zwischen Kalle und seinem Banknachbarn in der Schule, Andreas, entwickelt sich eine Rivalität, die zu mehreren Zwischenfällen führt. Kalle will sich bei Andreas, den er eigentlich mag, mit einem Geschenk entschuldigen - einem geklauten Tacho für dessen Fahrrad. Der Diebstahl fliegt auf, Kalle fühlt sich blamiert und traut sich nicht mehr in die Schule. Vom Bruder lässt er sich zu einem Einbruch verleiten, doch Andreas und die anderen Klassenkameraden sind Robbi auf der Spur. Sie alarmieren die Polizei und legen ein gutes Wort für Kalle ein.
(Quelle: Das zweite Leben der Filmstadt Babelsberg. DEFA-Spielfilme 1946-1992)
Short Summary (Other Languages)
Kalle si trasferisce con i genitori da Berlino ovest a Berlino est. Mentre nel vecchio quartiere il bambino era lo sceriffo della "banda degli orsacchiotti", il nuovo ambiente non gli piace. La rivalità con Andreas, il suo compagno di banco, si traduce in non pochi incidenti, ai quali Kalle vuole rimediare con un regalo - un tachimetro rubato per la bici. Scoperto il furto, Kalle capisce di aver fatto una figuraccia e non osa più andare a scuola. Suo fratello maggiore, che già all'ovest si era messo nei guai, lo convince a effettuare per lui uno scasso, ma Andreas e i compagni di scuola allertano la polizia e mettono una buona parola per Kalle. (Italienisch)