Sonnensucher
Director: Konrad Wolf, 115 Min., Black-White, Feature Film
Deutsche Demokratische Republik (DDR)
DEFA-Studio für Spielfilme, 1958
Film/Video Format

35 mm

Length in m

3156

Other Title

Das große Abenteuer

English Title

Sun Seekers

Premiere Date

Release Date (for Cinema)

Premiere Air Date (for TV)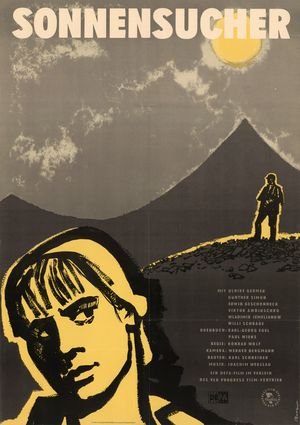 Short Summary (English)
In the autumn of 1950, Emmi Jahnke takes in a young orphaned girl who has until then been pushed around a lot and abused by men. Lutz, as the girl is called, is a typical post-war child; immensely relieved finally to have found a safe haven in Berlin. Emmi meets Jupp König, a young Communist, in a dancehall twenty years after she last saw him. At that time, she was hiding him in a circus troupe from the Nazis. Today, König is working in a mine.
Emmi and Jupp get together again sooner than expected.
For Emmi - and Lutz - are to work at the plant where König also works. This came about because the police found out that the two women had no fixed job. They had got dragged into a brawl which the police had to clear up.
Lutz gets to know the young collier, Gunter Halleck, moves in with him for a while, but eventually realizes that he is not the right partner for her. She is not only burdened with private problems - at work there are confiicts too. There is a shortage of material and the workers lack basic knowhow. Moreover, Beier, the senior overman, is eyed with suspicion by all because he has not yet shed his unpleasant military officer's airs.
The Soviet engineer, Melnikov, becomes Lutz's moral authority and model figure of integrity. The co-workers start taking hesitant steps towards one another...
Source: Progress Film-Verleih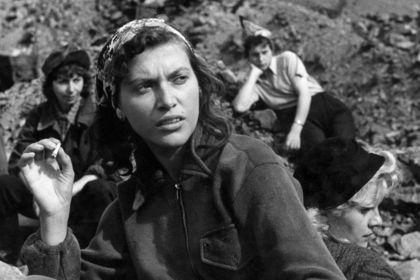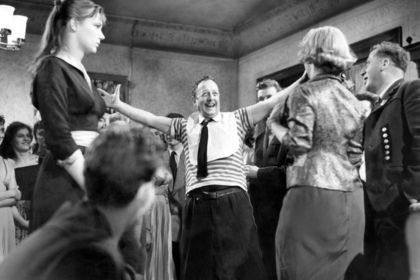 Film Crew
Script

Karl Georg Egel
Paul Wiens

Cast

Ulrike Behrmann von Zerboni (geb. Germer) (Lutz)
Günther Simon (Franz Beier)
Erwin Geschonneck (Jupp König)
Wiktor Antonowitsch Awdjuschko (Sergej Melnikow)
Wladimir Jemeljanow (Oberst Fedossjew)
Willi Schrade (Günter Holleck)
Manja Behrens (Emmi Jahnke)
Norbert Christian (Josef Stein)
Erich Franz (Weihrauch)
Rimma Schorochowa (Wera)
Brigitte Krause (Berta Mattusche)
Horst Kube (Wenzel)
Peter-Paul Goes (Thackzick)
Agnes Kraus (Hagere Frau)
Marga Legal (Sekretärin in der Gebietsparteileitung)
Werner Lierck (Mann mit Lederjacke)
Willi Neuenhahn (Schießmeister)
Hans Schäffer (Krüger)
Albert Zahn (Lopp)
Kurt Rust (Partner von Krüger)
Bernd Köhler (Beiers Sekretär)
Hildegard Küthe (Dicke Frau)
W. J. Minin (Sowjetischer Kapitän)
Werner Senftleben (Volkspolizist)
Paul Funk (Heringsverkäufer)
Ludwig Sachs (Alter Ober)
Christine Lindemer (Frau mit Kopftuch)
Willi Wietfeldt (Wodkaverkäufer)
Erich von Dahlen (Klavierspieler)
Georg Helge (Kellner)
Hans Schwenke (Kellner)
Willi Linke (Betrunkener)
Oswald Foerderer (Wirt im Café "Nelke")
Anneliese Reppel (Frau im Treppenflur)
Wolfgang Kalweit (Sekretär bei Fedossjew)
Fritz Schlegel (Bauer)
Gertrud Brendler (Bäuerin)
Isolde Thümmler (Mädchen im Mädchenhaus)
Susanne Vikarski (Mädchen im Mädchenhaus)
Rosemarie Schuldt (Günter Hollecks Tanzpartnerin)
Ursula Weiß (Mädchen im Café "Nelke")
Augustin Kovacz (Besucher im Café "Nelke")
Gerda Müller (Besucherin im Café "Nelke")
Peynette Voigt (Besucherin im Café "Nelke")
Joachim Glaeser (Besucher im Café "Nelke")
Hans Sievers (Besucher im Café "Nelke")

Assistant Director

Heinz Thiel (Assistenzregie)
Michael Englberger

Assistant Camera

Hans Heinrich (Kameraführung)
Manfred Damm

Music

Joachim Werzlau
Hans-Dieter Hosalla ("Lied vom starken Mann")

Musical Performance

DEFA-Sinfonieorchester (Leitung: Adolf Fritz Guhl)
Klaus Meissner (Trompete (Solist))
Lissy Tempelhof (Gesang "Lied vom starken Mann")

Unit Production Management

Hans-Joachim Funk
Erwin Rose
Paul Schimanski
Awards
Gesellschaft für Deutsch-Sowjetische Freundschaft (DSF) (1975): Kunstpreis der DSF - Konrad Wolf
Short Summary (German)
Wismut 1950. Der Uranbergbau führt Menschen unterschiedlicher Art zusammen. Solche, die einen neuen Lebenssinn suchen, aber auch Abenteurer und Gestrandete. Zwei Frauen, bei einer Razzia in Berlin aufgegriffen, kommen zwangsweise. Das Mädchen Lutz, das schon früh als Waise das Leben von der härtesten Seite kennengelernt hat, und Emmi, die sich nach dem Krieg prostituierte, um zu überleben. Lutz verliebt sich in den Kumpel Günter, lebt einige Zeit mit ihm und verlässt ihn nach großer Enttäuschung. Zwei andere bemühen sich um sie: der Obersteiger Franz Beier und der sowjetische Ingenieur Sergej. Sie sind nicht nur im Ringen um das Mädchen Rivalen. Sergej, dessen Frau im Krieg von Deutschen ermordet wurde, misstraut Beier, der zwar mit seiner faschistischen Vergangenheit gebrochen hat, aber sich nicht zu diesem Teil seiner Vergangenheit bekennt. Lutz heiratet Beier, bei dem sie erstmals im Leben als Frau Achtung erfährt, aber sie entdeckt, dass sie in Wahrheit Sergej liebt.
Filmtext: Sonnensucher. Filmerzählung von Karl Georg Egel und Paul Wiens. Berlin: Henschelverlag 1974.
(Quelle: Das zweite Leben der Filmstadt Babelsberg. DEFA-Spielfilme 1946-1992)
Short Summary (Other Languages)
En el Otoño de 1950 es extraído uranio en «Wismut», una empresa minera de la RDA, bajo control sovietico.
Despusès de una razzia en una taberna y porque no pueden probar que tienen un trabajo, llegan a Wismut la muchacha Lutz junto a una amiga mayor. El ambiente es parecido a una mina de oro, aqui se encuentran: aventureros, fracasados, anti-guos nazis, trabajadores honrades, oficiales sovieticos, hombres y mujeres.
Trabajos duros, borracheras y peleas son las estaciones periodicas en sus dias y noches. Burocracia y charlataneria, indiferencia y brutalidad estan en contradicción con los anunciados ideales de la clase trabajadora. Solo alugnos hombres fuertes e íntegros se oponen.
La muchacha Lutz, que debido a un tratamiento inhumano se encuentra siquicamente herida, a olvidado la risa y comienza a duras penas a defender una propia identidad.
Un amor diffícil hacia un hombre complicado la ayuda a expresar sus sentimientos a confiar en si misma. (Spanisch: Konrad Wolf Retro, Goethe Institut 1992)
Les aléas d'une orpheline de guerre envoyée dans une mine d'uranium secrète dirigée conjointement avec les Soviétiques. Deux hommes tombent amoureux d'elle, un ingénieur soviétique et un ancien SS. Le film et interdit jusqu'en 1972 à la demande de l'URSS. En cause, la mine d'uranium et le nucléaire, sujets sensibles alors qu'on est en pleine guerre froide. (Französisch: 6e Festival Zoom Arrière (Films interdits), Cinemathèque de Toulouse, 2012)
Nel 1950 Lutz, un'orfana, e Emmi, una prostituta, arrestate durante una razzia a Berlino, arrivano alla miniera di uranio di Wismut. Lutz s'innamora del compagno Günter, va a vivere con lui, ma resterà profondamente delusa. A prendersi cura di lei saranno, dunque, il caposquadra Franz Beier e l'ingegnere sovietico Sergej, rivali non solo in amore. Sergej, che ha perso la moglie in guerra, uccisa dai tedeschi, non si fida di Beier, un ex fascista che non rinnega il suo passato. Lutz sposa Beier, perché è l'unico uomo che le abbia mai portato rispetto, ma scoprirà ben presto di amare Sergej. (Italienisch)