Spur der Steine
Director: Frank Beyer, 134 Min., Black-White, Feature Film
Deutsche Demokratische Republik (DDR)
DEFA-Studio für Spielfilme, 1966
Film/Video Format

35 mm

Length in m

3795

English Title

Trace of Stones

Premiere Date

Release Date (for Cinema)

Literary Source

Neutsch, Erik: "Spur der Steine", Roman
Short Summary (English)
Building construction foreman Hannes Balla - hulky and throwing around his weight - is king of the large buildingsite "Schkona". He is held in high esteem by especially his unit's men because he makes sure their pay and bonuses are paid out correctly. Things stop running so smoothly once Kati Klee, a young technician, and Werner Horrath, the new Party Secretary, arrive on the building-site. Hannes' unassailability and his reputation are at stake now because Horrath has a lot going for himself and is quite a match for Hannes. And Kati forces Hannes to lift his go-getter mask somewhat to reveal a bit of his true nature.
Balla falls in love with Kati. But Horrath loves the young technician as well, despite being devoted to his wife and children waiting for him in Rostock. He cannot make up his mind and entangles himself in lies, pretending to himself he is doing this for the sake of his work. But he pays a high price for lying. This triangular relationship - among Kati, Werner and Hannes - which initially benefitted their work because it inspired Balla to take on new tasks and views, is destroyed.
(Source: Progress Film-Verleih)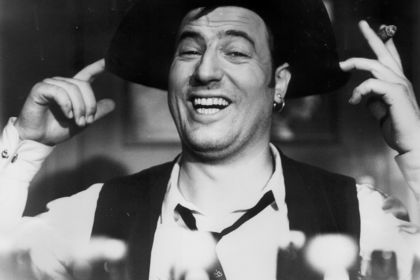 Film Crew
Script

Karl Georg Egel
Frank Beyer

Cast

Manfred Krug (Hannes Balla)
Krystyna Stypulkowska (Kati Klee)
Eberhard Esche (Werner Horrath)
Johannes Wieke (Hermann Jansen)
Walter Richter-Reinick (Richard Trutmann)
Hans-Peter Minetti (Heinz Bleibtreu)
Walter Jupé (Hesselbart)
Ingeborg Schumacher (Marianne Horrath)
Brigitte Herwig (Tocher Horrath)
Gertrud Brendler (Frau Schicketanz)
Helga Göring (Elli)
Erich Mirek (Oswald Ziemer)
Günter Meier (Bast)
Karl Brenk (Büchner)
Helmut Schreiber (Elbers)
Fred Ludwig (Wolbig)
Erik Veldre (Jochmann)
Hans-Peter Reinicke (Galomski)
Detlev Eisner (Nick)
Albert Zahn (Eisenflechter)
Gerhard Hänsel (Maurer)
Jochen Zimmermann (Dumperfahrer)
Heinz Laggies (Brigademitglied)
Hans Schmidt (Brigademitglied)
Harald Moszdorf (Brigademitglied)
Fete Pinnow (Brigademitglied)
Wolfgang Ostberg (Brigademitglied)
Gisela Graupner (Brigademitglied)
Hilmar Bodendieck (Brigademitglied)
Roman Silberstein (Oberleutnant der VP)
Johannes Maus (Polizist)
Maika Joseph (Krankenschwester)
Vera Byl (Junge Frau)
Günter Krahl (Junger Mann)
Katja Hildebrandt (Säugling)
Werner Kamenik (Parteileitungsmitglied)
Karl-Heinz Weiß (Parteileitungsmitglied)
Walter Schüppel (Parteileitungsmitglied)
Ernst Peter Berndt (Parteileitungsmitglied)
Fritz Mohr (Parteileitungsmitglied)
Gerhard Wien (Parteileitungsmitglied)
Gerd Scheibel (Parteileitungsmitglied)
Erika Stiska (Parteileitungsmitglied)
Christa Pasemann (Parteileitungsmitglied)
Wolfgang Kold (Barmixer)
Karl Ilsemann (Barmixer)
Ursula Möckel (Bardame)
Vera Achenbach (Barmädchen)
Horst Günter Fiegler (Kellner)
Reinhard Tomschirm (Kellner)
Alfons Pruszkowski (Kellner)
Georg Schweiger (Wirt)
Sina Fiedler (Krankenschwester)
Rosa Lotze (Junge Mutter)
Dieter Perlwitz (Mitglied der Bezirksleitung)
Klaus Schwarz (Reporter)
Herbert Großkopf (Sprecher im Präsidium)
Max Peater (Vorsitzender im Präsidium)
Bodo Schmidt (Junger Mann in der Tanzbar)

Script Editing

Günter Mehnert
Werner Beck

Music

Wolfram Heicking
Hans Kunze

Make-Up

Willi Gesche
Irmgard Lippmann

Unit Production Management

Gerhard Freudel
Paul Schimanski

Consulting

Joachim Werzlau (musikalisch)

Dubbing (Dubbing Actor)

Jutta Hoffmann (Kati Klee)
Short Summary (German)
Werner Horrath, Parteisekretär der Großbaustelle Schkona muss sich vor der Parteileitung wegen unmoralischen Verhaltens und politisch-ideologischen Versagens verantworten. - Ein Jahr zuvor: Horrath kommt als neuer Parteisekretär auf die Baustelle, zur gleichen Zeit wie die junge Ingenieurin Kati Klee. Beide stoßen auf den Widerstand Hannes Ballas. Er ist der ungekrönte König der Baustelle, seine Brigade steht hinter ihm wie ein Mann. Alle sind sie ausgezeichnete Arbeiter und können sich auf Balla verlassen. Was die Bauleitung vermasselt, rückt er auf seine anarchistische Weise wieder gerade. Das zahlt sich aus - in den Lohntüten der "Ballas" wie für den gesamten Bau. Die Fähigkeiten Ballas erkennend, versuchen Horrath und Kati, ihn zur Zusammenarbeit zu bewegen, wobei der Parteisekretär Mut zeigt und vor unkonventionellen Mitteln nicht zurückschreckt. Balla imponiert das, die drei werden ein gutes Team, das dem Chaos auf der Baustelle zu Leibe rückt. Kati liebt und verehrt Horrath, doch dieser ist verheiratet und hat ein Kind. Er liebt beide Frauen und kann sich nicht entscheiden. Damit gerät er nicht nur in einen persönlichen Konflikt, sondern kollidiert mit den Parteiprinzipien.
(Quelle: Das zweite Leben der Filmstadt Babelsberg. DEFA-Spielfilme 1946-1992)
Short Summary (Other Languages)
Werner Horrath, segretario di partito sul cantiere Schkona, deve rispondere alla direzione del suo comportamento immorale e del personale fallimento politico-ideologico. Un anno prima Horrath era giunto al cantiere assieme alla giovane ingegnere Kati Klee. Nonostante prime resistenze, alla fine i due erano riusciti a collaborare con successo con Hannes Balla, l'indiscusso Re del cantiere, capace con la sua squadra di risolvere ogni problema. Kati si era innamorata di Horrath, che tuttavia era sposato con un figlio. Non riuscendo a decidersi fra le due donne, Horrath era entrato in conflitto con sé stesso e con il suo partito. (Italienisch)
El jefe de obra Hannes Balla es el rey de la obra morrocotuda "Schkona". El goza del mayor éxito en su grupo de trabajo porqque paga correctamente. Todo se complica aún más cuando Kati Klee, una técnica joven, y Werner Horrath, el nuevo secretario de partido vienen a la obra. Al principio los trés trabajan con éxito y eliminan el caos existente de la obra. Hannes Balla se enamora de Kati. Kati se enamora de Werner Horath, pero él tiene a su esposa y a su niño en Rostock. Horath llega a una situación delicada a un nivel personal, político y ideológico. (Spanisch)
Hannes, chef d'équipe charismatique et haut en couleurs, s'inquiète de voir venir sur son chantier une jeune ingénieure et le nouveau secrétaire du Parti. Retiré des salles après que des agitateurs commandés en ont perturbé l'exploitation (l'ingérence du Parti montrée dans le film et le caractère anarchisant de Hannes dérangeaient certains fonctionnaires), ce western ouvrier impertinent - ressorti en 1990 - est aujourd'hui considéré comme un des cents meilleurs films allemand de tous les temps. (Französisch: 6e Festival Zoom Arrière (Films interdits), Cinémathèque de Toulouse, 2012)
Đội trưởng Hannes Balla và nhóm công nhân của anh hăng say làm việc trên một công trường xây dựng. Anh được mọi người đánh giá cao, tuy nhiên anh không phải là con người của kỷ luật cứng nhắc, mà anh uống rượu, đánh lộn và tự cho mình rất nhiều tự do. Vì vậy, bí thư đảng ủy Horrath không khỏi e ngại, mặc dù hai người đều tỏ ra tôn trọng lẫn nhau. Khi cô kỹ sư Kati Klee xuất hiện, hai người đàn ông đều phải lòng cô. Mặc dù Kati tỏ ra yêu anh chàng theo chủ nghĩa xét lại Balla hơn, nhưng trái tim cô từ lâu đã bị bí thư đảng ủy Horath chiếm đoạt. Kati đã có thai với Horath.
Nhìn lại sau 40 năm, "Dấu vết của đá" đã chỉ ra những mâu thuẫn chính trị và xã hội cơ bản của CHDC Đức những năm 60. Tuy nhiên, như nhiều bộ phim khác, bộ phim này cũng bị cấm tại CHDC Đức cho tới năm 1989. (Vietnamesisch)
O filme se passa em um canteiro de obras, onde desleixo e oportunismo prevalecem. O chefe de equipe Balla e seus homens gozam de grande liberdade, porque são eficientes apesar da irreverência e de métodos pouco convencionais. Quando, a jovem engenheira Kati e o recém-empossado secretário do partid, Horrath chegam ao local da construção, conflitos estão ocorrendo, pois o equilíbrio precário entre a direção e os funcionários ameaça ruir. Balla tem de tomar posição. Embora não constasse originalmente da lista dos filmes proibidos na 11ª. Sessão Plenária do Comitê Central do SED foi censurado pouco depois, em dezembro de 1965. Após tumultos encenados por pretensos operários, o filme foi retirado de cartaz, só voltando aos cinemas em novembro de 1989. (Portugiesisch: atrás do muro havia cinema: filmes da defa, alemanha oriental 1946-1992)