Stärker als die Nacht
Director: Slatan Dudow, 113 Min., Black-White, Feature Film
Deutsche Demokratische Republik (DDR)
DEFA-Studio für Spielfilme, 1954
Film/Video Format

35 mm

Length in m

3203

Other Title

Weg durch die Nacht; Widerstandskampf

English Title

Stronger Than The Night

Premiere Date

Release Date (for Cinema)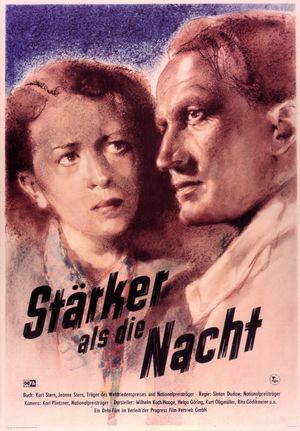 Short Summary (English)
This film is centered around the destinies of Hans Löring and his wife, Gerda, who are two workers from Hamburg who are representative of German opponents of Nazism. Gerda is carrying their first child. When the couple is arrested for political resistance after Hitler's rise to power, Hans is sent to prison. But Gerda and Hans remain true to their political convictions throughout Hans's seven-year imprisonment in a concentration camp. Despite knowing that a second arrest would bring certain death, Hans forms another resistance group following his release. The group commits industrial sabotage against the Nazis and circulates forbidden political flyers. For a second time, the Gestapo catches Hans. He dies with the hope of a better Germany following the defeat of the Nazi regime.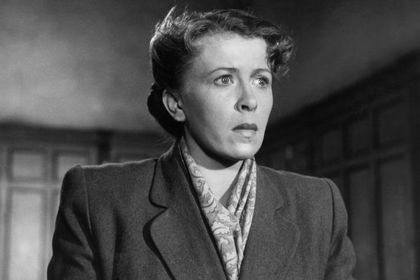 Film Crew
Camera

Karl Plintzner
Horst E. Brandt
Ernst Kunstmann (Trick)

Cast

Wilhelm Koch-Hooge (Hans Löning)
Helga Göring (Gerda Löning)
Kurt Oligmüller (Erich Bachmann)
Rita Gödikmeier (Lotte Bachmann)
Harald Halgardt (Eddi Noll)
Helmut Schreiber (Hackelbusch)
Peter Priemer (Klaus-Peter Löning)
Manfred Borges (Helmut Karsten)
Hans Wehrl (Bernhard Manthey)
Erika Dunkelmann (Käthe Manthey)
Aribert Grimmer (Langer, hagerer Arbeiter)
Heinz Hinze (Herr Globig)
Gertrud Brendler (Frau Globig)
Johannes Arpe (Gauleiter)
Adolf Peter Hoffmann (Kriminalkommissar Knappe)
Theo Shall (Dr. Panneck)
Hansjoachim Büttner (Dr. Hermes)
Wolfgang Hübner (Günther)
Joachim Hübner (Rezitator)
Martin Knapfel (Meister)
Grete Carlsohn (Bäckersfrau)
Gustav Püttjer (Kraftfahrer)
Harro Tenbrook (Polizeioffizier)
Maria Besendahl (Zimmerwirtin)
Karl Brenk (Gefängniswärter)
Hermann Dieckhoff (Geistlicher)
Fredy Barten (Gastwirt)
Ada Mahr (Portiersfrau)
Jean Brahn (Gastwirt)
Wolfgang Brunecker (SS-Posten)
Ursula Dücker (Krankenschwester)
Edith Volkmann (Junge Arbeiterin)
Fritz Löffler (Mann mit Hakenkreuz)
Waldhorst Schmidt (SS-Offizier)
Paul Pfingst (Bauarbeiter)
Brigitte Keppler (Aufnahmeschwester)
Horst Schumann (Schupo-Offizier)
Trude Brentina (Kundin im Bäckerladen)
Werner Fink (Kommentarsprecher)
Inge Bartel (Kommentarsprecherin)
Karl Block (Gefängniswärter)
Alif Mohamed (Spanier)
Ursula Hermann (Sekretärin bei Hackelbusch)
Manfred Frömchen (Personalleiter)
Christoph Beyertt (Junger Arbeiter)
Otto Saltzmann (Älterer Häftling)
Harry Riebauer (SS-Mann)
Heinz Marlow (SS-Mann)
Jens Hansen (SS-Mann)
G. Rudnicki (SS-Mann)
E. Dröge (SS-Mann)
Waldemar Tepel (SS-Mann)
Werner Michael Winzer (SS-Mann)
Peter Minzloff (SS-Mann)
Herbert Pfeiffer (SS-Mann)
Werner Rösler (SS-Mann)
Hajo Albrecht (SS-Mann)
Fritz Ernst Fechner (SS-Mann)
Hans Flössel (Arbeiter)
Erich Franz (Arbeiter)
Oswald Foerderer (Arbeiter)
Hans Fiebrandt (Arbeiter)
Willy Wenghöfer (Arbeiter)
Hans Schwenke (Arbeiter)
Heinz Appel (Arbeiter)
Fritz Decho (Arbeiter)
Johannes Brömme (Arbeiter)
F. R. Ludwig (Arbeiter)
Johannes Maus (Arbeiter)
Bruno Atlas-Eising (Arbeiter)
Walter E. Fuß (Arbeiter)
Frithjof Ruede (Arbeiter)
Heinz Schröder (Arbeiter)
Paul Jenensch (Arbeiter)
Wolfgang Sörgel (Arbeiter)
Rochus Lankau (Arbeiter)
Frank Michelis (Arbeiter)
Teddy Wulff (Arbeiter)
Peter Kalisch (Arbeiter)
Erik Kuhlmey (Arbeiter)
Kurt Barthel (Arbeiter)
Helmuth Bautzmann (Arbeiter)
Max Bernhardt (Arbeiter)
Alfred Lux (Arbeiter)
Erich Brauer (Arbeiter)
Rudi Petters (Arbeiter)
Edmund Kirchner (Arbeiter)
Linde Sommer (Arbeiterin)
Else Sanden (Arbeiterin)
Erich Mirek (Häftling)
Gerry Wolff (Häftling)
Georg Helge (Häftling)
Horst Kube (Häftling)
Hermann Stetza (Häftling)
Horst Giese (Häftling)
Otto Groll (Häftling)
Walter Salow (Gestapo-Mann)
Werner Senftleben (Gestapo-Mann)
Helmut Wenzlau (Gestapo-Mann)
Hannjo Hasse (Gestapo-Mann)
Hans-Jürgen Kruse (Gestapo-Mann)
Erwin Wittmer (Gestapo-Mann)
Harry Steinbeck (Gestapo-Mann)
Erich Gutte (Gestapo-Mann)
Conrad Pfennig (Gestapo-Mann)
Erich Behnke (SA-Mann)
Uwe Döring (SA-Mann)
Hannes Cujath (SA-Mann)
Hans Laggies (SA-Mann)
Heinz Keuneke (auch: Keunecke) (SA-Mann)
Fritz Bohnstedt (SA-Mann)
Rolf Ripperger (SA-Mann)
Alexander Papendiek (SA-Mann)
Carl Friedrich Burkhardt (SA-Mann)
Helmuth Gritzka (SA-Mann)
Anton Weinemann (SA-Mann)
Kurt Sperling
Dorothea Thiesing
Hans-Dieter Bachmann
Ullrich Maas

Assistant Director

Walter Beck
Werner Reinhold
Werner Hartmann

Assistant Camera

Richard Günther
Heinz Bohn

Production Design

Oskar Pietsch
Gerhard Helwig

Costume Design

Gerhard Kaddatz
Ursula Leuschner

Unit Production Management

Horst Lockau
Kurt Fehling

Text

Erich Weinert (Verse "Das Lied von der roten Fahne")

DEFA Photography

Manfred Klawikowski
Gerhard Kowalewski
Awards
Nationalpreis II. Klasse (1955): Nationalpreis II. Klasse - Jeanne Stern
Nationalpreis II. Klasse (1955): Nationalpreis II. Klasse - Kurt Stern
Nationalpreis II. Klasse (1955): Nationalpreis II. Klasse - Wilhelm Koch-Hooge
Nationalpreis II. Klasse (1955): Nationalpreis II. Klasse - Slatan Dudow
Filmfestspiele in Locarno (1955): bester Darsteller - Wilhelm Koch-Hooge
Short Summary (German)
Im Mittelpunkt des Films steht das Schicksal des kommunistischen Hamburger Arbeiters Hans Löning und seiner Frau Gerda - stellvertretend für Tausende deutsche Antifaschisten. 1933: Gerda erwartet ihr erstes Kind. Hans muss nach der Machtergreifung Hitlers in die Illegalität. Als Gerda entbindet, ist Hans bereits verhaftet. Während der sieben Jahre Konzentrationslager bleibt Gerda ihm und ihren gemeinsamen Idealen treu. Als Hans entlassen wird, weiß er, dass eine nochmalige Verhaftung den Tod bedeutet. Dennoch organisiert er wieder eine Widerstandsgruppe, die mit Rüstungs-Sabotage in den Betrieben und Flugblatt-Aktionen gegen das faschistische Regime und den Krieg kämpft. Durch Verrat fällt Hans der Gestapo ein zweites Mal in die Hände. Er stirbt aufrecht und in der Hoffnung, dass nach der Niederlage des Faschismus ein besseres Deutschland auferstehen wird.
Filmtext: Stärker als die Nacht. Ein Film-Szenarium von Kurt und Jeanne Stern. Berlin: Aufbau-Verlag 1954.
(Quelle: Das zweite Leben der Filmstadt Babelsberg. DEFA-Spielfilme 1946-1992)
Short Summary (Other Languages)
Il film racconta la storia dell'operaio comunista Hans Löning e di sua moglie Gerda, impegnati, come migliaia di altre persone, nella lotta contro il fascismo. Nel 1933 Gerda aspetta il primo figlio, ma con l'avvento al potere di Hitler, Hans è costretto a vivere nell'illegalità. Durante i sette anni di prigionia in un campo di concentramento, né lui né sua moglie rinunceranno ai propri ideali. Tornato in libertà, Hans riorganizza un gruppo di resistenza, che lotta all'interno delle fabbriche di armi contro il regime e la guerra. Tradito, Hans finisce nuovamente nelle mani della Gestapo. Morirà con la speranza che dopo la caduta del fascismo, la Germania saprà riprendersi. (Italienisch)
Ce film retrace d'une façon émouvante la lutte des anti-fascistes allemands lors des années 1933-34. Egalement leur lutte dans la clandestinité pour éviter le déclenchement de la Seconde guerre mondiale. (Französisch: Archives Seine Saint Denis)