Stein
Director: Egon Günther, 108 Min., Color, Feature Film
Deutschland
DEFA Studio Babelsberg GmbH, 1991
Film/Video Format

35 mm

Length in m

2902

English Title

Stein

Premiere Date

Release Date (for Cinema)

Releases

DVD: ICESTORM Entertainment GmbH / www.icestorm.de
Short Summary (English)
Ernst Stein, a well-known actor, protests against the military invasion of Prague in 1968. He quits the stage for good because after such a political scandal, the theatre has lost - for him - its claim to being a moral institution.
Meanwhile, Stein has become an old man. He has spent a long time in internal emigration and has come to discover the flipside of being an outsider. He is even scared of losing his mind. Still, he sticks to his peculiar behaviour, hiding behind his clowning, playing the fool, often acting like a child. This, however; makes him a hit with children in particular. Even young people become interested in him and, what is more, they start looking after him. They freely enter his house - which is always open- give him a hand, making sure he does not become down and out.
His love for the twenty-year-old Sara warms his heartstrings once more. But one day Sara leaves him and Stein seriously contemplates death. He travels to Rome and disappears there - cheerful and reconciled with life - into the catacombs.
Source: Progress Film-Verleih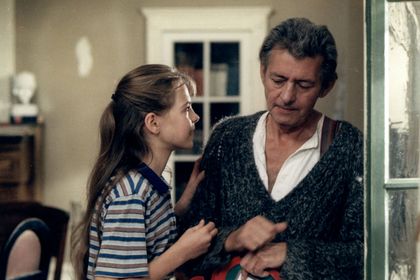 Film Crew
Script

Egon Günther
Helga Schütz

Film Editing

Monika Schindler (geb. Behrendt)

Cast

Rolf Ludwig (Stein)
Franziska Herold (Sara)
Evelyne Dahm (Laura)
Johanna Möhring (Josie)
Anne Ferse (Mephisto)
Margit Bendokat (Frau Reinhard)
Katja Paryla (Christine Berg)
Jaecki Schwarz (Polizist I)
Uwe-Dag Berlin (Fotograf)
Susanne Böwe (in "König Lear" - Regan)
Eckhard Doblies (Sven)
Pietro Elia (Beamter)
Sebastian Hartmann (sowjetischer Soldat)
Gerhard Hähndel (Polizist IV)
Alexander Hetterle (Energetiker)

Music

Johannes Brahms ("Alt-Rhapsodie")
Henry Purcell ("King Arthur")
Karl-Ernst Sasse ("Serenade für Karla")

Musical Performance

Maurice Bevan (Bariton)
Annelies Burmeister (Alt)
Paul Elliott (Tenor)
Rosemary Hardy (Sopran)
Männerchor des Rundfunkchores Leipzig (Musikgruppe) ("Alt-Rhapsodie" von Brahm)
Rundfunk-Sinfonieorchester Leipzig ("The King's Music" aus "King Arthur"; Leitung: Heinz Bongartz)
The Deller Chor (Musikgruppe) ("King Arthur" von Purcell)

Make-Up

Lothar Stäglich
Rosemarie Stäglich
Awards
Internationales Filmfestival Viareggio/Italien (1991): "Frederico-Fellini-Preis" als bester Darsteller - Rolf Ludwig
Prädikat (Deutsche Film- und Medienbewertung (FBW)) (1991): Besonders wertvoll
Short Summary (German)
Der einst berühmte Schauspieler Ernst Stein ist 1968 aus Protest gegen den Einmarsch in die CSSR während einer Aufführung des "König Lear" von der Bühne abgegangen - für immer. Gut zwanzig Jahre hat er in selbstgewählter Isolation in seinem Haus am Stadtrand von Berlin gelebt. Man sagt, er ist ein bißchen irre, und er spielt den Narren, der er zuweilen auch ist. Beschützt und umsorgt wird er hauptsächlich von Kindern und Jugendlichen aus der Nachbarschaft. Der alte Mann liebt Sara, eine Zwanzigjährige. Die gesellschaftliche Unruhe des Jahres 1989 bricht in seine abgeschlossene Welt ein. Tramper Rebellen, Punker, Aussteiger nisten sich bei ihm ein, nehmen, was sie brauchen, verschwinden wieder. Eines Tages verschwindet auch Sara. Auf der Suche nach ihr gerät er in ein Polizeiobjekt, in dem junge Demonstranten schikaniert werden. Nach dem Fall der Mauer ist er allein zurükgeblieben. Seine Todesvisionen zeigen ihn in Rom, die Katakomben hinabsteigen - konfrontiert mit seinem schlechten Gewissen: zwei desertierten Russen, denen er einst die Tür gewiesen hatte.
(Quelle: Das zweite Leben der Filmstadt Babelsberg. DEFA-Spielfilme 1946-1992)