Sterne
Director: Konrad Wolf, 92 Min., Black-White, Feature Film
Bulgarien, Deutsche Demokratische Republik (DDR)
DEFA-Studio für Spielfilme / Studio für Spielfilme, Sofia, 1959
Film/Video Format

35 mm

Length in m

2513

Other Title

Zwezdy

English Title

Stars

Premiere Date

Release Date (for Cinema)
Short Summary (English)
Stars is set in a Bulgarian transit camp during the Third Reich where thousands of Greek Sephardic Jews await transport to Auschwitz. The film explores the ambiguities of persecution in a hopeless love story between a German officer and an imprisoned Jewish teacher. With a script by Angel Wagenstein (who also adapted Feuchtwanger's Goya), Stars established Konrad Wolf's international repute. A Bulgarian/East German coproduction, it won the Special Grand Jury Prize of the 1959 Cannes Film Festival, where for political reasons it was billed as a Bulgarian Film.
Source: DEFA Film Library - Shadows and Sojourners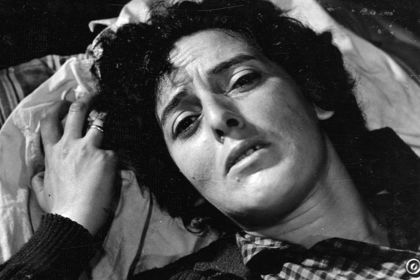 Film Crew
Cast

Sascha Kruscharska (Ruth)
Jürgen Frohriep (Walter)
Erik S. Klein (Kurt)
Stefan Pejtschew (Bai Petko)
Georgi Naumow (Blashe)
Ivan Kondow (Ruths Vater)
Milka Tujkowa (Partisanin)
Stiljan Kunew (Der "Doktor")
Naitscho Petrow (Polizeichef)
Hannjo Hasse (Hauptmann)
Hans Fiebrandt (Soldat)
Waltraut Kramm (Freundin von Muzzi)
Trifon Djonew (Schmied)
Leon Konforti (Nervöser Jude)
Gani Staikow (Fieberkranker)
Avram Pinkas (Wasserträger)
Sonka Mitewa (Muzzi)
Luna Dawidowa (Schwangere Jüdin)
Peter Wassilew (Jüdischer Händler)
Milka Mandil (Jüdische Händlerin)
Marin Toschew (Zigarettenjude)
Bella Eschkenazy (Jüdin mit Mädchen)
Kyntscho Boschnakow
Georgi Bantschew (Holzfäller)
Juri Jakowlew (Soldat)
Elena Chranowa (Alte Jüdin)
Albert Zahn (Wachposten)

Assistant Director

Issak Cheskia
Michael Englberger

Assistant Camera

Hans Heinrich (Kameraführung)
Manfred Damm

Production Design

José Sancha
Maria Iwanowa
Alfred Drosdek

Music

Simeon Pironkow
Mordechaij Gebirtig (jiddisches Lied "Es brennt")

Musical Performance

Gerry Wolff (jiddische Lieder "Es brennt", "Eli Eli")

Props

Siegfried Wittke
Kyriell Lambrew

Production Management

Siegfried Nürnberger
Wyltscho Draganow

Unit Production Management

Hans-Joachim Funk
Bojan Marintschew
Metodi Kowatschew

Consulting

Rangel Wyltschanow (Regie-Konsultant)
Awards
Internationales Filmfestival Edinburgh (1959): Anerkennungsurkunde
Filmfestival der VII. Weltfestspiele der Jugend und Studenten Wien (1959): Goldmedaille
XII. Internationales Filmfestival Cannes (1959): Sonderpreis der Jury
Short Summary (German)
(Koproduktion DDR/Bulgarien)
Griechische Juden haben 1943 auf ihrer Deportation ins Todeslager Auschwitz einen dreitägigen Aufenthalt in einer kleinen bulgarischen Stadt. Hier begegnet der Wehrmachts-Unteroffizier Walter der Jüdin Ruth. Sie bittet ihn um Hilfe für eine gebärende Mitgefangene. Er hilft so gut er kann, verliebt sich in Ruth und sie sich in ihn. Durch diese Liebe beginnt sich der ehemalige Kunststudent, der als Soldat seine Pflicht erfüllen wollte, zu wandeln. Er gerät in Konflikt mit seinem Vorgesetzten und Freund Kurt, einem überheblichen und brutalen Landser. Zunächst lehnt Walter es ab, den im Wehrmachtsstützpunkt arbeitenden bulgarischen Widerstandskämpfern zu helfen. Sein humanistisches Engagement will er auf die Rettung Ruths begrenzen. Doch er kann ihren Transport nach Auschwitz nicht verhindern.
(Quelle: Das zweite Leben der Filmstadt Babelsberg. DEFA-Spielfilme 1946-1992)
Short Summary (Other Languages)
Segunda Guerra Mundial al interior de Bulgaria. El suboficial alemán Walter vigila como soldato de las fuerzas de ocupación, a trabajadores civiles bulgaros en un taller. A la llegada el pueblo de un transporte de judíos griegos, el niega atención médica, a una mujer en avanzado estado de gravides. Ruth, una muchacha judía se atreve a enfrentarle enrostrandole su creuldad. Con su actitud logra que Walter se asuste de si mismo y desata en el una crisis de conciencia. El busca las cercanias de la muchacha y percibe un tímido sentimiento de afecto. No logra preservar a Ruth de subir a un vagón que la lleva hacia la muerte en el campo de concentratión de Auschwitz. (Spanisch: Konrad Wolf Retro, Goethe Institut 1992)
Nel 1943, prima di essere deportati ad Auschwitz, un gruppo di ebrei greci vengono confinati per tre giorni in un villaggio bulgaro. Per aiutare una sua amica in cinta, Ruth, una giovane ebrea, si rivolge a Walter, sottufficiale della Wehrmacht, che cerca di assisterla come può. I due s'innamorano e l'ex studente d'arte, che non intendeva sottrarsi ai propri doveri di soldato, si trasforma, entrando in conflitto con l'amico e suo superiore Kurt, soldato tanto presuntuoso, quanto spietato. Walter spera almeno di salvare Ruth, ma nonostante il suo impegno, non potrà evitare la deportazione della ragazza ad Auschwitz. (Italienisch)