Suse, liebe Suse
Director: Horst Seemann, 96 Min., Color, Feature Film
Deutsche Demokratische Republik (DDR)
DEFA-Studio für Spielfilme, 1974
Film/Video Format

35 mm

Length in m

2349

English Title

Susan, Dear Susan

Premiere Date

Release Date (for Cinema)

Releases

DVD: ICESTORM Entertainment GmbH / www.icestorm.de
Short Summary (English)
Manne is under arrest because he attempted to flee the GDR. He walked out on his wife Suse who grew up as a foundling and was forced to take care of herself her entire life. Now, she has to look after their child all by herself. Furthermore, she works at a construction site where she takes an interest in the Soviet engineer Boris who apparently does not return her feelings. At the carnival ball, however, the two get closer and Suse starts to draw hope. When Hanne is released from prison, he wants to return to Suse and the child. Suse, however, turns him away and sets off to a study visit in the Soviet Union. She is convinced that she must live her life without Manne and wants to find out if there is a future for her and Boris.
(Quelle: filmportal)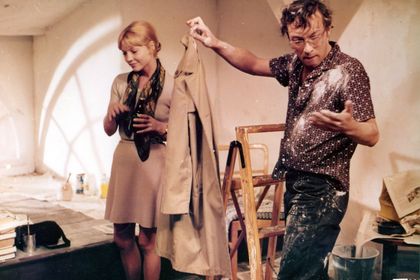 Film Crew
Cast

Traudl Kulikowsky (Suse)
Jaecki Schwarz (Manne)
Boris Saidenberg (Boris)
Gerhard Bienert (Herms)
Dieter Montag (Soldat)
Leon Niemczyk (Parteisekretär)
Heike Wagener (Suses Kind)
Lew Durow (Semjon)
Willi Schrade (Eddi)
Günter Wolf (Wolf)
Manfred Zetzsche (Clubhausleiter)
Erich Brauer (Kollege Hein)
Fred Delmare (Mann vom Betriebsschutz)
Irina Kiritschenko (Semjons Frau)
Angela Woronina (Deutsche Dolmetscherin)
Irina Matjuschka (Sowjetische Dolmetscherin)
Joachim Hoyer (Aufseher im Gefängnis)
Günter Elsholz (Beamter im Gefängnis)
Peter Bohnenstengel (Deutscher Ingenieur)
Edmar Soszdorf (Älterer Mann (Feld))
Hella Kröcher (Ältere Frau (Feld))
Victor Keune (Werkdirektor (Faschingsgast))
Sina Fiedler (Frau vom Werkdirektor (Faschingsgast))
Bodo Krämer (Pirat (Faschingsgast))
Helga Rücker (Zigeunerin (Faschingsgast))
Karin Beewen (Blondine (Faschingsgast))
Astrid Geppert (Mini-Mädchen (Faschingsgast))
Veronika Fischer (Sängerin)
Rose Becker (Gast)
Roland Kuchenbuch (Gast)
Anne-Else Paetzold (Gast)
Katarina Tomaschewsky (Gast)
Manuela Marx (Gast)
Horst Papke (Gast)
Hannes Stelzer (Gast)
Gabriele Kutschera (Gast)
Hannelore Appe (Gast)
Evelyn Notz (Gast)
Christel Klünder (Gast)
Annemarie Wollmann (Gast)
Wolfgang Haase (Kellner)
Werner Meyer (Kellner)
Regina Kablitz (Bardame)

Assistant Camera

Peter Bernhardt
Norbert Kuhröber

Scenario

Horst Seemann
Claus Küchenmeister (Mitarbeit)

Music

Ullrich Swillms
Henning Protzmann
Panta Rhei (Musikgruppe)

Sound

Paul Leben
Werner Dibowski
Gerhard Ribbeck

Musical Performance

Veronika Fischer (Gesang)
Panta Rhei (Musikgruppe)
Kapelle Dixie (Leitung: Manfred Beyer)
Kapelle Beat

Unit Production Management

Klaus Preissel (auch: Preißel)
Short Summary (German)
Suse arbeitet auf einer Großbaustelle als Dumperfahrerin. Sie ist als Findelkind von Bauern aufgezogen worden, hat früh geheiratet, ein Kind bekommen und wurde von Manne, dem Vater ihres Kindes, im Stich gelassen. Er sitzt im Gefängnis wegen versuchter Republikflucht, während sie versucht, ihr eigenes Leben aufzubauen. Auf der Baustelle beobachtet sie den sowjetischen Ingenieur Boris, der ihr sehr gefällt, aber von ihr kaum Notiz nimmt. Auf einem Faschingsball kommt sie ihm endlich näher. Als Manne aus dem Gefängnis entlassen wird, will er sich wieder mit ihr versöhnen. Sie aber bricht endgültig mit ihm und geht zu einem Studienaufenthalt in die Sowjetunion. Ob sich ihre Liebe zu Boris erfüllen wird, ist ungewiss.
(Quelle: Das zweite Leben der Filmstadt Babelsberg. DEFA-Spielfilme 1946-1992)
Short Summary (Other Languages)
Suse lavora in un cantiere come conducente di ruspe. Cresciuta orfana in una famiglia di contadini, si è sposata molto giovane, ha avuto subito un figlio da un marito, che l'ha abbandonata e siede ora in carcere per aver tentato di fuggire all'ovest. Sul cantiere Suse conosce Boris, un ingegnere sovietico che le piace molto, ma che non la considera. In occasione di un ballo in maschera, i due imparano a conoscersi meglio. Uscito di prigione, il marito di Suse spera in una riconciliazione, ma lei tronca ogni rapporto per andare a studiare in Unione Sovietica. Se il suo amore per Boris sarà contraccambiato è ancora del tutto incerto. (Italienisch)
C'est une histoire qui se déroule dans une société socialiste contemporaine avec en arrière plan un grand projet industriel de la RDA et la confrontation de Suse avec les gens de son environnement. c'est une histoire unique pour la femme qui la vit. (Französisch: Archives Seine Saint Denis)