Tecumseh
Director: Hans Kratzert, 108 Min., Color, Feature Film
Deutsche Demokratische Republik (DDR)
DEFA-Studio für Spielfilme, 1972
Film/Video Format

35 mm

Length in m

2966

English Title

Tecumseh

Premiere Date

Release Date (for Cinema)

Releases

DVD + Blu-ray: ICESTORM Entertainment GmbH / www.icestorm.de
Short Summary (English)
At the beginning of the 19th century, the Whites practised a policy of dishonest contracts toward America's original inhabitants. In this way, they gained possession of vast Indian hunting grounds at ludicrously low prices and without any bloodshed. Harrison, Governor of Indiana, alone concluded no less than fifteen contracts, driving increasing numbers of Indians out to the infertile West. To put a stop to this criminal game, the Shawnee Chief, Tecumseh, attempted to unite the Indians. In 1811, he founded a tribal alliance and had the Indian lands declared communal property. Chiefs who sell nevertheless were to be killed. During the chief's absence, Harrison raided the "Sacred City" of Tippecanoe founded by Tecumseh and his supporters, reducing it to ashes. The few survivors of the bloodbath flee to Canada, where they join forces with the English, who are waging war against America. But they, too, fail to keep their promise to Tecumseh concerning an independent Indian state. In the decisive battle, the defeated English leave their Indian allies in the lurch. Together with the other members of his tribe, Tecumseh, too, is killed.
Source: Progress Film-Verleih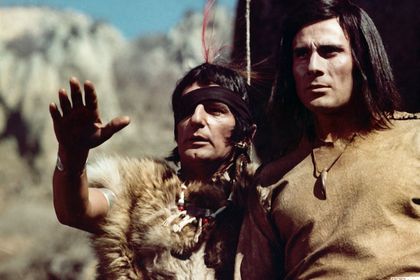 Film Crew
Film Editing

Monika Schindler (geb. Behrendt)

Cast

Gojko Mitić (Tecumseh)
Annekathrin Bürger (Eileen)
Rolf Römer (auch: Rolf Specht) (Simon)
Leon Niemczyk (McKew)
Mieczyslaw Kalenik (Brook)
Milan Beli (Raffael)
Wolfgang Greese (Harrison)
Gerry Wolff (Newman)
Rolf Ripperger (Barry / Clay)
Helmut Schreiber (Procter)
Herbert Köfer (Mac)
Rudolf Ulrich (O\'Brian)
Fritz Links (Aldington)
Minja Vojvodic (Schwarzer Adler)
Maciej Rayzacher (Wanata)
Winfried Glatzeder (Patterson)

Assistant Director

Dirk Jungnickel
Hannes Schönemann

Scenario

Wolfgang Ebeling
Rolf Römer (auch: Rolf Specht)

Make-Up

Christa (auch: Christel) Grewald
Lothar Stäglich

Consulting

Lothar Dräger
Rolf Krusche

DEFA Photography

Eckhart (auch: Eckhardt) Hartkopf
Hans-Joachim (auch: Jochen) Zillmer
Short Summary (German)
Anfang des 19. Jahrhunderts in Nordamerika. Der gewaltsamen Vertreibung der Indianer haben die Weißen ein neues Mittel hinzugefügt. Sie handeln ihnen ihr Land mit Kaufverträgen ab und drängen sie dadurch immer mehr in die unfruchtbaren Westgebiete. Gouverneur Harrison von Indiana ist der gierigste. Um ihm das Handwerk zu legen, versucht der Shawnee-Häuptling Tecumseh, die Indianer zu vereinen. Es gelingt ihm, einen Stammesbund zu gründen, der das Indianerland zu unverkäuflichem Gemeineigentum erklärt. Häuptlinge, die dennoch verkaufen, werden getötet. Harrison überfällt 1811 den Hauptsitz der Anhänger Tecumsehs. Die Überlebenden fliehen nach Kanada und schließen sich den Engländern an, die mit Amerika im Krieg liegen, dem sogenannten zweiten Unabhängigkeitskrieg. Die Indianer, Tecumseh in der Uniform eines Brigadegenerals, werden aber von den unterlegenen Engländern im Stich gelassen und in einer Schlacht von den Amerikanern geschlagen. Auch Tecumseh fällt.
(Quelle: Das zweite Leben der Filmstadt Babelsberg. DEFA-Spielfilme 1946-1992)
Short Summary (Other Languages)
Agli inizi del XIX secolo in America del nord, i coloni bianchi ricomprano le terre dagli Indiani, confinandoli nelle terre meno fertili. Il più avido di tutti è il governatore Harrison dell'Indiana. Per porre fine ai suoi misfatti, Tecumseh, il capo degli indiani Shawnee, convince la sua gente a stare unita e a vedere le proprie terre come una proprietà comune non in vendita. Nel 1811 Harrison attacca la sede principale dei seguaci di Tecumseh. Chi sopravvive, fugge in Canada e si allea con gli inglesi, in lotta con gli americani nella cosiddetta seconda guerra d'indipendenza. Gli inglesi però, pianteranno gli indiani in asso, decretando la loro fine. Anche Tecumseh cadrà in battaglia. (Italienisch)