Trini
Director: Walter Beck, 86 Min., Color, Feature Film
Deutsche Demokratische Republik (DDR)
1976
Film/Video Format

35 mm

Length in m

2365

English Title

Trini

Premiere Date

Release Date (for Cinema)

Literary Source

Renn, Ludwig: "Trini", Roman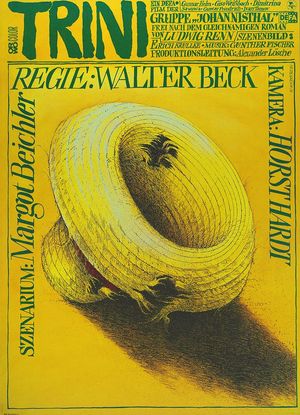 Short Summary (English)
Trini is an Indian farmer's boy who lives in a village in Mexico during the 1910s. It is a time of unrest when downtrodden farm workers lead by Emiliano Zapata revolt against the land owners. Trini's uncle Jeronimo is among the labourers who fight for a better future - but as a punishment, he is tortured and humiliated right in front of Trini's eyes. But this is only the beginning of a spiral of violence: During a protest march to a landowner, Jeronimo's girlfriend is killed by a guard. After that, furious farmers completely destroy the house of the landowner who had fled in the meantime. For fear of the approaching military, the Indios hide in the mountains and ask Zapata for help. Zapata calls together his people and in fact succeeds to force the landowner to give his land to the farmers who had been cultivating it in forced labour. Trini and his family join Zapata's group and follow him around. Trini becomes a scout for Zapata and gets the order to forward a letter to Lenin. On his way, he learns about a murder conspiracy against Zapata. Desperately, he tries to warn the revolutionary leader, but he comes too late: Zapata has already been killed by his enemies.
(Quelle: filmportal)
Film Crew
Cast

Gunnar Helm (Trini)
Giso Weißbach (Jeronimo)
Dmitrina Sawowa (Ambrosia)
Gunter Friedrich (Paco)
Iwan Tomow (Zapata)
Michael Kann (Mario Puente)
Helmut Schreiber (Gutsbesitzer Torres)
Leon Niemczyk (Graf Ariola)
Ljubomir Kisselitschki (Rittmeister Carlos)
Klaus Bamberg (Leutnant Mendoza)
Hans-Jürgen Müller-Hohensee (Fernando)
Eckhard Bilz (Margarito)
Holger Mahlich (Dr. Leon)
Mariana Mitrowitsch (Ines)
Naitscho Petrow (Sancho)
Bruno Carstens (Gonzales)
Georgi Rositsch (Balthasar)
Georgi Bakschepanow (Thomas)
Gianina Gilge (Gräfin Ariola)
Karin Gregorek (Frau Carlota)
Jutta Woytassek (Eugenia)
Freya Klier (Elena)
Günther Herbrich (Sohn Ramon Torres)
Jörg Knochée (auch: Knoche) (Hernán Alonso)
Wolfgang Kühne (Rodrigo)
Ludmila Kucharzewskaja (Rosaria)
Otto Dierichs (Miguel)
Fred Alexander (Diener Juan)
Christa Pasemann (Mariana)
Olaf Buder (Braulio)
Horst Töllner (Panfilio)
Axel Meiners (1. Hirsch)
Fred Glowacki (2. Hirsch)
Fernando Cangemi (3. Hirsch)
Lydia Toschkowa (Robena)
Aleko Kolschew (Victor)
Kiril Iwanow Petrow (Alberto)
Nicolai Gospodinow (Lorenzo)
Alfred Steinbrenner (Vater Benjamin)
Uwe Wardeck (Adolfo)
Walter Lendrich (Bettler Valentin)
Michael Dejak (Joaquin)
Edith Tschammer (Joaquins Frau)
Jürgen Huth (José)
Alfred Lux (Nicolas)
Sewerin Tenewa (Rosa)
Rosemarie Herzog (Sanchos Frau)
Walentin Jakimow (Francisco)
Juri Sawtschew (Porfirio)
Joachim Schönitz (Sergeant Fierro)
Fred Ludwig (Köhler Raffael)
Iwan Arschinkow (Fidencio, Sohn des Köhlers)
Marin Mladenow (Domingo)
Monica Bielenstein (Brigida)
Gerd Funk (Offizier Gomez)
Iwan Popandrejew (Luisito)
Kristina Sotirowa (Elisabeta)
Wladimir Arnaudow (Soldat Victorianu)
Walscho Karmaschew (Soldat Primitiwo)
Stefan Banowski (Isidro)
Heinz Lyschik (Pablo)
Max Klingberg (Pasqual)
Hans-Joachim Leschnitz (Aufseher)
Günter Schwaack (Aufseher)
Kurt Götz (Kutscher)
Milka Popantonowa (Luisa)

Sound

Harry Fuchs
Günter Witt
Siegbert Schneider
Gerhard Ribbeck

Musical Performance

Nina Hagen ( Gesang)
Gisela May (Gesang)

Make-Up

Jürgen Holzapfel
Ursula Funk

Unit Production Management

Günter Schwaack
Fritz Frost

Dubbing (Dubbing Actor)

Evamaria Heyse (Ambrosia)
Manfred Krug (Zapata)
Dieter Wien (Graf Ariola)
Werner Ehrlicher (Rittmeister Carlos)
Rosemarie Weigel (Ines)
Short Summary (German)
Zur Zeit der mexikanischen Revolution (1910 bis 1920) in einem Dorf. Der Bauernjunge Trini muss mit ansehen, wie sein Onkel Jeronimo, einer der wenigen Indios, die sich gegen den Gutsbesitzer auflehnen, gefoltert und gedemütigt wird. Bei einem Protestmarsch zum Gutsbesitzer wird Jeronimos Braut von einem Aufseher erschossen. Die Bauern zerstören daraufhin das Haus des inzwischen geflohenen Gutsbesitzers. Im Nachbardorf sammelt sich eine Truppe zur Verteidigung der Reichen, bis das Militär eintrifft. Die Indios flüchten in die Berge und holen Zapata, den Führer der Revolution, zu Hilfe. Er rückt mit seinen Leuten an und zwingt den Gutsbesitzer, das Land an die Bauern zu verteilen. Trini und seine Familie ziehen mit ihm, der Junge bekommt den Auftrag, einen Brief an Lenin weiterzuleiten. Unterwegs erfährt er von einem Komplott gegen Zapata, kommt aber mit seiner Warnung zu spät, Zapata ist ermordet worden.
(Quelle: Das zweite Leben der Filmstadt Babelsberg. DEFA-Spielfilme 1946-1992)
Short Summary (Other Languages)
Ai tempi della rivoluzione messicana (dal 1910 al 1920) il giovane Trini, figlio di contadini, deve assistere a come suo nonno Jeronimo, uno dei pochi indios a ribellarsi al proprietario terreno, venga torturato e umiliato. Durante una marcia di protesta, poi, uno dei guardiani spara a sua moglie, accendendo la lotta dei contadini, i quali distruggono la casa del padrone. Nel villaggio vicino ci si arma per difendere i ricchi, persino con l'aiuto dei militari. Gli indios fuggono fra le montagne e chiedono aiuto a Zapata, capo della rivoluzione. Quest'ultimo, appoggiato dai suoi, costringe il proprietario terriero a suddividere le sue terre fra i contadini. Trini e la sua famiglia lo seguiranno e il ragazzo riceverà l'incarico di inoltrare una lettera a Lenin. Per strada apprende di un complotto contro Zapata, ma il suo avvertimento arriva troppo tardi - il leader è già stato assassinato. (Italienisch)