Trübe Wasser
Director: Louis Daquin, 109 Min., Black-White, Feature Film
Deutsche Demokratische Republik (DDR), Frankreich
Société Nouvelle Pathé Cinéma, Paris / DEFA-Studio für Spielfilme, 1960
Film/Video Format

35 mm

Length in m

2960

Other Title

Die Krebsfischerin; La Rabouilleuse

English Title

Muddy Waters

Premiere Date

Release Date (for Cinema)

Literary Source

de Balzac, Honoré: "La Rabouilleuse", Roman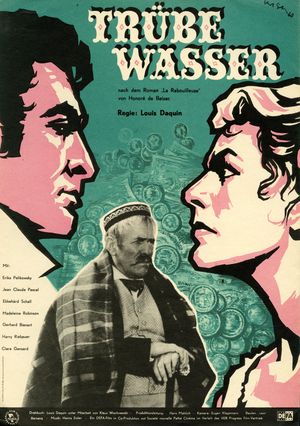 Short Summary (English)
It is I 821. We are in Paris at the time of the Restoration. What people do - and what they think - is shaped by a relentless hunt for money and power. This definitely holds true for Philipe Bridau, a former Napoleonic officer. A man of no scruples, he gambles and cheats for all he is worth. For him, the main thing is to amass more and more wealth - especially after his ladylove leaves him. He has set his eyes on his millionaire uncle Rouget's fortune. But the latter's own mistress, Flore, is equally interested in this fortune. She is in love with the young Max, who, in turn, is also madly keen on these millions.
Philipe Bridau kills Max, craftily gets rid of the old man Rouget and marries Flore who has inherited the millions.
When she falls ill, he has her cold-bloodedly perish in hospital. Bridau then marries an aristocratic lady who brings so much money into the marriage that he can double his wealth. He is a made man and now invests his fortune in state bonds.
When the government of Charles X is toppled, Philipe's bonds are suddenly worth nothing. He is plunged into poverty.
Source: Progress Film-Verleih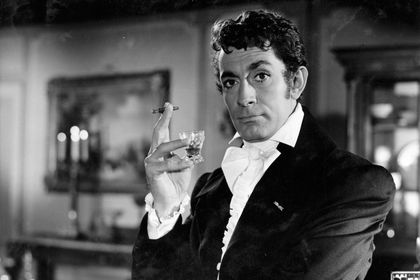 Film Crew
Script

Louis Daquin
Klaus Wischnewski (Mitarbeit)

Camera

Eugen Klagemann
Philippe Brun

Film Editing

Ursula Rudzki
Claude Nicole

Cast

Erika Pelikowsky (Agathe Bridau)
Jean Claude Pascal (Philipe Bridau)
Ekkehard Schall (Joseph Bridau, Agathe und Philipe Bridaus Sohn)
Madeleine Robinson (Flore Brazier)
Gerhard Bienert (Jean Jacques Rouget)
Harry Riebauer (Max Gilet)
Clara Gansard (Mariette)
Ivan Malré (St. Auban)
Bella Waldritter (Tante Descoings)
Adolf Peter Hoffmann (Giroudeau)
Werner Dissel (Fario)
Hans-Ulrich Lauffer (Mignonnet)
Barbara Berg (Vedie)
Kati Székely (Conchita)
Wolf Beneckendorff (Botschafter)
Ralph J. Boettner (Polizeidirektor)
Maria Besendahl (Madame Dubies)
Ditha Cullmann (Madame Palma)
Fritz Decho (Potel)
Otto Dierichs (Roguin)
Georg Dücker (Mr. Hochon)
Richard Hilgert (Coloquinte)
Peter-Maria Herzka (Polizeikommissar)
Harald Moszdorf (Rhetore)
Irma Münch (Madame Tossi)
Hildegard Röder (Florentine)
Rolf Römer (auch: Rolf Specht) (François)
Karl-Wilhelm Streit (Dearoches)
Friedhelm Wolff (De Marsay)
Senta Cordel (Madame Hochon)
Dorothea Volk (Elisabeth)
Willi Neuenhahn (Barbet)
Heinz Kögel (Carpentier)
Heinz Steinberg (Lonsteau)
Rolf Figelius (Loraux)
Ingo Baerow (1. Offizier Royal)
Hans-Eberhard Gäbel (1. Offizier Royal)
Gert Hänsch (Regnault)
Christoph Beyertt (Deville)
Jochen Diestelmann (De Breuil)
Günter Meyer-Brede (Forquin)
Willy Schmitz (Bixian)
Irene Weber-Hett (Cognette)
Gerda Baumgärtel (Kassiererin)
Hans-Hartmut Krüger (Goddet)
Jacques Trebouta (Bornich)
Hans-Joachim Engelmann (Rastignac)
Günter Margo (Diener bei Marsay)
Charlotte Stähnisch (Madame Ter)
Michael Calmen (Billardspieler)
Georgetta Sager (Tänzerin)
Paul Böttcher (Martinelli)
Erich Schmidt (Lucien)
Louis Daquin (Nucingen)
Hans Schmidt (Argusin)
Carlo Formigoni (Regnard)
Hans Moest (Coupier)
Heinz Herrig (Coupier)
Eva Brose (Leichtes Mädchen)
Evelyn Schüler (Gesellschaftsdame)
Rosemarie Piettereck (Gesellschaftstänzerin)
Hans Schröter (Gesellschaftstänzer)
Dieter Döring (Gesellschaftstänzer)
Heinz Hammerich (Tänzer)
Werner Wiesbach (Tänzer)
Frank Michelis (Zeitungsverkäufer)
Ursula Möckel (Gesellschaftsdame)
Ursula Köppen (Gesellschaftsdame)
Waltraut Hanschke (Gesellschaftsdame)
Regina Perschke (Aktmodell)
Sabine Lehmann (Kassiererin)

Assistant Director

Lutz Köhlert
Michel Pezin

Assistant Camera

Wilhelm (auch: Willy) Flohr

Make-Up

Alois Strasser
Christa (auch: Christel) Grewald

Props

Theo (auch: Theodor) Görgens

Unit Production Management
Short Summary (German)
(Koproduktion DDR/Frankreich)
Paris 1821. Die Restaurationszeit löst eine unerbittliche Jagd nach Macht und Reichtum aus. Unter den Geldjägern ist der ehemalige napoleonische Offizier Philipe Bridau. Als skrupelloser Spieler und Betrüger erwirbt er ein beträchtliches Vermögen, und nachdem seine Geliebte ihn verlassen hat, interessiert ihn nur noch die Vermehrung des Geldes. Er will die Millionen seines Onkels Rouget. Doch darauf ist schon dessen Geliebte Flore aus. Flore liebt den jungen Max, der ebenfalls nur hinter dem Geld her ist. Philipe Bridau tötet Max im Duell, beseitigt den alten Rouget auf raffinierte Art und heiratet Flore, die das Geld geerbt hat. Danach lässt er die erkrankte Flore im Spital verkommen und heiratet eine Adlige, wodurch er sein Vermögen noch verdoppelt. Er ist ganz oben und legt seinen Reichtum in Staatspapieren an. 1830 stürzt die Regierung Karls X., Philipes Papiere sind plötzlich wertlos, und er selbst ist da, woher er kam: ganz unten.
(Quelle: Das zweite Leben der Filmstadt Babelsberg. DEFA-Spielfilme 1946-1992)
Short Summary (Other Languages)
Nel 1821, in piena Restaurazione, a Parigi contano solo il potere e i soldi. Il più spietato fra i cacciatori di patrimoni è Philipe Bridau, ex ufficiale napoleonico, che con il gioco e le truffe ha accumulato un notevole capitale. Philipe mira ora ai milioni dello zio Rouget, a cui aspira anche Flore, fidanzata di quest'ultimo. Flore ama il giovane Max, ugualmente avido di denaro. In un duello Philipe uccide Max, elimina con scaltrezza il vecchio Rouget e sposa Flore, erede del suo patrimonio. Quando la ragazza si ammala, Philipe la lascia deperire in ospedale e si risposa con una nobildonna che gli permetterà di raddoppiare le sue ricchezze. Arrivato finalmente in alto, investe tutti i suoi averi in titoli di Stato. Quando nel 1830 cade il governo federale, i titoli di Philipe perdono ogni valore e lui ritorna da dove è venuto - dal basso. (Italienisch)