Turlis Abenteuer
Director: Walter Beck, 74 Min., Color, Feature Film
Deutsche Demokratische Republik (DDR)
DEFA-Studio für Spielfilme, 1967
Film/Video Format

35 mm

Length in m

2047

Type of Animation

Marionettenfilm, Realfilm

English Title

Turli´s Adventures

Premiere Date

Release Date (for Cinema)

Literary Source

Collodi, Carlo: "Pinocchios Abenteuer", Märchen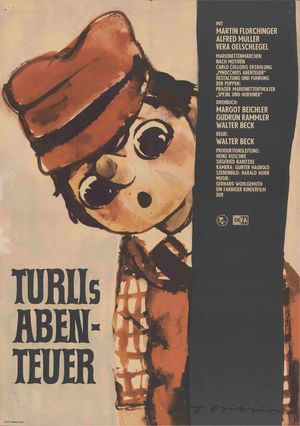 Short Summary (English)
The puppet boy Turli, who was only recently been carved from wood by the toymaker Kasimir, suddenly springs to life. Turli has nothing but nonsense on his mind and wreaks chaos everywhere he goes, although he is actually supposed to attend school. Due to their misbehavior, Turli and his friends are being transformed into circus donkeys by the donkey dealer Muriel. Kasimir starts to search for his disappeared son and is swallowed by a large fish. When Turli realizes that loafing does not lead to anything in life, he manages to rescue his father with the help of the fairy Euphrosina and his friends. And since Turli has proved his courage, he ceases to be a marionette and becomes a real boy.
(Quelle: filmportal)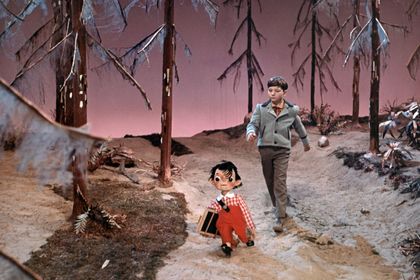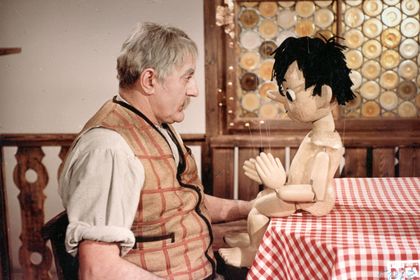 Film Crew
Script

Margot Beichler
Gudrun Rammler
Walter Beck

Camera

Günter Haubold
Wolfgang Braumann

Cast

Martin Flörchinger (Kasimir, Spielzeugmacher)
Alfred Müller (Muriel, Eselhändler)
Vera Oelschlegel (Mirzilla, eine Füchsin)
Peter Pollatschek (Eusebius, ein Kater)
Martin Hellberg (Eisenbeiss, Puppentheaterdirektor)
Marianne Wünscher (Euphrosina, gute Fee)
Carola Zschockelt (Pudel, Bote der Fee)
Herwart Grosse (Merkauf, Lehrer)
Detlef Wolf (Pippifax, ein Schüler)
Helmut Schreiber (Peitschenknall, Zirkusdirektor)
Harald Popig (Malte, Fischer)
Hans Hardt-Hardtloff (Karsten, Fischer)
Jürgen Marten (Ein Vater)
Detlef Salzsieder (Thomas)
Andreas Nehring (Alfons)
Lutz Krüger (Eduard)
Heinz Müller (Konrad)
Uwe Thielisch (Turli als Junge)
Klaus-Dieter Thiedemann (Junge)
Kerstin Berger (Mädchen)
Gerhard Rosenlöcher (Trompeter)

Make-Up

Bernhard Kalisch
Irmgard Lippmann
Liane Wilk

Production Management

Heinz Kuschke
Siegfried Kabitzke

Unit Production Management

Design

Klara Hakenová (Puppengestaltung)
Milos Haken (Puppengestaltung)
Radko Haken (Puppengestaltung)

Animation

Klara Hakenová (Puppenführung)
Milos Haken (Puppenführung)
Radko Haken (Puppenführung)

DEFA Photography

Herbert Kroiss
Dietram Kleist

Narrator

Gina Presgott (Turli)
Olaf Berndt (Pippifax)
Fritz Decho (Zeremonienmeister)
Lutz Friedrich (Krokodil)
Robert Hanke (Wachsoldat)
Manfred Kaufmann (Pudel)
Günter Ott (Schlosshauptmann)
Roswitha Trexler (Prinzessin (Gesang))
Manfred Krug (Kasper (Gesang))
Awards
II. Nationales Kinder- und Jugendfestival der DDR Halle (1967): Preis in der Kategorie Kinder- und Jugendspielfilm
Short Summary (German)
Spielzeugmacher Kasimir hat den Kasper Turli kaum zu Ende geschnitzt, da wird der schon lebendig und beginnt allerlei Unfug anzustellen - allerdings nicht in schlechter Absicht. Trotz aller Ermahnungen schwänzt Turli die Schule, richtet im Puppentheater Verwirrung an und fällt schließlich auf den bösen Muriel herein. Der nutzt die Faulheit der Kinder aus und verwandelt sie in Esel, die für ihn arbeiten müssen. Mithilfe der Fee Euphrosina entkommt Turli, rettet seinen Vater, der auf der Suche nach ihm von einem Fisch verschlungen wurde, und befreit auch die anderen Kinder aus Muriels Gewalt. Zur Belohnung wird Turli zu einem richtigen Jungen.
(Quelle: Das zweite Leben der Filmstadt Babelsberg. DEFA-Spielfilme 1946-1992)
Short Summary (Other Languages)
Kasimir, il burattinaio, non fa in tempo a finire il pupazzo Turli, che questo si anima e inizia a combinarne di tutti i colori. Nonostante tutte le raccomandazioni, Turli marina la scuola, sconvolge le rappresentazioni del teatro delle marionette e si lascia imbrogliare dal cattivo Muriel, che sfrutta la pigrizia dei bambini, per trasformarli in somari che faticano per lui. Con l'aiuto della fata Euphrosina, Turli riesce a fuggire, salva suo padre inghiottito da un pesce e libera altri bambini dalle grinfie di Turli. Per ricompensa Turli diventerà un bambino vero. (Italienisch)