Ulzana
Director: Gottfried Kolditz, 94 Min., Color, Feature Film
Deutsche Demokratische Republik (DDR)
DEFA-Studio für Spielfilme, 1973
Film/Video Format

35 mm

Length in m

2589

Other Title

Apachen II

English Title

Ulzana

Premiere Date

Release Date (for Cinema)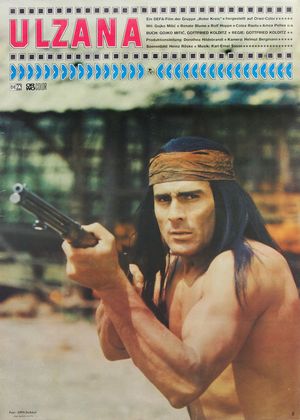 Short Summary (English)
Around the middle of the previous century, the Mimbreno Indians switched to agriculture and made their reservation fertile by means of an irrigation system. They trade in surplus produce, The business people of the town of Tucson, however, fear for their profits, especially those who withhold government subsidies from the Indians, giving them worthless food that has gone bad instead, They have the irrigation system blown up, Fighting breaks out between the Mimbrenos and the inhabitants of Tucson, Chief Ulzana is so severely wounded that the Whites believe him to be dead, Captain Burton, who is involved in their machinations, exploits the situation to deport the Indians to the barren reservation of San Carlos, However, with the help of a Mexican doctor, Ulzana can be saved, With his tribe, he flees to the Sierra Madre in Mexico, But Burton's soldiers have captured Ulzana's wife Leona and hold her prisoner in Fort Craig, When the chief attempts to free her, Burton kills his prisoner and flees, Ulzana follows him into the mountains and avenges Leona.
Source: Progress Film-Verleih
Film Crew
Film Editing

Christa Helwig (geb. Stritt)

Cast

Gojko Mitić (Ulzana)
Renate Blume (Leona)
Rolf Hoppe (Captain Burton)
Colea Rautu (Nana)
Amza Pellea (General Crook)
Fred Delmare (Bob Tribolett, Kellner im Saloon)
Alfred Struwe (Aldrigton, Bürgermeister von Tucson)
Dorel Jacobescu (Hackii)
Dinu Gherasim (Oberst)
Dan Sandulescu (Armeescout Buuly)
Hannjo Hasse (Wilson, Herr aus Washington)
Werner Dissel (Arzt)
Fritz Mohr (Sergeant Winter)
Paul Berndt (Wardley, Tucson-Reiter)
Klaus Gehrke (Ball, Postmeister)
Holger Eckert (Cayrol, Bankdirektor)
Walter Wickenhauser (Howard, Eigentümer des "Tuscon Evening Star")
Hans-Uwe Wardeck (Junger Leutnant)
Mircea Breazu (Leutnant)
Mihai Balas (Leutnant)
Dan Dobre (Leutnant)
Stefan Farkas (Leutnant)
Stefán Alexandrescu (Sergeant Hall)
Siegfried Bartschat (Telegrafie-Sergeant David)
Eugen Albert (Kavallerist Tael)
Virgil Adriescu (Mexikanischer Capitano)
Jimmy Constantinescu (Meldereiter)
Gerhard Rachold (Reporter)
Wilfried Zander (Postkutscher)
Wassili Rubzow (Vierschrötiger)
Maria Sierakowski-Rhinow (Saloongast)
Ingrid Eschrich (Saloongast)
Victor Keune (Saloongast)
Joseph Schorn (Saloongast)
Harald Moszdorf (Saloongast)
Hasso Wardeck (Saloongast)
Manfred Otto (Saloongast)
Gerd Funk (Saloongast)

Assistant Camera

Wolfgang Kroffke
Eberhard (auch: Franz-Eberhard) Daßdorf

Scenario

Gojko Mitić
Gottfried Kolditz

Sound

Georg Gutschmidt
Werner Dibowski

Make-Up

Lothar Stäglich
Christa (auch: Christel) Grewald

Unit Production Management

Horst Schmidt
Hans-Uwe Wardeck
Ursula Dombrowski

DEFA Photography

Eberhard (auch: Franz-Eberhard) Daßdorf

Dubbing (Dubbing Actor)

Thomas Kästner (Ulzana)
Walter Wickenhauser (Nana)
Werner Ehrlicher (General Crook)
Kaspar Eichel (Hackii)
Joachim Tomaschewsky (Oberst)
Erik S. Klein (Armeescout Buuly)
Short Summary (German)
Um die Mitte des 19. Jahrhunderts haben sich die Mimbreño-Indianer auf Ackerbau umgestellt und mit einer Bewässerungsanlage ihre Reservation fruchtbar gemacht. Mit den Überschüssen der Ernte treiben sie Handel. Die Geschäftsleute der Stadt Tucson bangen jedoch um ihre Profite, vor allem jene, die den Indianern die Regierungsspenden vorenthalten und ihnen dafür wertlose, verdorbene Lebensmittel liefern. Sie lassen die Bewässerungsanlage sprengen. Es kommt zum Kampf zwischen den Mimbreños und den Tucson-Leuten, bei dem Häuptling Ulzana schwer verwundet wird. Die Weißen halten ihn für tot. Captain Burton, der an ihren Machenschaften beteiligt ist, nutzt die Situation, um die Indianer in die nahezu vegetationslose Reservation von San Carlos abzuschieben. Doch mithilfe eines mexikanischen Arztes konnte Ulzana gerettet werden und flieht nun mit seinem Stamm in die mexikanische Sierra Madre. Burtons Soldaten haben jedoch Ulzanas Frau Leona gefasst und halten sie in Fort Craig fest. Als der Häuptling sie befreien will, tötet Burton seine Gefangene und flieht. Ulzana verfolgt ihn in die Berge und rächt Leona.
(Quelle: PROGRESS Film-Verleih)
Short Summary (Other Languages)
A metà del XIX secolo, gli indiani Mimbreno si convertono all'agricoltura, fertilizzando le proprie terre con un impianto di irrigazione. Sfamata la popolazione, ciò che avanza del raccolto viene messo in commercio. Per paura di veder diminuire i propri affari, i commercianti di Tucson fanno saltare in aria l'impianto idrico, suscitando l'ira dei Mimbreno. Negli scontri viene gravemente ferito il capo Ulzana. Credendolo morto, i bianchi e soprattutto il capitano Burton, relegano i sopravvissuti nell'arida riserva di San Carlos. Grazie all'intervento di un medico messicano, però, Ulzana riesce a salvarsi e fugge con la sua gente in Sierra Madre. I soldati di Burton sono riusciti a catturare Leona, moglie di Ulzana, che tengono prigioniera a Fort Craig. Quando Ulzana tenta di liberarla, Burton la uccide e fugge. Il capo indiano lo segue fin nelle montagne e vendica sua moglie. (Italienisch)