Unser täglich Brot
Director: Slatan Dudow, 97 Min., Black-White, Feature Film
Deutsche Demokratische Republik (DDR)
DEFA-Studio für Spielfilme, 1949
Film/Video Format

35 mm

Length in m

2856

English Title

Our Daily Bread

Premiere Date

Release Date (for Cinema)
Short Summary (English)
It is the year 1946. The Webers family have no lack of problems: unemployed, they barely have the means to put their daily bread on the table. The father, once treasurer of a large engineering works, sits at home idly, unable to understand the world anymore. The only thing he manages to do, is to try and keep up the old patriarchal order at home.
While his elder son Ernst starts working for a state-owned plant - a former engineering works - the father and his younger son Harry strictly refuse the opportunity of working there. Particulary the old man clings to the principles of capitalist business and deeply mistrusts the new economic system. Harry leaves home, he wants to make a "quick buck" and becomes a racketeer - however; he is not very successful. Increasingly, he goes to the dogs. Ernst is thrown out of the fiat by his father who finds his son's behaviour too disobedient. However; utter loneliness is the price Weber has to pay for throwing out his son. One evening he is struck down in the street by his son Harry and is robbed of his bread.
This experience triggers a profound transformation: after hard inner struggles, Weber goes to the state-owned plant which his son Ernst helped to build up and starts working there. His life and that of his family become meaningful again although they have had to pay a high price for it.
Source: Progress Film-Verleih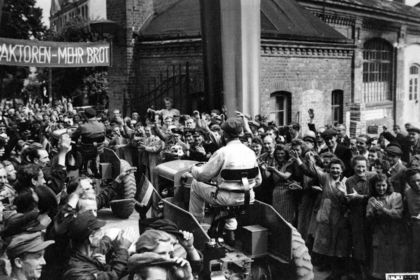 Film Crew
Script

Slatan Dudow
Hans-Joachim Beyer
Ludwig Turek

Cast

Paul Bildt (Karl Weber)
Viktoria von Ballasko (Martha, Karl Webers zweite Frau)
Inge Landgut (Inge, Karl Webers Tochter aus erster Ehe)
Harry Hindemith (Ernst, Karl Webers ältester Sohn aus erster Ehe)
Paul Edwin Roth (Harry, Karl Webers zweiter Sohn aus erster Ehe)
Siegmar Schneider (Peter Struwe, Maschinentechniker, jetzt Leiter der Firma Renner & Co.)
Ina Halley (Niki, eine Bekannte der Familie Weber, das Niemandskind)
Alfred Balthoff (Bergstetter, Fachinginieur)
Irene Korb (Käthe, die Frau von Ernst)
Dolores Holve (Mary, Karl Webers Nichte)
Angelika Hurwicz (Ilse, eine andere Nichte Webers)
Walter Gross (Skeptiker)
Herbert Weißbach (Skeptiker)
Gert Schäfer (Junger Arbeiter)
Gitta Günther (Das erste Zwillingsmädchen)
Dorit Günther (Das zweite Zwillingsmädchen)
Eduard Wandrey (Fürbringer)
Erna Sellmer (Bäckersfrau)
Friedrich Gnaß (Ein Fabrikarbeiter)
Hellmut Helsig (Ingenieur)
Hans Emons (Ein Geschäftsmann)
Albert Venohr (Personalchef)
Frank Arlett (Fabrikarbeiter)
Fredy Barten (Reisender Bölke)
Helmuth Bautzmann (Arbeiter)
Walter Bechmann (Arbeiter)
Erich Brauer (Arbeiter)
Charlotte Brummerhoff (Arbeiterin)
Erich Dunskus (Wirt "Zur Klause")
Peter Federmann (Arbeiter)
Horst Gentzen (Lehrjunge)
Guido Goroll (glatzköpfiger Mann im Restaurant)
Erich Gühne (Arbeiter)
Karl Haas (Zigarrenschieber)
Karl Hannemann (Gast)
Werner Hartnick (Arbeiter)
Gerhard Haselbach (Ingenieur)
Friedrich Honna (Schlagcreme-Budenbesitzer)
Waltraud Kahlert (Mädchen mit Brotnetz)
Hugo Kalthoff (Arbeiter)
Reinhard Kolldehoff (Polizist)
Käthe Jöken-König (Arbeiterin)
Walter Killmann (Arbeiter)
Alfred Land (Arbeiter)
Kurt Lauermann (Vorsitzender im Sitzungszimmer)
Isolde Laux (Frau aus Bäckerladen)
Bruno Lopinski (Kellner)
Hans Mahlau (Arbeietr)
Wladimir Marfiak (Arbeiter)
Peter Marx (Arbeiter)
Hannelore Minkus (Freundin Mary)
Karl Müller (Arbeiter)
Willi Narloch (Arbeiter)
Ida Perry (Wirtin Engelmann)
Gustav Püttjer (Arbeiter)
Ida Regineck (Arbeiterin)
Herbert Richter (Arbeiter)
Hans Schille (Arbeiter)
Lilli (auch: Lili; Lilly) Schoenborn (auch: Schönborn; Schönborn-Anspach) (Arbeiterin)
Walter Strasen (Arbeiter)
Erhart Stettner (Arbeiter)
Richard Thümmler (Arbeiter)
Ilse Trautschold (Arbeiterin)
Heinz Voß (Arbeiter)
Ewald Wenck (Hagerer Mann in der Bude)
Willi Wietfeldt (Arbeiter)
Maria Havemann (Arbeiterin)
Ingeborg Schäfer (Arbeiterin)
Franziska Dörr (Kassiererin)
Waltraud Backmann (Kollegin von Inge)
Erich Schubert (Ohnmächtiger)
Barbara Adolph (Essenbringerin)
Walter Schramm (Arbeiter)

Production Design

Wilhelm Vorwerg
Alfred Schulz

Costume Design

Bert Hoppmann
Ingeborg Grünberg

Production Management

Fritz Klotzsch
Werner Dau (Produktionsleitung-Assistenz)

Unit Production Management

Harry Mellin
Otto Schröder
Gerhard Lücke
Awards
Nationalpreis III. Klasse (1950): Nationalpreis III. Klasse - Slatan Dudow
Nationalpreis III. Klasse (1950): Nationalpreis III. Klasse - Robert Baberske
Nationalpreis III. Klasse (1950): Nationalpreis III. Klasse - Irene Korb
Nationalpreis III. Klasse (1950): Nationalpreis III. Klasse - Harry Hindemith
Short Summary (German)
Eine kleinbürgerliche Familie im Nachkriegsdeutschland. Die Söhne des ehemaligen Kassenbeamten Karl Weber, der mühsam seine konservativen Traditionen zu wahren sucht, gehen sehr unterschiedliche Wege. Ernst gehört zu jenen, die mit Enthusiasmus die zerstörte Fabrik wieder aufbauen, Harry dagegen setzt mit unsauberen Geschäften auf das schnelle Geld. Er imponiert dem Vater, der der Arbeit in der Fabrik keine Chance gibt. Eines Tages aber muss Karl Weber erleben, dass sein Lieblingssohn Harry auf die schiefe Bahn geraten ist, während der Aufbau der Fabrik erstaunliche Fortschritte macht. Der alte Mann entscheidet sich für den volkseigenen Betrieb.
(Quelle: Das zweite Leben der Filmstadt Babelsberg. DEFA-Spielfilme 1946-1992)
Short Summary (Other Languages)
Durante il dopoguerra, in una famiglia piccolo borghese tedesca, i figli dell'ex cassiere Karl Weber, che a fatica cerca di preservare le sue tradizioni conservative, intraprendono strade molto diverse. Ernst è uno di quelli che con entusiasmo contribuiscono alla ricostruzione della fabbrica distrutta. Harry, invece, punta con i loschi affari ad arricchirsi rapidamente. I suoi successi hanno un grande effetto sul padre, che non crede nella ricostruzione della fabbrica. Mentre Harry, tuttavia, finisce sempre più sulla cattiva strada, la ricostruzione della fabbrica fa grandi progressi. L'anziano padre sceglierà dunque di sostenere l'azienda statale. (Italienisch)