Unterm Birnbaum
Director: Ralf Kirsten, 89 Min., Color, Feature Film
Deutsche Demokratische Republik (DDR)
DEFA-Studio für Spielfilme, 1973
Film/Video Format

35 mm

Length in m

2454

English Title

Under The Pear Tree

Premiere Date

Release Date (for Cinema)

Literary Source

Fontane, Theodor: "Unterm Birnbaum", Kriminalnovelle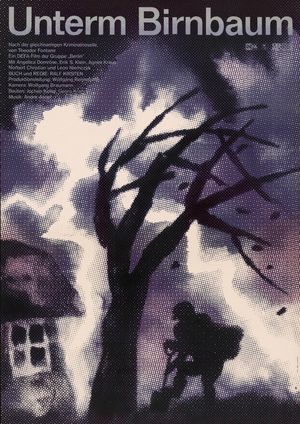 Short Summary (English)
Abel Hradscheck, who runs an inn in the Oderbruch country, faces financial ruin. For this state of affairs, Ursula, his wife and former actress, is by no means free of blame.
She is a "newcomer" to the area and even after eleven years in the area, still a "stranger". A Cracow company announces that a money-collector is on his way to the innkeeper. Mr Szulski arrives and the debts are settled with money supposedly stemming from an inheritance.
The next day, Szulski departs but, according to the maid and the stable-boy, behaves in a very strange way. Soon afterwards, his carriage is discovered in the River Oder. But there is no trace of the drowned man. Hradscheck's neighbor starts casting suspicion on the innkeeper. The Counsellor of Justice, who heads the investigations, then has the spot under the pear tree dug out. And a dead body is exhumed - but it has been lying there for more than twenty years.
The innkeeper now lulls himself into a false sense of security. But his wife is tormented by feelings of guilt. Finally, she wants to reveal everything to the local pastor. He, however, refuses to become privy to a gruesome crime. Ursula is broken by qualms of remorse.
The body lies hidden in the cellar but Hradscheck wants to dump it where everyone suspects it to be: in the River Oder. But he stumbles and falls to his death down the cellar steps. His body is discovered next to that of his victim.
Source: Progress Film-Verleih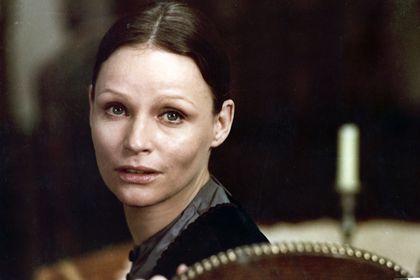 Film Crew
Cast

Angelica Domröse (Ursula Hradschek)
Erik S. Klein (Abel Hradschek)
Agnes Kraus (Mutter Jeschken)
Norbert Christian (Pfarrer Eccelius)
Manfred Karge (Bauer Kunicke)
Günter Junghans (Bauer Mietzel)
Gert Gütschow (Müller Quaas)
Heinz Scholz (Dorfschulze Woytasch)
Hannjo Hasse (Justizrat Vowinkel)
Jürgen Frohriep (Gendarm Geelhaar)
Peter Aust (Georg)
Karla Runkehl (Male)
Jürgen Holtz (Jakob)
Matthias Günther (Ede)
Angelika Waller (Frau Mietzel)
Hildegard Alex (Frau Kunicke)
Ilona Brömmer (auch: Brömmer-Weiß) (Frau Quaas)
Jutta Wachowiak (Sängerin)
Wolfgang Greese (Offizier)
Leon Niemczyk (Szulski)
Peter Kalisch (Nachtwächter)
Michael Gerber (Offizier)
Kurt Radeke (Totengräber)
Karl Maschwitz (Offizier)
Peter Heiland (Pantomime)
Pedro Hebenstreit (Pantomime)
Klaus Ebeling (Pantomime)
Gerd Lübbert (Pantomime)
Januš Rehor (Pantomime)
Renate Wendel (Pantomimin)
Gisela Aßbach (Pantomimin)
Gerda Kussmann (Pantomimin)
Thea Thomas (Pantomimin)
Fritz Zagarus (Pantomime)
Hans-Dieter Kleber (Pantomime)
Günther Griebsch (Pantomime)

Assistant Director

Marie-Luise Krause
Egon Schlegel

Scenario

Ralf Kirsten
Brigitte Kirsten (Literarische Mitarbeit)

Production Design

Jochen (auch: Joachim) Keller
Georg Kranz

Make-Up

Frank May (geb. Zucholowsky)
Peter Kuhnert
Brigitte Welzel

Unit Production Management

Viet-Peter Treuholz
Peter Schlaak
Short Summary (German)
Der Oderbruch-Gastwirt Hradschek steht vor dem finanziellen Ruin, da kündigt sein Krakauer Weinlieferant auch noch einen Beauftragten an, der die Schulden eintreiben soll. Hradschek ersinnt mit seiner Frau Ursula einen Plan. Sichtbar für Bedienstete und Nachbarn zieht der Geldeintreiber Szulski am nächsten Morgen wieder ab. Doch kurz darauf wird seine Kutsche in der Oder gefunden, von ihm keine Spur. Die Hradscheks geraten in Verdacht, ihn ermordet und seine Abreise vorgetäuscht zu haben. Ein Hinweis aus der Nachbarschaft führt die Gendarmen zum Birnbaum, wo Hradschek des Nachts gegraben hat, doch es findet sich nur ein altes Skelett. Scheinbar in Sicherheit beginnt nun Ursulas Gewissen zu schlagen. Sie geht an den Qualen zugrunde. Auch Hradschek findet keine Ruhe. Er will den im Keller verscharrten Toten aus dem Haus bringen, stürzt sich dabei auf der Kellertreppe selbst zu Tode und wird neben seinem Opfer gefunden.
(Quelle: Das zweite Leben der Filmstadt Babelsberg. DEFA-Spielfilme 1946-1992)
Short Summary (Other Languages)
Hradschek, oste a Oderbruch, è vicino al tracollo finanziario. Come se non bastasse, il suo fornitore di vino lo informa dell'arrivo di un suo collaboratore preposto a riscuotere quanto dovuto. Con la moglie Ursula, Hradschek escogita un piano. Dopo l'arrivo di Szulski, l'esattore, i coniugi fanno in modo che i loro vicini e collaboratori assistano alla sua partenza. Poco dopo, tuttavia, la carrozza viene ritrovata nella Oder e di Szulski non vi è più traccia. Hradschek è sospettato di aver ucciso l'esattore e messo in scena la sua partenza. Un indizio ottenuto dai vicini porta i gendarmi a un pero, dove Hradschek ha passato tutta la notte scavando, ma l'unica cosa che la polizia rinviene è un vecchio scheletro. Credendo di averla spuntata, Ursula viene tormentata dalla sua coscienza e anche Hradschek non trova pace. Volendo rimuovere il cadavere sotterrato in cantina, l'oste cade dalle scale ferendosi mortalmente. Il suo corpo verrà ritrovato accanto a quello della sua vittima. (Italienisch)