...verdammt, ich bin erwachsen
Director: Rolf Losansky, 94 Min., Color, Feature Film
Deutsche Demokratische Republik (DDR)
DEFA-Studio für Spielfilme, 1974
Film/Video Format

35 mm

Length in m

2582

Other Title

Der Riese im Paradies

English Title

Damn It, I´m Grown Up

Premiere Date

Release Date (for Cinema)

Literary Source

Nowotny, Joachim: "Der Riese im Paradies", Roman

Releases

DVD: ICESTORM Entertainment GmbH / www.icestorm.de
Short Summary (English)
15-year old Klaus Kambor, called Kurbel, is living in a village in Lusatia and already thinks of himself as an adult. He can hold a lot of rhubarb wine and has already kissed a girl. But with his new method of lawn mowing, which he thinks is brilliant, Klaus makes a big mistake: He causes a wild fire in the forest. Then he does not react adult-like at all, but shirks the responsibility, which leads to the break-up with his girlfriend Daniela. Furthermore, Klaus does not realize that several of the places he likes the most in his environment are now going to be sacrificed to mining. When Klaus becomes friends with the teacher Konzak and with the construction worker Jule, he feels understood for the first time and starts to take more responsibility. Finally, he realizes that adulthood is not always as simple as he had imagined it to be.
(Quelle: filmportal)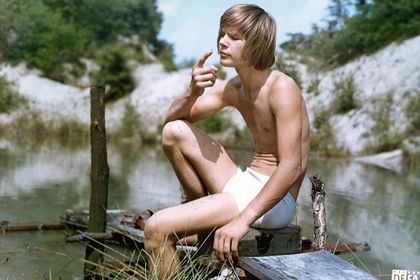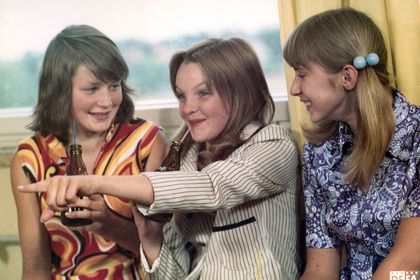 Film Crew
Cast

Ralf Schlösser (Klaus Kambor, genannt Kurbel)
Angelika Herrmann (Daniela)
Frank Wuttig (Piepe Jatzmauk)
Lilo Josefowitz (Gudrun)
Detlef Höpfner (Der lange Barthel)
Dieter Franke (Lehrer Konzak)
Jürgen Reuter (Jule Bucht)
Karla Runkehl (Kurbels Mutter)
Gerhard Lau (Kurbels Vater)
Herbert Köfer (Schuster Jubke)
Jutta Wachowiak (Kindergärtnerin Kandidel)
Carin Abicht (Frau von Jule Bucht)
Regine Albrecht (Konzaks ehemalige Braut)
Liselott Baumgarten (Oma Slabke)
Heinz Behrens (Direktor Opitz)
Evamaria Bath (Frau Jatzmauk)
Brigitte Beier (Lehrerin Bach)
Bruno Carstens (Ratsvorsitzender)
Gerd Funk (Max Bregula)
Günter (auch: Günther) Grabbert (Meister Funke)
Heide Gebauer (Ingenieurin Susanne)
Gert Hänsch (Arbeiter Heinz)
Dieter Jäger (Arbeiter Günter)
Ruth Kommerell (Melanie Honko)
Blanche Kommerell (Junge Kindergärtnerin)
Jutta Liebster (Junge Sekretärin)
Doris Mielau (Konsum-Inge)
Helmut Schreiber (Paul Honko)
Ernst Meincke (Sportlehrer Wabrowski)
Benno Mieth (Polizist Sanftmut)
Marie Mägdefrau (Frau Dr. Greiner)
Klaus-Peter Pleßow (Peter Kambor)
Karin Schersinski (Elisabeth Honko)
Marianne Schwienke (Lehrerin Schneider)
Ursula Staack (Mia)
Carlo Schmidt (Agronom)
Gerd Staiger (Lehrer Adam)
Ute Schernau (Junge Tierpflegerin)
Friedrich Teitge (Pförtner)
Axel Triebel (Schrankenwärter)
Harald Warmbrunn (Förster Greiner)
Wolfgang Winkler (Leo Javernki)
Dieter Wardetzky (Vater Jatzmauk)
Dietrich Zimmermann (Kollege von Vater Kambor)
Gertraut (auch: Gertraud) Last (Briefträgerin)
Victor Keune (Wirt)
Rosemarie Grasme (Sportlehrerin)
Christine Kuchta (Mutter mit Kind)
Tobias Unterberg
Frank Lorenz
Franziska Heill
Una Hennig
Patrick Eckner
Sandra Lampe

Assistant Director

Hannelore Unterberg (geb. Neupert) (Assistenzregie)
Gerda Eggers-Ebert

Sound

Werner Blass (auch: Blaß)
Helga Kadenbach

Musical Performance

Puhdys (Musikgruppe)
Express (Musikgruppe)

Make-Up

Willi Gesche
Irmgard Lippmann

Unit Production Management

Heinz Walter
Egon Schlamann

Consulting

Horst Skrzipczyk (schulisch)
Ilse Bertz (schulisch)
Alfred Major Baudach (Feuerwehr)

DEFA Photography

Eckhart (auch: Eckhardt) Hartkopf
Christa Köfer
Short Summary (German)
Klaus Kambor, genannt Kurbel, lebt in einem Dorf in der Lausitz. Er ist fünfzehn, geht in die 9. Klasse und hält sich manchmal schon für richtig erwachsen. Groß und kräftig ist er, und Daniela hat er auch schon geküsst. Doch dass zum Erwachsensein noch ein bisschen mehr gehört, wird ihm immer wieder bewusst. Zum Beispiel, als er mit seiner genialen neuen Rasenmäh-Methode einen Waldbrand verursacht und dazu stehen muss. Auch die Sache mit dem Tagebau, dem einige von ihm geliebte Plätze der Umgebung weichen müssen, ist nicht einfach zu begreifen. In Lehrer Konzak und dem Baggerführer Jule Bucht findet er Freunde, die für seine Probleme Verständnis haben. Seine ersten Erfahrungen mit dem Erwachsenwerden zeigen ihm aber auch - er muss unter anderem wegen Jules Ehebruch aussagen -, dass neue Probleme auf ihn zukommen werden.
(Quelle: Das zweite Leben der Filmstadt Babelsberg. DEFA-Spielfilme 1946-1992, S. 460)
Short Summary (Other Languages)
Klaus Kambor, detto Kurbel, vive in un paese della Lusazia. Ha quindici anni, frequenta le superiori e spesso si sente già grande. Alto e forte, ha persino baciato Daniela. Tuttavia, essere grandi non significa solo questo. Bisogna assumersi le proprie responsabilità. Ad esempio quando il suo nuovo metodo di falciare il prato, dapprima geniale, finisce per provocare un incendio nella foresta. Anche la coltivazione a giorno, che deturpa paesaggi a lui cari è difficile da accettare. L'insegnante Konzak e Jule Bucht, un manovratore di un scavatrice, si rivelano due amici che comprendono i suoi problemi. Chiamato a testimoniare contro Jule, accusato di adulterio, il ragazzo capirà che essere adulti significa anche andare incontro a nuovi problemi. (Italienisch)
Klaus Kambor, dit Kurbel, habite dans un village de Lusace. Il a quinze ans, est en 9e année et se croit parfois vraiment adulte. Il est grand, fort et a déjà embrassé Daniela. Mais être adulte signifie un peu plus, comme il s'en rend compte petit à petit. Par exemple lorsqu'il provoque un feu de forêt en voulant essayer une nouvelle et géniale méthode pour tondre la pelouse et qu'il a peur d´en assumer les conséquences. Ou lorsqu'il doit accepter que certaines de ses places préférées soient détruites pour faire place à la mine. Mais il trouve en l'enseignant Konzak et dans le conducteur de pelleteuse Jule Bucht des amis qui montrent de la compréhension pour ses problèmes. Ses premiers expériences comme adulte en devenir - il doit entre autre faire une déposition à cause de l´adultère de Jule - lui montrent par ailleurs que toujours plus de nouveaux problèmes l'attendent. (Französisch)