Verflixtes Missgeschick!
Director: Hannelore Unterberg (geb. Neupert), 70 Min., Color, Feature Film
Deutsche Demokratische Republik (DDR)
DEFA-Studio für Spielfilme, 1988
Film/Video Format

35 mm

Length in m

1920

Other Title

Glück hat nur, wer Leid nicht fürchtet

English Title

Blessed Misfortune!

Premiere Date

Release Date (for Cinema)

Literary Source

Marschak, Samuil: "Wer das Unglück meistert, findet das Glück", Märchen

Releases

DVD: ICESTORM Entertainment GmbH / www.icestorm.de
Short Summary (English)
A creature bearing the ominous name "Mishap" is hot in pursuit of an unfortunate lumberjack and eventually decides to live with him. It soon gets bored, however, and asks the lumberjack to hand it over to the rich merchant Habermoos. Habermoos manages to sell Mishap to the king, although he is being attacked by robbers. The king is bankrupt and threatened with war by other countries. Young Michael has to go to war for the king. The creature tries to secretly join him. When Michael gets hold of the situation, he manages to get rid of Mishap once and for all. After all, he has more important things to do. At the last moment, he prevents his girlfriend Kathrin from getting married to the pompous merchant Habermoos.
(Quelle: filmportal)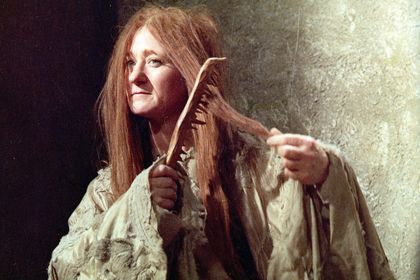 Film Crew
Director

Hannelore Unterberg (geb. Neupert)

Script

Hannelore Unterberg (geb. Neupert)
Michael Göthe

Cast

Carmen-Maja Antoni (Missgeschick)
Heike Meyer (Kathrin)
Stefan Saborowski (Michael)
Horst Rehberg (Holzfäller)
Kurt Böwe (Habermoos)
Ulrich Anschütz (Torwächter Ludwig)
Roman Kaminski (König)
Silvia Mißbach (Prinzessin)
Pierre Sanoussi-Bliss (Prinz)
Wolfgang Greese (General)
Carl Heinz Choynski (Schatzmeister)
Uwe Heinrich (Leibwächter)
Jürgen Braunsdorf (Leibwächter)
Wolf Sabo (Henker)
Peter Mohrdieck (Feldwebel)
Jürgen Haase (Oberhofjägermeister)
Gerhard Wien (Oberhofmeister)
Tobias Unterberg (Räuber)
Jana Zoller (Kind)
Miriam Knabe (Kind)
Ulrike Knabe (Kind)
Ulrike Dräger (Kind)
Stephanie Aßmus (Kind)
Yvonne Heinrich (Kind)
Niels Anschütz (Kind)
Andreas Illing (Kind)
Felix Unterberg (Kochlehrling)
Knut Schultheiß (Hirt)
Michael Grünthal (Pechvogel / Tänzer)
Werner Pfeifer (Juwelier)
Klaus Bieligk (Handwerker)
Heinz Kretzschmann (Zeremonienmeister)
Eugen Albert (Reiter)
Johannes Baaske (Würdenträger)
Jürgen Scheithauer (Würdenträger)
Heinz Przybylski (Würdenträger)
Thea Neubert (Hofdame)
Renate Usko (Hofdame)
Rose Becker (Hofdame)

Assistant Director

Claudia Unterberg (geb. Helwig)

Assistant Camera

Dieter Jaeger
Norbert Kuhröber

Script Editing

Anne Pfeuffer
Joachim Giera

Sound

Bernd-Dieter Henning
Konrad Walle (Tonmischung)

Props

Lothar Karbe
Frank Cochlovius

Unit Production Management

Karl-Heinz Marzahn
Helmut Andert
Rolf Hanke

Design

Heinz Kretzschmann (Choreografie)
Erich Günther (Trick)
Angela Kern (Trick)
Frank Wittstock (Trick)
Dietmar Burghardt (Trick)
Short Summary (German)
Ein armer Holzfäller ist vom Missgeschick verfolgt. Als er völlig verzweifelt ist, steht es plötzlich in Gestalt eines garstigen Wesens vor ihm. Da es sich beim Holzfäller langweilt, verrät es diesem, wie er es loswerden kann. Der Holzfäller gibt es an den reichen Kaufmann Habermoos weiter. Der wird von Räubern überfallen und ausgeraubt, aber es gelingt ihm, das Missgeschick an den König zu verschachern. Der ist bald ruiniert, und die Nachbarstaaten rüsten zum Krieg gegen ihn. Da der Krieg auch dem Missgeschick Gefahr bringt, manövriert es sich mit List in den Besitz des Bauernjungen Michael, der beim König Dienst tun muss. Michaels Braut Kathrin soll mit dem Geizhals Habermoos verheiratet werden, doch Michael besiegt das Missgeschick und kommt gerade noch zur rechten Zeit, um Kathrin davor zu bewahren.
(Quelle: Das zweite Leben der Filmstadt Babelsberg. DEFA-Spielfilme 1946-1992)
Short Summary (Other Languages)
Un povero tagliaboschi è perseguitato dalla sfortuna, che gli si palesa sotto forma di una creatura orribile. Annoiandosi, la sfortuna svela all'uomo come liberarsi di lei, cedendola al ricco commerciante Habermoos. Aggredito e derubato dai briganti, il commerciante riesce a barattare la sfortuna con il Re. In poco tempo quest'ultimo non solo va in rovina, ma subisce anche l'attacco degli Stati vicini. Dal momento, però, che anche la sfortuna teme i conflitti, questa riesce abilmente a rifugiarsi da Michael, il figlio di un contadino a servizio del Re. Kathrin, futura sposa di Michael, sta per finire nelle mani di Habermoos. Sconfiggendo la sfortuna, il ragazzo riesce a salvarla. (Italienisch)