Warum jeder ein Körnchen Weisheit besitzt
Director: Bruno J. Böttge, 18 Min., Color, Animation Film
Deutsche Demokratische Republik (DDR)
DEFA-Studio für Trickfilme, 1959
Film/Video Format

35 mm

Length in m

502

Type of Animation

Silhouettenfilm

English Title

Why Everybody Possesses Some Wisdom

Release Date (for Cinema)

Literary Source

nach einem Märchen aus Ghana
Short Summary (English)
A teacher tells his students an old fairy tale from Ghana: Anansi, a selfish spider wants to possess the wisdom of all animals and make everyone dependent on him. He is able to steal the wisdom of some animals using his power, tricks, and swindle. However, the deprived animals team up and hunt Anansi. He is distressed and has to get rid of the stolen wisdom. He gives up and forms a coccon. The animals collect the lost wisdom and decide that they won't tolearate anybody in the future who wants to keep everything for himself.
(source: University of Massachusetts (UMASS) - DEFA Film Library)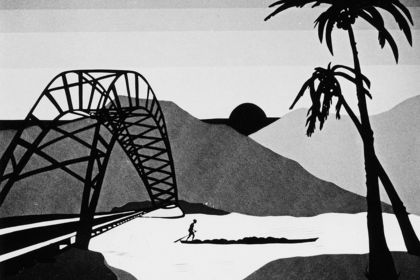 Film Crew
Design

Hans-Peter Goettsche (Silhouetten)

Animation

Manfred Riemer (Puppenführung)

Narrator

Horst Schulze (geb. 1921)
Horst Arendt
Ernst Eichholz
Short Summary (German)
Ein ghanesischer Lehrer erzählt seinen Schülern ein altes ghanesisches Tiermärchen: Anansi, ein eigensüchtiger Spinnerich, will die Weisheit aller Tiere in seinen Besitz bringen, um die anderen von sich abhängig zu machen. Mit List, Betrug und Gewalt gelingt es ihm, die Weisheitskörnchen einiger Tiere an sich zu reißen. Das bringt ihm aber keinen Vorteil, denn die beraubten Tiere verbünden sich und verfolgen Anansi gemeinsam. In seiner Not muss er die gestohlene Weisheit von sich werfen, so das sich die Körnchen weit verstreuen. Er gibt sich geschlagen indem er sich einspinnt. Die Tiere sammeln die Weisheitskörnchen auf und dulden seitdem keinen, der sie für sich allein behalten will.
(Quelle: Die Trick-Fabrik. DEFA-Animationsfilme 1955-1990)