Weiße Wolke Carolin
Director: Rolf Losansky, 85 Min., Color, Feature Film
Deutsche Demokratische Republik (DDR)
DEFA-Studio für Spielfilme, 1984
Film/Video Format

35 mm

Length in m

2332

English Title

White Cloud Carolin

Premiere Date

Release Date (for Cinema)

Literary Source

Meyer, Klaus: "Weiße Wolke Carolin", Kinderbuch

Releases

DVD: ICESTORM Entertainment GmbH / www.icestorm.de
Short Summary (English)
Hannes is twelve years old. He lives in the idyllic countryside of the Bay of Greifswald and has fallen in love with his schoolmate Carolin. Thus, he wants to be around her all day. But he has a rival in Benno, whose grandfather had given out anti-fascist leaflets during the Nazi regime and who is exploring the history of the village together with Carolin. Benno and Carolin spend a lot of time together while Hannes becomes more and more jealous. Only Kerstin, who herself has cast an eye on Hannes, is glad about this turnout. But Hannes wants to impress Carolin and takes her and several other children on a daring boat trip out on the Bay. But then a storm approaches and puts their lives at risk.
(Quelle: filmportal)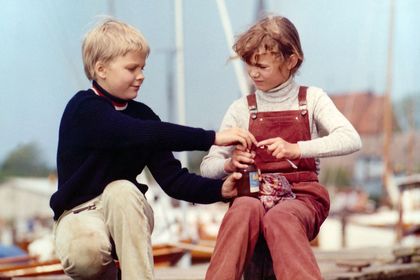 Film Crew
Camera

Helmut Grewald
Erich Günther (Trick)
Hermann Ihde (Trick)
Heiko Ebert (Trick)
Wolfgang Chevallier (Trick)

Cast

Andreas Roll (Hannes)
Constanze Berndt (Carolin)
Kirsten Rolletschek (Kerstin)
Steffen Raschke (Benno)
Jana Ziegler (Anne)
Petra Kelling (Mutter)
Carl-Hermann Risse (Vater)
Miroslav Machaček (Opa Leucht)
Helga Göring (Oma Lucie)
Uta Schorn (Frau Gröllmann)
Ellen Hellwig (Lehrerin)
Bruno Carstens (Der Macker)
Gisela Morgen (Oma Leucht)
Renée Kubsch (Frau Möller)
Wilfried Pucher (Herr Möller)
Heidrun Welskop (Schmuckverkäuferin)
Ernst-Georg Schwill (Herr Besse)
Danka Losansky (Junge Verkäuferin)
Manja Göring (Krankenschwester)
Dieter Jäger (Monteur)
Willi Neuenhahn (Monteur)
Brigitte Beier (Lehrerin)
Ilse Bastubbe (Frau im Konsum)
Gisbert-Peter Terhorst (Busfahrer)
Rainer Etzenberg (Schäfer)
Karin Beewen (Patientin)
Harald Warmbrunn (Gestapo-Mann)
Jürgen Hölzel (Gestapo-Mann)
Eugen Albert (Gestapo-Mann)

Assistant Camera

Siegfried Skoluda
Wolfgang Kroffke

Production Design

Jochen (auch: Joachim) Keller

Sound

Werner Dibowski
Helga Kadenbach (Tonmischung)

Make-Up

Bernhard Schlums
Franziska Berger

Props

Werner Zettler
Wolfgang Roeder

Unit Production Management

Dieter Anders
Herbert Hoffmann
Dieter Albrecht
Short Summary (German)
Der zwölfjährige Hannes lebt am Greifswalder Bodden. Er ist in seine Mitschülerin Carolin verliebt, und die Beziehung der beiden bleibt der Umwelt nicht lange verborgen - einige registrieren das mit Unverständnis, andere mit Schmunzeln. Doch plötzlich trübt sich Hannes' Stimmung, denn Carolin ist auffällig viel mit Benno zusammen. Carolin und Benno erforschen die Dorfgeschichte, wofür Benno prädestiniert ist, denn sein Großvater hat während der Nazi-Zeit antifaschistische Flugblätter verteilt und beim Verhör die Tat dem Klabautermann zugeschrieben. Hannes ist eifersüchtig, während Kerstin froh über die Wendung ist, denn sie mag Hannes. Der möchte nun mit einer tollen Tat glänzen, um sich bei Carolin Ansehen zu verschaffen. Bei seiner kühnen Bootsfahrt mit anderen Kindern auf dem Bodden kommt ein Unwetter auf und bringt alle in Gefahr.
(Quelle: Das zweite Leben der Filmstadt Babelsberg. DEFA-Spielfilme 1946-1992)
Short Summary (Other Languages)
A dodici anni Hannes è innamorato di Carolin. Un giorno, tuttavia, il bambino si rattrista, perché lei passa troppo tempo con Benno. I due bambini stanno studiando insieme la storia del villaggio: durante il nazismo il nonno di lui ha distribuito volantini antifascisti, attribuendo la colpa a un folletto. Mentre Hannes è geloso, Kerstin si rallegra di questa situazione, perché è segretamente innamorata di Hannes. Per fa colpo su Carolin, Hannes organizza una gita in barca, ma il maltempo mette tutti in pericolo. (Italienisch)