Wie die Alten sungen ...
Director: Günter Reisch, 90 Min., Color/Black-White, Feature Film
Deutsche Demokratische Republik (DDR)
DEFA-Studio für Spielfilme, 1986
Film/Video Format

35 mm

Length in m

2557

English Title

Like Father, Like Son

Premiere Date

Release Date (for Cinema)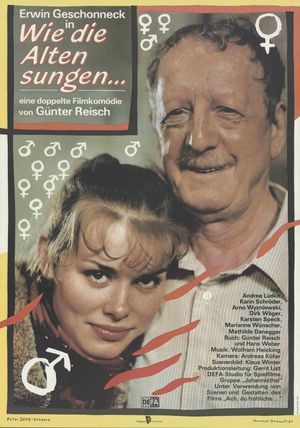 Short Summary (English)
There seems to be arepetition of events: what Walter Lörke experienced twenty years ago on Christmas Eve in "Ach, du fröhliche...", he is about to experience once again. Lörke's daughter informs her father that his seventeen-year-old granddaughter, Twini, has disappeared without a trace.The mystery concerningTwini's whereabouts is soon resolved.Twini has something very important that she wants to get off her ehest: namely, that she is about to become a mother - and because she suspects that she can find more tolerance and understanding from her grandfather than from her parents,Twini pitches up at her grandfather's house with the news that Lörke is soon to become a great-grandfather; she also asks for permission to live with Lörke for a while.
Grandfather Lörke doesn't quite feel comfortable with the situation as it now stands, and decides to call a family counsel meeting which is to take place on Christmas Eve. And everyone comes, including young King, a friend of Twini's, who is in love with her, as well as Klucke, the father of her child, who Twini loves, but who doesn't want the child.
Just like at the Christmas Eve party of twenty years past, when Twini's mother was pregnant with her, this party also starts off as a battle royal of commotion and turbulence; but as tempers cool, a cheerful Christmas party
Source: Progress Film-Verleih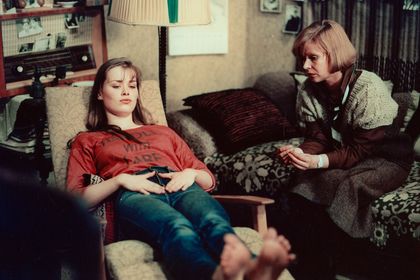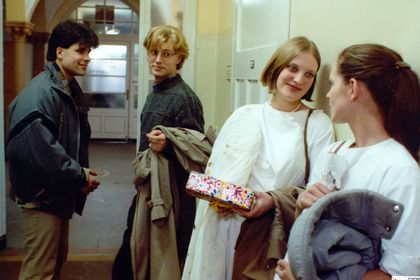 Film Crew
Film Editing

Monika Schindler (geb. Behrendt)

Cast

Erwin Geschonneck (Genosse Lörke)
Andrea Lüdke (Twini)
Karin Schröder (Anne Ostermann)
Arno Wyzniewski (Thomas Ostermann)
Mathilde Danegger (Urgroßmutter)
Karsten Speck (King)
Dirk Wäger (Klucke)
Patricio Soto (Antonio)
Marianne Wünscher (Frau Klinkenhöfer)
Günter Junghans (Karl Lörke)
Rosemarie Schelenz (Peggy Lörke)
Gerd Ehlers (Ehemaliger Fleischer)
Wolfgang Hosfeld (Sohn des Fleischers)
Barbara Dittus (Kluckes Mutter)
Robert Berth (Karls erster Sohn)
Heiko Kohlhagen (Karls zweiter Sohn)
Fred Delmare (Pförtner)
Walter Jupé (Dr. Klinkenhöfer)
Ilse Bastubbe (Objektleiterin / Kneipe)
Katrin Martin (Schwangere Frau)
Lutz Mücke (Junger Postler)
Uta Schorn (Fernsehansagerin)
Ricarda Kaellander (Fernsehansagerin)
Günter Reisch (Taxifahrer)
Uta Beckert (Mädchen im Treppenhaus)
Monika Gebhardt (Mädchen im Treppenhaus)
Walfriede Schmitt (Oberschwester)
Brigitte Heinrich (Kellnerin)
Horst Giese (Straßenbahner)
Tatjana Thomas (Lernschwester)
Elke Reuter (Lernschwester)
Andrea-Christine Preuß (Lernschwester)
Peter Mohrdieck (Student)
Simone Witte (Studentin)

Assistant Director

Andreas Dresen
Anne Nestler

Sound

Rainer Haase
Gerhard Ribbeck (Tonmischung)

Make-Up

Willi Gesche
Martina Marten
Angelika Zillich

Props

Werner Zettler
Lorenz Graupner
André Sothmann

Unit Production Management

Dieter Anders
Dieter Albrecht

DEFA Photography

Dietram Kleist
Jörg Erkens
Awards
Kunstpreis des FDGB (1987): Kunstpreis des FDGB für das Kollektiv Günter Reisch, Hans Weber, Gerd Gericke und Erwin Geschonneck
Short Summary (German)
Fünfundzwanzig Jahre nach "Ach, du fröhliche ..." steht Opa Lörke wieder ein turbulenter Heiligabend ins Haus. Seine Enkeltochter Twini, 17 Jahre jung, eröffnet ihm, dass er Urgroßvater wird. In Twinis Gefolge befinden sich King, der Twini heiraten möchte, und Klucke, der sie nicht heiraten will, obwohl Twini ihn liebt und er der Vater in spe ist. Nach vielen verwirrenden Diskussionen, an denen alle Familienmitglieder, einschließlich der auf Opa Lörke spekulierenden Witwe Klinkenhöfer, regen Anteil haben, endet der Abend in Harmonie, obwohl längst nicht alle Probleme gelöst sind.
(Quelle: Das zweite Leben der Filmstadt Babelsberg. DEFA-Spielfilme 1946-1992)
Short Summary (Other Languages)
Nonno Lörke si prepara a vivere una Vigilia di Natale piuttosto turbolenta. Sua nipote Twini, di soli diciassette anni, gli comunica che diventerà bisnonno. Con lei ci sono anche King, che vorrebbe sposarla e Klucke, che non vuole saperne di sposarsi, nonostante sia il padre biologico del nascituro. Dopo estenuanti e confuse discussioni, alle quali partecipa anche la vedova Klinkenhöfer, innamorata di nonno Lörke, la serata si conclude in armonia, nonostante molti dei problemi non siano ancora risolti. (Italienisch)