Wir kaufen eine Feuerwehr
Director: Hans Kratzert, 62 Min., Color, Feature Film
Deutsche Demokratische Republik (DDR)
DEFA-Studio für Spielfilme, 1970
Film/Video Format

35 mm

Length in m

1697

English Title

Let´s Buy A Fire Engine

Premiere Date

Release Date (for Cinema)

Literary Source

Richter-Rostalski, Gisela: "Wir kaufen eine Feuerwehr", Filmerzählung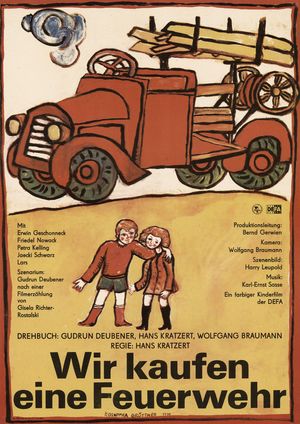 Short Summary (English)
Little Matti is lonely. He does not have any playmates, and due to the GDR's policy he is not allowed to attend kindergarten, since his mother stays at home anyway to take care of the newborn twins. One day, Matti meets the charming Mr. Clasen. He takes the boy to his garage, which turns out to be a wonderful playground for Matti. When the little fellow detects a discarded fire engine on a junkyard, the wealthy Clasen buys the vehicle and fixes it with the help of his apprentices and the neighbor's children. Eventually, the illustrious "fire brigade" is employed in a real operation.
(Quelle: filmportal)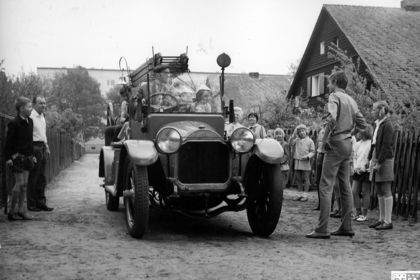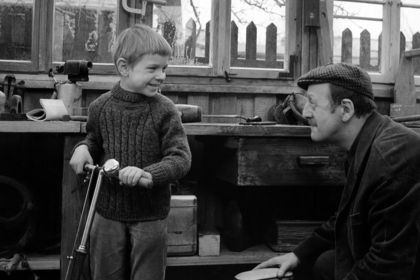 Film Crew
Script

Gudrun Deubener (geb. Rammler)
Hans Kratzert
Wolfgang Braumann

Cast

Erwin Geschonneck (Herr Clasen)
Lars Peldschus (Matti)
Friedel Nowack (Oma Sperling)
Petra Kelling (Mattis Mutter)
Jaecki Schwarz (Frank)
Madeleine Lierck (Annegret)
Karin Poloni (Kindergärtnerin)
Holger Mahlich (Merkwitz)
Hans-Joachim Stiegler (Sörensen)
Otto Krieg-Helbig (Pförtner)
Ernst Runge (Lagerverwalter)
Klaus Gehrke (Lastwagenfahrer)
Theresia Wider (Milchverkäuferin)
Hildegard Friese (Nachbarin)
Thomas Lück (Sänger)
Martin Siebert (Kellnerlehrling)
Klaus-Dieter Pujaneck (Rudi)
Harald Domröse (Manfred)
Elke Lehmann (Monika)
Ralf Zeng (Ralf)
Andre Keller (Peter)
Fred Dahl (Uwe)
Ilona Jung (Susi)
Elke Radoch (Inge)
Jeanette von der Heide (Birgit)
Christian Klüsener (Klaus)

Scenario

Gudrun Deubener (geb. Rammler)

Make-Up

Lothar Stäglich
Rosemarie Stäglich

Unit Production Management

DEFA Photography

Richard Günther
Alexander Schittko
Short Summary (German)
Matti ist traurig, weil er niemanden zum Spielen hat. In den Kindergarten darf er nicht, weil seine Mutter wegen der knapp einjährigen Zwillinge nicht arbeiten kann. Doch plötzlich wird alles anders - durch die Begegnung mit Herrn Clasen. Er nimmt Matti mit in seine Werkstatt, die dem Jungen mit ihren vielen Werkzeugen und Autoteilen wie ein Paradies erscheint, und auf einen Lagerplatz für Autowracks. Matti entdeckt dort eine alte Feuerwehr, und Clasen, der im Lotto gewonnen hat, kauft sie. Gemeinsam mit den Kindern der Nachbarschaft und den Schülern Clasens, der Lehrausbilder ist, wird die Feuerwehr wieder hergerichtet. Die erste Fahrt ist für alle ein großes Ereignis, und die Feuerwehr mit ihrer ungewöhnlichen Besatzung kommt sogar richtig zum Einsatz.
(Quelle: Das zweite Leben der Filmstadt Babelsberg. DEFA-Spielfilme 1946-1992)
Short Summary (Other Languages)
Matti è triste, perché non ha nessuno con cui giocare. Non può neanche andare all'asilo, perché sua madre è troppo occupata con i gemelli di neanche un anno. A cambiargli la vita sarà l'incontro con il signor Clasen, che lo porterà nella sua officina meccanica e in un deposito di sfasciacarrozze, dove Matti scova una vecchia autopompa dei pompieri, che il signor Clasen, vincitore alla lotteria, gli regala. Con l'aiuto dei bambini del vicinato e gli apprendisti del signor Clasen, l'automezzo viene rimesso in sesto. Il primo viaggio è per tutti un avvenimento e l'autopompa, col suo strambo equipaggio, svolgerà anche una missione. (Italienisch)