Wo andere schweigen
Director: Ralf Kirsten, 104 Min., Color, Feature Film
Deutsche Demokratische Republik (DDR)
DEFA-Studio für Spielfilme, 1984
Film/Video Format

35 mm

Length in m

2880

Other Title

Clara Zetkin; Zetkin 32

English Title

Where Others Keep Silent

Premiere Date

Release Date (for Cinema)
Short Summary (English)
The film describes ten days in the life of socialist politician Clara Zetkin. In August 1932, the 75-year old, who lives in Archangelskoye near Moscow, is asked to inaugurate the new legislative term as the oldest member of the German Reichstag. Although she is ill and nearly blind, she takes the chance to appear in Germany, which is more and more dominated by the Nazis. Despite several efforts to keep her arrival a secret, it is revealed that Zetkin is on her way to Berlin. Her old friend, the social democrat Gustav Schröder, accommodates her. Although fascist newspapers print several openly announced death threats, Zetkin stays unimpressed. On their way to the Reichstag, thousands of people line the streets.
(Quelle: filmportal)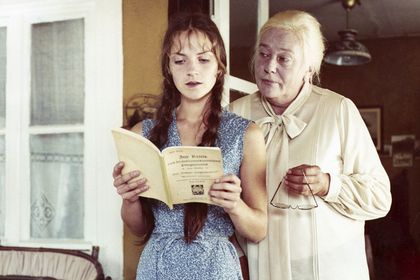 Film Crew
Cast

Gudrun Okras (Clara Zetkin)
Rolf Ludwig (Gustav)
Elke Reuter (Christa)
Klaus Manchen (John Schehr)
Klaus Piontek (Maxim)
Günter Junghans (Jürgen)
Dieter Bellmann (Erich)
Hans-Uwe Bauer (Fritz)
Bernd-Uwe Reppenhagen (Klaus)
Manfred Zetzsche (Naziführer)
Jens-Uwe Bogadtke (Hundeführer)
Bruno Carstens (Chefredakteur "Rote Fahne")
Werner Godemann (Vermieter von Klaus)
Bernd Braun (Naziagent)
Kurt Radeke (Wirt)
Detlef Bierstedt (Göring)
Herbert Manz (Dr. Stolper)
Jürgen Scheithauer (Junger Mann - Spitzel)
Lidija Dimitrijewna Dranowskaja (Krupskaja)
Wladimir Bolaschew (Prof. Lewin)
Tatjana Ljutajewa (Krankenschwester)
Ina Franzkewitsch (Krankenschwester)
Walter Ruge (Offiziersgreis)
Sergej Gladkich (Florin)
Horst Beeck (Trainer)
Frank Ciazynski (auch: Ciaczynski) (Wirt - Ausflugsrestaurant)
Günter Drescher (Redakteur "Rote Fahne")
Gela Götze (Junges Mädchen - Spitzel)
Ilse Bastubbe (Bäuerin)
Willi Neuenhahn (Bauer)
Jürgen Trott (Nazi)
Klaus Nietz (Nazi)
Karl-Heinz Danowski (Nazi)
Waltraut Kramm (Mutter von Klaus' Wirt)
Christine Harbort (Tochter von Klaus' Wirt)
Roland Kuchenbuch (Arbeiter)
Armin Gröpler (Arbeiter)
Margot Busse (Krankenschwester)
Rosemarie Herzog (Gast in Klaus' Wohnung)
Rose Becker (Gast in Klaus' Wohnung)
Carl Heinz Choynski (Gast in Klaus' Wohnung)
Gert Gütschow (SPD-Genosse)
Harald Warmbrunn (SPD-Genosse)
Fred Ludwig (SPD-Genosse)
Joachim Pape (SPD-Genosse)
Klaus Schönberg (SPD-Genosse)
Klaus Rätsch (SPD-Genosse)
Hans Heinrich Gülzow (SPD-Genosse)
Roman-Eckhard Galonska (Gast)
Peter Pauli (Gast)
Klaus Ebeling (Gast)
Heinrich Schramm (Redner)
Günther Nabzdyk (Redner)
Jürgen Polzin (Naziagent)
Günter (auch: Günther) Götze (Streicher)
Hans Klima (Torgeler)
Ingeburg Kendzia (Begleiterin von Zetkin)
Brigitte Riemann (Begleiterin von Zetkin)
Dagmar Henkel (Frau auf Tribüne)
Ulrich Teschner (Abgeordneter KPD)
Hans Feldner (Abgeordneter KPD)
Hans-Jochen Röhrig (Abgeordneter KPD)
Ursula Fischer-Maschwitz (Abgeordnete KPD)
Alfred Lux (Abgeordneter SPD)
Karl Maschwitz (Abgeordneter SPD)
Holger Eckert (Abgeordneter SPD)
Peter Sippach (Abgeordneter SPD)
Horst Giese (Abgeordneter SPD)
Hans-Gotthilf Brown (Abgeordneter SPD)
Johannes Baaske (Abgeordneter SPD)
Eberhardt Wintzen (Abgeordneter SPD)
Roland May (Abgeordneter SPD)
Helmut Schulze (Gast)
Dietmar Sommer (Gast)
Swetlana Skorochodowa (Abgeordnete)
Peter Kalisch (Gast in Klaus' Wohnung)

Assistant Director

Ulrich Kanakowski (Assistenzregie)
Lothar Großmann (Assistenzregie)
Siegfried Schmidt

Assistant Camera

Peter Bernhardt
Waltraut Pathenheimer

Sound

Gerhard Baumgarten
Helga Kadenbach (Tonmischung)
Jürgen Meinel (Ton-Collagen)

Make-Up

Heinz Bernhardt
Karin Wacker

Unit Production Management

Wolfgang Lange
Egon Schlarmann
Rosalinde Schwarzer

Dubbing (Dubbing Actor)

Ljuba Krassilnikowa (Krupskaja)
Awards
Kunst- und Journalistenpreis des FDGB (1985): Kunst- und Journalistenpreis des FDGB - Ralf Kirsten
Kunst- und Journalistenpreis des FDGB (1985): Kunst- und Journalistenpreis des FDGB - Peter Wuss
4. Nationales Spielfilmfestival Karl-Marx-Stadt (1986): Preis für Szenografie - Hans Poppe
4. Nationales Spielfilmfestival Karl-Marx-Stadt (1986): Preis für männliche Nebenrolle - Hans-Uwe Bauer
Short Summary (German)
Zehn Tage aus dem Leben Clara Zetkins. Im August 1932, sie lebt in Archangelskoje bei Moskau, kommt ihr als der ältesten Abgeordneten die Aufgabe zu, die neue Legislaturperiode des Deutschen Reichstags zu eröffnen. Clara Zetkin ist 75 Jahre alt, krank und fast erblindet. Dennoch nimmt sie die Chance wahr, in dem zunehmend von Nazis beherrschten Deutschland ihre Stimme zu erheben. Sie macht sich auf den Weg nach Berlin, was trotz Geheimhaltungsbemühungen durchsickert. Unterkunft findet sie in der Laube ihres alten sozialdemokratischen Freundes Gustav Schröder. Sie lässt sich von den in faschistischen Zeitungen offen ausgestoßenen Morddrohungen nicht einschüchtern. Als sie sich in den Reichstag begibt, säumen Tausende die Straßen.
(Quelle: Das zweite Leben der Filmstadt Babelsberg. DEFA-Spielfilme 1946-1992)
Short Summary (Other Languages)
Nel 1932, a 75 anni, Clara Zetkin vive nei pressi di Mosca. Essendo la più anziana deputata tedesca, spetta a lei inaugurare la nuova legislatura del Reichstag. Nonostante sia malata e quasi cieca, la donna coglie l'occasione per far sentire la sua voce in una Germania sempre più dominata dal nazismo. Giunta con difficoltà a Berlino, la Zetkin trova alloggio dal vecchio amico socialdemocratico Gustav Schröder. Senza lasciarsi intimidire dalle minacce di morte espresse dai giornali fascisti, ma accompagnata dall'esultanza della gente, raggiunge il Reichstag. (Italienisch)