Wo Du hin gehst ...
Director: Martin Hellberg, 98 Min., Black-White, Feature Film
Deutsche Demokratische Republik (DDR)
DEFA-Studio für Spielfilme, 1957
Film/Video Format

35 mm

Length in m

2652

Other Title

No pasaran; Wo Du hingehst

English Title

Wherever You Go

Premiere Date

Release Date (for Cinema)

Literary Source

Claudius, Eduard: "Grüne Oliven und nackte Berge", Roman
Short Summary (English)
Berlin, 1936. Athletes and visitors from all over the world have come to the city to take part in the Olympic Games. Anti-Fascists use the opportunity to tell the foreign guests about the situation in Germany by distributing leaflets. Being cornered by the Gestapo, the wounded resistance fighter Jakob manages to go into hiding with the help of the Swiss doctor Thea. They fall in love with each other and when Jakob joins the International Brigades in Spain to fight against Franco, Thea follows him and becomes a dedicated fighter against Fascism. The enduring battle, however, keeps preventing them from becoming a real couple. After being captured by the Fascists, they both end up in a detention center. Thea is deported to Switzerland - but she will wait for Jakob.
(Quelle: filmportal)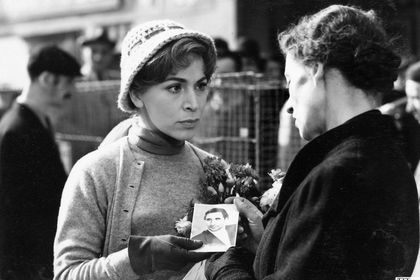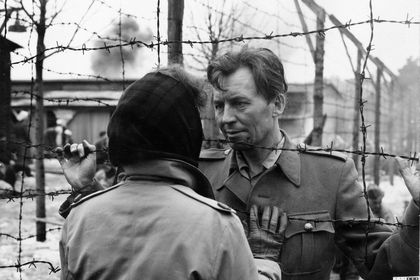 Film Crew
Script

Martin Hellberg
Eduard Claudius

Cast

Wolfgang Stumpf (Jakob Rhode)
Gisela Trowe (Thea Ricci)
Raimund Schelcher (Albert)
Gerry Wolff (Samuel)
Johannes Knittel (René)
Josef (Spitzname: Pepi) Kamper (Lutzer)
Alexander Papendiek (Juan)
Otto-Erich Edenharter (Fernando)
Heinz Gies (Otto)
Charlotte Küter (Ottos Frau)
Hansjoachim Büttner (General Walter)
Betty Loewen (Renés Mutter)
Friedrich Richter (Dr. Wolf)
Almut Dorowa (Tänzerin)
Marianne Wünscher (Donna X)
Martha Beschort-Diez (Katholische Schwester)
Käthe Preval (Geplagte Bäuerin)
Rosalind Vorlag (Dirne)
Bella Waldritter (Mutter Thea)
Karl Block (Arbeiter)
Rolf Defrank (Faschistischer Offizier)
Hans Finohr (Ein Mann)
Hannjo Hasse (Adjutant)
Adolf Peter Hoffmann (Kommissar)
Sepp Klose (Freiwilliger)
Paul Lewitt (Organist)
Paul Pfingst (Freiwilliger)
Joe Schorn (Wachhabender)
Rudolf Schröder (Bauer)
Willi Schwabe (Französischer Beamter)
Werner Segtrop (Brigadekommandeur)
Arthur Geißler (Zuschauer)
Georg Helge (Zuschauer)
Siegfried Weil (Passant)
Georg Dücker (Passant)
Günther Polensen (Schutzmann)
Gerd Wehr (Fotograf)
Hans Fiebrandt (Ziviler Kriminalbeamter)
Viktor (auch: Victor) Eckert (Fernschreibbeamter)
Günter Margo (Zeitungsverkäufer)
Liesel Eckhardt (Hotelwirtin)
Fredy Barten (Wirt / Fetter Zivilist)
Lieselotte Oesterreich (Wirtin)
Gustav Trombke (Kleinbürger)
Franz Arzdorf (Kleinbürger)
Walter Zoddel (Arbeiter)
Curt Paulus (Spanischer Greis)
Carola Morgenthal (Mädchen)
Hugo Hubatsch (Bauer)
Trude Brentina (Bäuerin)
Erich von Dahlen (Mann im Büro)
Lisa Behrends (Krankenschwester)
Erich Konczak (Ein Schwerverwundeter)
Günther Ballier (Ein Schwerverwundeter)
Ivan Malré (Kommissar der Division)
Gregor Greguletz (Stabsoffizier)
Hermann Rudat (Sanitäter)
Wolfgang Bachmann (Spanischer Freiwilliger)
Heinz Kammer (Faschistischer Sergeant)
Margit Regulin (Sängerin)
Ilse Voigt (Ein Mädchen)
Siegfried Behrend (Gitarrist)
Harro Tenbrook (Alter Arzt)
Guido Goroll (Französischer Offizier)
Rolf Ripperger (Faschistischer Offizier)
Dieter Gelwe-Hansen (Faschistischer Offizier)
Waldemar Waeger (Französischer Zivilbeamter)
Karl-Heinz Weiß (Mann im Lager)
Paul Streckfuß (Polizeibeamter)
Gertrud von Bastineller (Frau im Lager)
Joh. Erich Gottschalch (Briefträger)
Christoph Beyertt (Französischer Beamter)
Karl Grasse (Arbeiter)
Ellinor Dzida (Krankenschwester)
Bruno Meier (Kommandant)
Erich Brauer (Gestapo-Beamter)
Maximilian Larsen (Gestapo-Beamter)
Hans Schille (Gestapo-Beamter)
Waldemar Jacobi (Freiwilliger)
Lutz Götz (Freiwilliger)
Harald Moszdorf (Freiwilliger)
Werner Freyberg (Freiwilliger)
Jochen Diestelmann (Freiwilliger)
Karl Krasse (Freiwilliger)
Maria Kühne (Dirne)
Georgia Kullmann (Dirne)
Lissy Tempelhof (Dirne)
Hannelore (auch: Hanna, Hanne) Freudenberger (Dirne)
Gertrud-Elisabeth Zillmer (Dirne)
Maria-Louise Wilken (Dirne)
Erika Handschug (Dirne)
Hiltrud Dahlke (Flüchtling)
Georg Nacke (Flüchtling)
Hans Sense (Flüchtling)
N. Klocze (Flüchtling)
Max Labodat (Flüchtling)
T. Stahl (Flüchtling)
Ruth Garding (Flüchtling)
Walter Pietsch (Flüchtling)

Unit Production Management
Short Summary (German)
Während der Olympiade im Berlin des Jahres 1936 verteilen Antifaschisten Flugblätter, um die ausländischen Gäste über die politischen Zustände in Deutschland zu informieren. Die Gestapo macht Jagd auf sie. Einer der Widerstandskämpfer, Jakob Rhode, entkommt mit einer Schussverletzung. Die Schweizer Ärztin Thea hilft ihm, verliebt sich in ihn. Verstehen indes kann sie seinen aussichtslos scheinenden Einsatz nicht und will ihn mit in die Schweiz nehmen. Jakob lehnt ab. Er geht nach Paris und von dort nach Spanien. Thea folgt ihm, arbeitet als Ärztin in den Internationalen Brigaden. Der Kampf lässt sie nicht zusammenfinden. Erst nach der Niederlage kreuzen sich kurz ihre Wege im Internierungslager. Er bleibt inhaftiert, sie wird in die Schweiz abgeschoben, wo sie auf Jakob warten wird.
(Quelle: Das zweite Leben der Filmstadt Babelsberg. DEFA-Spielfilme 1946-1992)
Short Summary (Other Languages)
Durante i Giochi Olimpici del 1936 a Berlino la Gestapo insegue dei militanti antifascisti che hanno distribuito agli ospiti stranieri dei volantini sulle condizioni politiche in Germania. Jakob Rhode, uno dei combattente della resistenza, ferito da un'arma da fuoco, viene curato da Thea, una dottoressa svizzera, che s'innamora di lui. Passando per Parigi, Jakob si reca in Spagna per combattere nella brigata internazionale. La dottoressa lo segue, ma i combattimenti li tengono separati. Solo dopo la disfatta le loro vite si rincontrano brevemente in un campo d'internamento. Thea verrà rimandata in Svizzera, dove aspetterà il ritorno di Jakob. (Italienisch)