Zeit zu leben
Director: Horst Seemann, 103 Min., Color, Feature Film
Deutsche Demokratische Republik (DDR)
DEFA-Studio für Spielfilme, 1969
Film/Video Format

35 mm

Length in m

2842

Other Title

Sömmerda; Heute und an jedem Tag

English Title

Time To Live

Premiere Date

Release Date (for Cinema)
Short Summary (English)
The communist and resistance fighter Lorenz Reger, who after the war put all his efforts in the creation of a socialist German stat, learns that he has only a short time left to live. Nevertheless, he wants to take on one last difficult new task: He wants to restructure a large firm which has run deep into the red numbers. In a short amount of time, Reger manages to establish mutual trust between the employees and the new management. Furthermore, he motivates the employees with his personal interest for their concerns. He promotes the development of an electronic calculator and allows a woman to return to work by organizing a lace in a day-nursery for her child. Reger soldiers on and successfully takes the company to new heights, thus becoming a role model even beyond his death.
(Quelle: filmportal)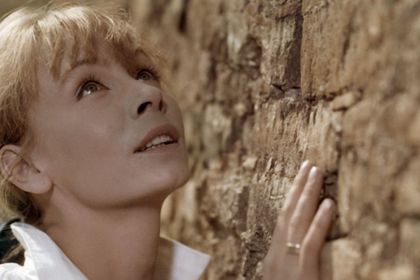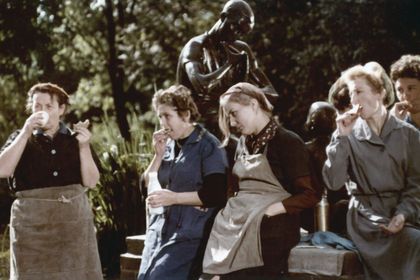 Film Crew
Cast

Leon Niemczyk (Lorenz Reger)
Jutta Hoffmann (Katja Sommer)
Jürgen Hentsch (Fred Sommer)
Traudl Kulikowsky (Monika May)
Frank Schenk (Klaus Reger)
Fred Delmare (Alfred Kalabis)
Dieter Wien (Rudi Sprengler)
Iwan Perewersew (Professor Rossow)
Johannes Wieke (Herwart Suschke)
Werner Lierck (Hein)
Hans Hardt-Hardtloff (Pförtner Hempel)
Mathilde Danegger (Großmutter Reger)
Erik S. Klein (Hans Weber)
Gudrun Ritter (Erna Kalabis)
Jelena Maximowa (Russische Mutter)
Ursula Pasenau-Neuparth (Elisabeth Reger)
Jürgen Frohriep (Herr Mangold)
Uwe-Detlev Jessen (Joachim Kampe)
Christoph Beyertt (Dr. Heinz)
Marie-Anne Fliegel (Brigadierin)
Carmen-Maja Antoni (Arbeiterin Maria Strehler)
Klaus Grau (Arbeiter Kurt Schmidt)
Hannelore Erle (Sekretärin Margot Schwarz)
Peter Festersen (Fahrer Hans Müller)
Otmar Richter (Deutscher Offizier)
Johannes Maus (Schwertmann)
Arnim Mühlstädt (Laux, BGL)
Tessy Fehring-Bortfeldt (Frau Weber)
Otto Lang (Älterer Professor)
Carmen Schlenker (Carmen)
Monica Bielenstein (Angelika)
Ingrid Hiebsch (Jutta Sprengler)
Klaus Schleiff (Fritz Ebel)
Christa (auch: Christel) Leuner (Elfriede Ebel)
Linde Sommer (Frau Suschke)
Karin Gregorek (Blumenverkäuferin)
Thomas Weisgerber (SA-Mann)
Ilse König (Hanna Riemann)
Willi Schrade (Arbeiter)
Elisabeth-Christine Schuster (Studentin)
Karin Boyt (Studentin)
Rüdiger Hubertus Gumm (Student)
Renate Hundertmark (Manuela)
Gianina Gilge (Erika)
Erik Veldre (Günther)
Fritz Weigandt (Paul Scholz)
Bruni Gräbe (Marion Trommer)
Günter Wolf (Eddi Beier)
Klaus Martin Boestel (Mechaniker Ewald)
Gerhard Gläser (Franz Seidel)
Wolfgang Holz (Ingenieur Grosse)
Roland Friedel (Student Werner)
Frieder Kranz (Student)
Dieter Montag (Student)
Berndt Stübner (Student)
Norbert Speer (Student)
Kamal Eltahier (Student)
Wolfgang Greese (Minister)
Hans Feldner (Vertreter des Ministers)
Walter Kröter (Vertreter des Generaldirektors)
Karl-Heinz Weiß (Staatssekretär)
Heinz Hellmich (Professor)
Matthias Molter (Stellvertretender Minister)
Joachim Tomaschewsky (Hänselmann)
Sina Fiedler (Sekretärin)
Rita Walter (Stewardess)
Karin Kundt (Studentin)
Fürnberg (Studentin)
Kurt Pfotenhauer (Gedenkstättenführer Buchenwald)
Hanna Mewes (Deutsche Krankenschwester)
Ludmilla Lebeda (Sowjetische Krankenschwester)

Sound

Klaus Wolter
Peter Foerster
Georg Gutschmidt

Musical Performance

Christel Schulze (Gesang)
DEFA-Sinfonieorchester (Leitung: Manfred Rosenberg)
Theo Schumann Combo (Musikgruppe)
Tanzorchester des Berliner Rundfunks (Leitung: Günter Gollasch)

Costume Design

Elisabeth Selle
Wolfgang Friedrichs

Make-Up

Gerhard Petri
Margot Friedrichs

Unit Production Management

Dubbing (Dubbing Actor)

Eberhard Mellies (Lorenz Reger)
Awards
Nationalpreis (1969): Nationalpreis II. Klasse - Horst Seemann
Nationalpreis (1969): Nationalpreis II. Klasse - Helmut Bergmann
Nationalpreis (1969): Nationalpreis II. Klasse - Leon Niemczyk
Nationalpreis (1969): Nationalpreis II. Klasse - Wolfgang Held
Short Summary (German)
Lorenz Reger, Widerstandskämpfer und Kommunist, hat nach dem Krieg seine ganze Kraft für den Aufbau eines sozialistischen deutschen Staates eingesetzt. Als er erfährt, dass er unheilbar krank ist, rät ihm der Arzt, endlich zur Ruhe zu kommen. Reger aber entscheidet sich, noch einmal eine große Aufgabe zu übernehmen: einen heruntergewirtschafteten Großbetrieb auf Weltniveau zu bringen. Für ihn hat das Leben keinen Sinn ohne schöpferische Arbeit. Es gelingt ihm in kurzer Zeit, zwischen den Mitarbeitern und der neuen Leitung ein Vertrauensverhältnis herzustellen. Unter den veränderten Bedingungen gewinnt der Arbeiter Kalabis seinen alten Elan zurück. Dem Ehepaar Katja und Fred Sommer verhilft Reger zu neuen Perspektiven, indem er Freds seit Jahren ignorierte Entwicklung eines elektronischen Rechners fördert und dessen Frau durch Beschaffung eines Krippenplatzes die Wiederaufnahme ihrer Arbeit ermöglicht. Sein beispielhafter Einsatz überzeugt schließlich auch den Sohn Klaus, der sich oft vernachlässigt fühlte. Reger hat es geschafft, den Betrieb zu einer positiven Bilanz zu führen, indem er die Menschen motivierte. Sein Vorbild wirkt über seinen Tod hinaus.
(Quelle: Das zweite Leben der Filmstadt Babelsberg. DEFA-Spielfilme 1946-1992)
Short Summary (Other Languages)
Dopo aver combattuto nella resistenza, il comunista Lorenz Reger ha investito tutte le sue forze nella ricostruzione dello Stato socialista tedesco. Benché il medico gli abbia diagnosticato una malattia inguaribile e consigliato di riposarsi, Reger non sa stare senza lavoro e decide di rilanciare un'azienda caduta in rovina. In poco tempo riesce a ristabilire un rapporto di fiducia fra la direzione e i collaboratori, che ritrovano motivazione nel proprio lavoro. L'esempio del suo impegno perdurerà anche dopo la sua morte. (Italienisch)
Lorenz Reger, directeur d'une entreprise, apprend qu'il est atteint d'une très grave maladie et qu-il lui reste que peu de jours à vivre ; il décide malgré tout d'entreprendre la réalisation d'un grand projet dans le cadre de son usine. (Französisch: Archives Seine Saint Denis)