Zeus, Adler, Mistkäfer
Director: Kurt Weiler, Color, Animation Film
Deutsche Demokratische Republik (DDR)
DEFA-Studio für Trickfilme, 1988
Film/Video Format

35 mm

Length in m

282

Type of Animation

Puppentrickfilm

Other Title

Dave und Goly

English Title

Zeus, Eagle, Dorbeetle

Release Date (for Cinema)

Releases

DVD: ICESTORM Entertainment GmbH / www.icestorm.de
Short Summary (English)
A little beetle plans to take revenge on an eagle family for killing his friends. Although the eagle family teams up with the powerful Zeus, the little beetle finds a cunning way to fight them.
(source: University of Massachusetts (UMASS) - DEFA Film Library)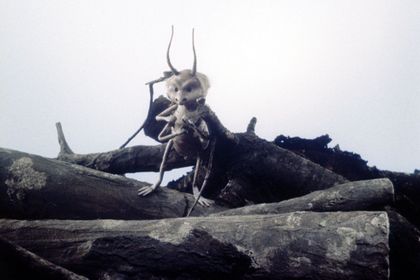 Film Crew
Sound

Manfred Mammitzsch
Thomas Weiß (Geräusche)

Design

Martina Großer (Puppengestaltung)
Michael Baumann (Hintergründe)
Heidi Kohlert (Titelgrafik)

Animation

Thomas Stephan (Puppenführung)

Narrator

Hans Kopprasch
Marita Böhme
Tom Pauls
Short Summary (German)
Der kleine Mistkäfer will sich an der Adlerfamilie rächen, weil sie seine Freunde tötet und seine Mistkugeln zerstört. Obwohl sich die Adler mit Zeus zu verbünden suchen, gelingt es dem Käfer auf listige Weise, die Adlerbrut zu vernichten.
(Quelle: Die Trick-Fabrik. DEFA-Animationsfilme 1955-1990)