Zu jeder Stunde
Director: Heinz Thiel, 85 Min., Black-White, Feature Film
Deutsche Demokratische Republik (DDR)
DEFA-Studio für Spielfilme, 1959
Film/Video Format

35 mm

Length in m

2316

Other Title

Ein heißer Sommer; Nationale Volksarmee; Die 12. Nacht

English Title

Always On Duty

Premiere Date

Release Date (for Cinema)
Short Summary (English)
The soldier Martin has been relocated to a small border village in Thuringia. During a storm, he comes to the rescue of Renate, a farmer's daughter. The two young people fall in love, thereby upsetting Renate's father who has already promised his daughter to the son of the big farmer Grabow. Henceforth, he does his utmost to tear Martin and Renate apart. Meanwhile, Grabow prepares to flee the GDR with the help of the lance-corporal Zimmer who is indebted to him. When Zimmer asks his comrade Martin to help with the escape effort, he meets with resistance: Being true to party principles, Martin informs the company.
(Quelle: filmportal)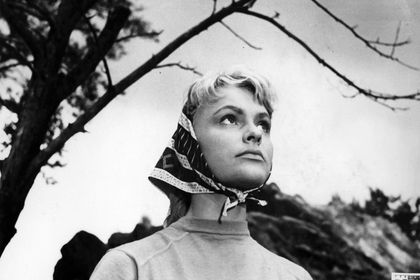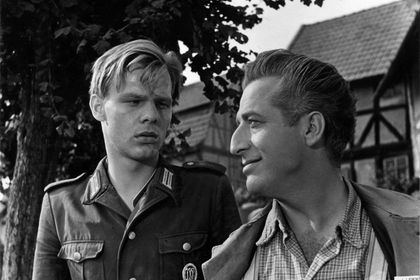 Film Crew
Cast

Reinhold Stövesand (Martin Kraft, Grenzsoldat)
Erika Radtke (Renate Wedel, Tochter des Wedelbauern)
Hans-Peter Minetti (Hermann Höhne, Oberleutnant und Kompaniechef)
Roman Silberstein (Heinz Tröger, Leutnant und Politstellenvertreter)
Manfred Borges (Schlegel, Stabsgefreiter)
Günter Haack (Bruno Zimmer, Gefreiter)
Hans Finohr (Arthur Wedel)
Rolf Ripperger (Fred Wedel, Arthur Wedels Sohn)
Erich Franz (Otto Grabow, genannt Stuten-Otto)
Otmar Richter (Felix Grabow, Otto Grabows Sohn)
Harry Hindemith (Marian Klein, LPG-Vorsitzender)
Horst Kube (Erich Willembrot, Brigadier)
Fritz Diez (Vater Kraft)
Josef Stauder (Meister Schröder)
Werner Lierck (Köhler)
Klaus Gendries (Rüdiger)
Waldemar Baeger (Schmidt)
Erich Mirek (Hauptmann Schober)
Werner Senftleben (Seifert)
Hans Flössel (Bierfuchs)
Maika Joseph (Frau Wedel)
Maria Besendahl (Frau Grabow)
Irene Eisermann (Mutter Kraft)
Gerd Scheibel (Hubricht)
Manfred Müller (Friedrich)
Lutz Erdmann (Garden)
Hubert Arndt (Feldwebel Fötel)
Rolf Beuckert (Unteroffizier Philip)
Rüdiger Evers (Kaluweit)
Manfred Ott (Barten)
Jürgen Holtz (Suppenfranz)
Paul Funk (Schaffner)
Ulrich Kaesemann (Arbeiter)
Alfred Kerwat (Arbeiter)
Gertrud Fromm (Krankenschwester)

Musical Performance

Hans-Beimler-Ensemble der Deutschen Grenzpolizei (Lied "Zu jeder Stunde")

Unit Production Management

Paul Lasinski
Irene Ikker
Short Summary (German)
Soldat Martin Kraft wird nach einem Lehrgang in ein thüringisches Grenzdorf versetzt. Bei einem Sturm rettet er die verunglückte Bauerntochter Renate und verliebt sich in sie. Deren Vater hat sie aber bereits dem Sohn des Großbauern Grabow versprochen. Um sie von Martin zu trennen, schickt er die Tochter nach Eisenach. Im Dorf bereitet Grabow inzwischen im Auftrag des ehemaligen Gutsherrn einen Sabotageakt und seine Flucht vor. Er gewinnt den bei ihm verschuldeten Gefreiten Zimmer zur Unterstützung. Bei der gemeinsamen Streife versucht Zimmer, auch Martin mit hineinzuziehen. Der weigert sich aber und benachrichtigt die Kompanie. In einem dramatischen Kampf können die Verbrecher, die die LPG-Gebäude bereits in Brand gesteckt haben, gestellt werden.
(Quelle: Das zweite Leben der Filmstadt Babelsberg. DEFA-Spielfilme 1946-1992)
Short Summary (Other Languages)
Finito il corso d'addestramento, il soldato Martin Kraft viene distaccato in un villaggio di confine della Turingia. Nel corso di una tempesta, il ragazzo salva Renate, la figlia di un contadino, e s'innamora di lei. Ma il padre della ragazza l'ha già promessa al figlio del ricco contadino Grabow. Per allontanarla da Martin, il padre manda sua figlia a Eisenach, mentre in paese Grabow assieme al caporale Zimmer, preparano su incarico dell'ex proprietario terriero un sabotaggio e la loro fuga. Zimmer cerca di coinvolgere anche Martin, ma il ragazzo si rifiuta e allerta la compagnia. In un violento combattimento i due criminali finiscono in manette, ma solo dopo aver dato fuoco alla cooperativa agricola. (Italienisch)