Zum Beispiel Josef
Director: Erwin Stranka, 92 Min., Color, Feature Film
Deutsche Demokratische Republik (DDR)
1974
Film/Video Format

35 mm

Length in m

2533

Premiere Date

Release Date (for Cinema)

Literary Source

Otto, Herbert: "Zum Beispiel Josef", Roman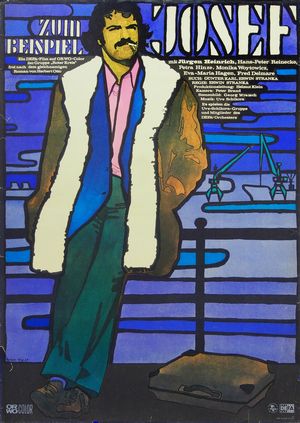 Short Summary (English)
Josef Neumann has always been an outsider to society, and at the age of 30, he has already lived an adventurous life when he comes to the GDR. He was raised as a foundling by nuns, made an apprenticeship as a construction worker, went to the Foreign Legion, and was a seaman and a tramp. Now, he is working at the Warnow shipyard. Brigadier Bruno has a lot of sympathy and patience with the unconventional Josef, but Josef cannot fall in line with strict orders and again and again acts against the rules. Most notorious are his jumps that he had learned in the Algerian war, where his jumps had saved his life. Thanks to Bruno's intercession, people forgive him when Josef jumps through the closed door of a bar. But after the next jump, even Bruno gives up on Josef. Now, only Julia could support Josef. He loves her, but she is not able to leave her husband, although they are already divorced. When Josef decides to leave, Julia nevertheless arrives at his door and convinces him to stay.
(Quelle: filmportal)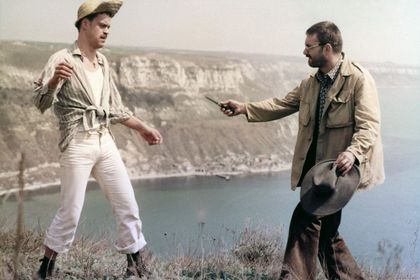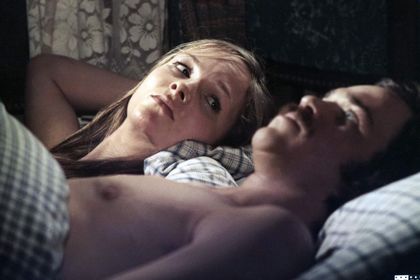 Film Crew
Cast

Jürgen Heinrich (Josef)
Hans-Peter Reinecke (Bruno)
Petra Hinze (Julia)
Monika Woytowicz (Ute)
Eva-Maria Hagen (Erna)
Fred Delmare (Alois)
Fred Ludwig (Kurt)
Harald Wandel (Eule)
Klaus Gehrke (Stefan)
Heinz Behrens (Körber, Julias Mann)
Pedro Habenstreit (Berthold)
Bernd Storch (Erich)
Rainer Etzenberg (Fritz)
Sanije Torka (Nanette)
Hannjo Hasse (Ausbilder in der Legion)
Lothar Schellhorn (Reporter (Werft)))
Klaus Bergatt (LKW-Fahrer)
Detlev Witte (Volkspolizist)
Karl Schilder (VP-Fahrer)
Fritz Ernst Fechner (Werftdirektor)
Jurij Rječka (Oberingenieur)
Werner Piontek (Mehlmann)
Klaus Ebeling (E-Karrenfahrer)
Klaus Powollik-Ronay (Paul)
Madjit Aluan (Algerischer Lehrer)
Peter Pauli (Pärchen vor Pinguin-Bar (Mann))
Christa Scheuner (Pärchen vor Pinguin-Bar (Frau))
Eckhard Bilz (Mann vor Pinguin-Bar)
Peter Hill (Mann vor Pinguin-Bar)
Matthias Molter (Geschäftsführer der Pinguin-Bar)
Manfred Ott (Kellner)
Karl Sturm (Arthur)
Joachim Lenk (Saufkumpan)
Peter Lange (Saufkumpan)
Herbert Ambach (Wirt)
Ostara Körner (Kaderleiterin)
Werner Pfeifer (Kollege)
Detlef Willecke (Kollege)
Werner Kamenik (Kollege)
Ludwig Eisermann (Kollege)
Theo Ullmann (Kollege)
Peter Heiland (Kollege)
Illelore Kuhnert (Kollegin)
Peter Hartig (Kellner)
Blagori Minjew (Kellner)
Nasko Mihailow (Kellner)
Rosita Schlegel (Kellnerin)
Hubertus Kaplich (Barmixer)
Bodo Schmidt (Wirt (Kneipe "Erna"))
Christa Müller (Nonne)
Gisela Bestehorn (Utes Mutter)
Rolf Martius (Utes Mann)
Blanche Kommerell (Mädchen im Kinderheim)
Ruth Kommerell (Richterin)
Heinz Laggies (Wirt)
Willi Neuenhahn (Fremder)
Ilona Grandtke (Martha)
Günter Rüger (Arzt (Poliklinik))
Angela Brunner (Oberschwester)
Karin Beewen (Schwester)
Günter Drescher (Arbeiter)
Kurt Hesse (Heizer)
Anke von Lenski (Mädchen an der Steilküste)
Karin Jordan (Mädchen an der Steilküste)
Iris Bohnau (Passantin)
Günter Schmidt (Busfahrer)
Joachim Fritsch (Legionär)
Klaus Fritsche (Legionär)
Adolf Neumann (Legionär)
Harry Haufe (Musiker)
Carl-Peter Frank (Musiker)
Klaus Pollow (Musiker)
Kurt Hoffmann (Musiker)
Hans-Thomas Fritsching (Musiker)
Kurt Wilhelm (Musiker)
Bettina Kirchberg (Beate)
Christian Dittfeld (Josef, 8 Jahre)
Monika Gref (Brunos Tochter)
Oliver Tessin (Brunos Sohn)
Dirk Tessin (Brunos Sohn)
Reno Tessin (Brunos Sohn)
Ronald Geister (Brunos Sohn)
Bruno Wachsmuth (Kaskadeur)
Wilfried Zander (Kaskadeur)
Eugen Albert (Kaskadeur)
Christel Kern (Sprecherin "Aktuelle Kamera")

Assistant Camera

Hans-Joachim (auch: Jochen) Zillmer
Hans-Joachim Knospe

Scenario

Günter Karl
Erwin Stranka

Script Editing

Gerhard Hartwig
Christa Müller

Sound

Rosemarie Linde
Günter Springer

Musical Performance

Uve Schikora
DEFA-Sinfonieorchester

Costume Design

Barbara Braumann (geb. Müller)

Make-Up

Lothar Stäglich
Rosemarie Stäglich (geb. Wittke)
Christa (auch: Christel) Grewald

Unit Production Management

Rolf Martius
Werner Pfeifer
Hartmut Plettau
Detlef Willecke

DEFA Photography

Hans-Joachim (auch: Jochen) Zillmer
Awards
Kunstpreis des FDGB (1975): Kunstpreis des FDGB
Short Summary (German)
Josef Neumann ist dreißig und erst seit kurzem in der DDR, arbeitet auf der Warnowwerft und ist eigentlich schon wieder im Begriff zu gehen. Er ist ein Außenseiter mit abenteuerlichem Leben: von Nonnen großgezogen, Fremdenlegionär, Seefahrer, Werftarbeiter. Springen ist sein Lebensinhalt. Brigadier Bruno, der Arbeiter sucht, nimmt ihn in seine Brigade auf. Er hat viel Verständnis für den "Exoten", doch der zeigt wenig Neigung, sich einzufügen. Ein Sprung durch die Tür der geschlossenen Pinguinbar - gelernt im Algerienkrieg, wo seine Sprünge lebensrettend waren - bringt ihn vor die Konfliktkommission. Die Brigade bürgt für ihn, doch beim nächsten Sprung wirft auch Bruno das Handtuch. Die einzige, die Josef noch halten könnte, ist Julia. In sie ist er wirklich verliebt, aber sie kann sich von ihrem geschiedenen Mann nicht lösen. Josef packt schon die Koffer, als Julia doch noch kommt ...
(Quelle: Das zweite Leben der Filmstadt Babelsberg. DEFA-Spielfilme 1946-1992)
Short Summary (Other Languages)
Nonostante a trent'anni Josef Neumann sia appena arrivato nella RDT, per lavorare in un cantiere navale, è già pronto a ripartire. D'altronde la sua vita è sempre stata instabile: cresciuto dalle suore, militante nella legione straniera, marinaio e ora operaio in un cantiere navale. Il caposquadra Bruno, in cerca di manodopera, lo prende nella sua squadra, ma anche qui Josef non sembra adattarsi. Un salto attraverso la porta chiusa di un bar, lo porta davanti alla commissione disciplinare. La squadra si schiera dalla sua parte, ma di fronte all'ennesima fesseria, anche Bruno getta la spugna. L'unica che potrebbe fermare Josef è Julia, che il ragazzo ama davvero, ma che non riesce a separarsi dal marito. Quando Josef sta per chiudere le valigie, Julia si presenta da lui... (Italienisch)
Joseph, ancien légionnaire ayant participé à la Guerre d'Algérie, ne s'est jamais adapté à une vie stable. Travaillant maintenant sur un chantier naval en RDA, il se heurte à son entourage et ne cherche pas à se faire comprendre, ni à s'intégrer. La patience de Bruno, l'amour de Julie l'améneront-ils à prendre conscience qu'une autre vie est possible? (Französisch: Archives Seine Saint Denis)