Zwei schräge Vögel
Director: Erwin Stranka, 104 Min., Color/Black-White, Feature Film
Deutsche Demokratische Republik (DDR)
DEFA-Studio für Spielfilme, 1989
Film/Video Format

35 mm

Length in m

2687

Other Title

cad cam Comödie

English Title

Two Strange Characters

Premiere Date

Release Date (for Cinema)
Short Summary (English)
Frank and Kamminke study informatics in Leipzig and have developed a program that enables a computer to automatically find and correct errors in its software. Freshly graduated, they are relocated to a remote Thuringian village after causing a computer breakdown. There, they are supposed to work in a small company that has no clue of economic management. The rather helpful computer system from West Germany plainly lacks compatible software. But Frank and Komminke are not allowed to work with the hardware , although it is them who could make most out of the complex system. Eventually, and with the help of consultant Petra whom both are in love with, they break into the system control room on New Year's Eve and start up the computer with their special program. Although they are given a severe lecture by the general director, the successful operation earns Frank and Kamminke a lot of credit and they become a young science collective.
(Quelle: filmportal)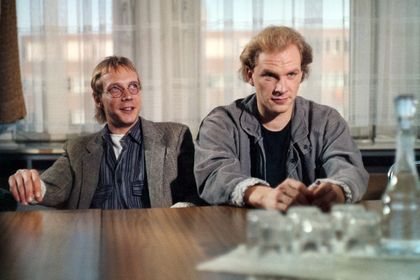 Film Crew
Script

Erwin Stranka
Diethardt Schneider (Beratung Erarbeitung)

Cast

Götz Schubert (Frank Lettau)
Matthias Wien (Kamminke)
Simone Thomalla (Petra Anschütz)
Gerit Kling (Gina)
Jaecki Schwarz (Kremmel)
Peter Sodann (Heilmann)
Dieter Mann (Dr. Bauer)
Walfriede Schmitt (Vogelsang)
Fred Delmare (Hausmann)
Doris Schmude (Silikon-Wally)
Gisbert-Peter Terhorst (Menzel)
Harry Merkel (Wachmann)
Edgar Külow (Wachmann)
Uwe Steimle (Verantwortlicher Kulturfunktionär)
Peter Bause (Adam)
Manfred Borges (Meister)
Willi Schwabe (Prorektor)
Jürgen Mai (Trockenbrodt)
Michael Walke (Fickelscheer)
Rolf Mey-Dahl (Professor)
Peter Dommisch (Greiner-May)
Joachim Pape (Lehrender)
Ernst-Georg Schwill (Greiner-Wiebel)
Peter Pauli (Greiner-Lotze)
Silvio Hildebrandt (Student)
Peter Wohlfeil (Anderer)
Andrej Hoffmann (Student)
Karsten Speck (Student)
Anja Kling (Studentin)
Susanne Schwab (Frau im Nachthemd)
Bertram Bolz (Einer)
Mohobiko Morata (Umezaki)
Günter Ringe (1. Sekretär)
Andrea Brose (Wachstudentin)
Ilse Bastubbe (Frau Kremmel)
Ronald Jopt (Jodler)
Heinz Kretzschmann (Lehrer)
Roman-Eckhard Galonska (Lehrer)
Horst Papke (Lehrer)
Johannes Baaske (Lehrer)
Alexander Winkler (Lehrer; Messebesucher)
Januš Rehor (Lehrer)
Hans-Jürgen Leo (Lehrer)
Werner Pfeifer (Lehrer)
Manfred Bendick (Lehrer)
Dieter Knust (Hausbewohner)
Klaus Ebeling (Hausbewohner)
Hans-Joachim Rodewald (Hausbewohner)
Gerald Faika (Hausbewohner)
Axel-Andreas Timke (Hausbewohner)
Rudolf Goßing (Hausbewohner)
Dieter Gellenthin (Containerfahrer)
Roland Kuchenbuch (Trautmann)
Willi Neuenhahn (Werner Müller)
Mona Stein (Renate Höllein)
Manfred Wolfgang Müller (Greiner-Pelter)
Berndt Stübner (Verantwortlicher)
Willi Schrade (Funktionär)
Dietmar Sommer (Funktionär)
Dietmar Irmer (Funktionär)
Harald Engelmann (Funktionär)
Fred Schmidt (Funktionär)
Horst Giese (Funktionär)
Eva Schäfer (Reinigungsfrau)
Astrid Göhle (Messebesucherin)
Ursula Gropp (Messebesucherin)
Gerlinde Specht (Messebesucherin)
Erika Straßburger (Messebesucherin)
Brigitte Schnaubelt (Messebesucherin)
Angelika Kempe (Messebesucherin)
Christa Herricht (Messebesucherin)
Anita Berger (Messebesucherin)
Gabriele Gerhard (Messebesucherin)
Lothar Butszies (Messebesucher)
Peter Berger (Messebesucher)
Helmut Schindler (Messebesucher)
Michael Grünthal (Messebesucher)
Dieter Benedix (Messebesucher)
Brigitte Struwe (Messebesucherin)
Bärbel Röhl (Pressegast)
Ute Kempfer (Pressegast)
Götz Schulte (Pressegast)
Susann Thiede (Pressegast)
Veit Schubert (Pressegast)
Antje Lindemann (Pressegast)
Petty Cats (Musikgruppe) (Rockgruppe)

Assistant Director

Ulrich Kanakowski (Assistenzregie)

Scenario

Diethardt Schneider
Erwin Stranka (Überarbeitung)

Music

Tamás Kahane
Karl-Ernst Sasse
Petty Cats (Musikgruppe)

Sound

Klaus Tolstorf
Konrad Walle (Tonmischung)

Production Management

Uwe (auch: Werner-Uwe) Kraft

Unit Production Management

Eberhard Schulze
Peter Schlaak

Design

Tony Loeser (Trick)
Angela Kern (Trick)
Heiko Ebert (Trick)
Frank Wittstock (Trick)
Wolfgang Chevalier (Trick)
Siegfried Wunsch (Trick)
Short Summary (German)
Die Informatikstudenten Frank und Kamminke haben gemeinsam ein Computerprogramm entwickelt. Damit kann ein Computer Fehler in seiner Software selbst finden und korrigieren. Nach Abschluss des Studiums will man die beiden trennen, aber nach einigen Verwicklungen, unter anderem fahren sie an der Uni ein Computerprogramm zu Schrott, werden sie gemeinsam in einen thüringischen Betrieb versetzt - zur Bewährung. Dort geht alles einen ziemlich uneffektiven Gang, was nicht sein müsste, würde die Computeranlage genutzt. Doch dafür fehlt die richtige Software. Frank und Kamminke dürfen die Anlage nicht betreten. Mithilfe der Sachbearbeiterin Petra, in die sich beide verlieben, gelangen sie dennoch hinein und bringen die Anlage mit ihrem Programm zum Laufen. Allerdings werden sie dabei gestellt und erhalten vom Generaldirektor eine Strafpredigt. Ihr Erfolg jedoch lässt ihn schnell umdenken, und er macht aus ihnen ein Jugendforscherkollektiv.
(Quelle: Das zweite Leben der Filmstadt Babelsberg. DEFA-Spielfilme 1946-1992)
Short Summary (Other Languages)
Frank e Kamminke, due studenti d'informatica, sviluppano un software in grado di trovare e correggere autonomamente i propri errori. Finita l'università c'è chi vuole separarli, ma dopo una serie di vicissitudini, i due ragazzi finiscono insieme in un riformatorio, dove nulla sembra funzionare, perché manca un adeguato programma informatico. Nonostante Frank e Kamminke abbiano ricevuto il divieto di accedere alla sala computer, Petra, una segretaria che entrambi amano, permette loro di risolvere il problema. Il successo è talmente grande che i due ragazzi possono mettere insieme una squadra di giovani ricercatori. (Italienisch)