Zwischenfall in Benderath
Director: János Veiczi, 98 Min., Black-White, Feature Film
Deutsche Demokratische Republik (DDR)
DEFA-Studio für Spielfilme, 1956
Film/Video Format

35 mm

Length in m

2685

Other Title

Trojaner; Die Sache mit Päker

English Title

Incident In Benderath

Premiere Date

Release Date (for Cinema)

Literary Source

Corrinth, Curt: "Die Sache mit Päker", Jugendbuch; "Trojaner", Schauspiel
Short Summary (English)
Living in the small town of Benderath in West Germany during the 50s, the Jewish high school student Jakob is the frequent victim of anti-semitic utterances by his fascist teacher Päker who insults him as "subversive element" and "gutless Oriental". Jakob's classmates do not want to let Päker get away with it. The "Trojans", a group of pupils, stand behind Jakob and demand an apology from the teacher. Päker, however, is not willing to realize his mistake. Thus, the Trojans decide to stay away from school in order to force the governing body of the school to make a statement. Their campaign kicks off a big discussion in the small town. The parents side with their children and eventually the schools inspector gives in to the pupil's request. Päker is being transferred for disciplinary reasons and has to apologize to Jakob.
(Quelle: filmportal)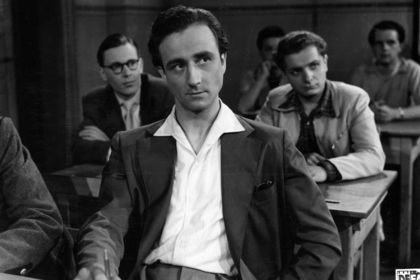 Film Crew
Script

Curt Corrinth
János Veiczi

Cast

Uwe-Jens Pape (Jakob Lewin)
Hartmut Reck (Hans Hellmann)
Gerhard Rachold (Rudolf Hacker)
Benno Bentzin (Achim Schönberg)
Peter Groeger (Karl Jänner)
Wolfgang Hübner (Wilhelm Spieß)
Hans-Edgar Stecher (Fritz Diesel)
Renate Küster (Regine Stolterhof)
Barbara Rost (Grete Fenner)
Doris Abeßer (Hilde Wahl)
Heinz Schröder (Studienrat Päker)
Siegfried Weiß (Direktor Tappert)
Horst Friedrich (Schulrat Casparius)
Hatto Hirsch (Dr. Busch)
Peter A. Stiege (Oberstudienrat Fenner)
Jochen Brockmann (Dr. Spieß)
Inge Huber (Frau Lewin)
Hermann Kiessner (Dr. Lewin)
Siegfried Fomm (General a. D. Schönberg)
Gustav Wehrle (Kaufmann Diesel)
Marga Legal (Frau Hacker)
Gerd Michael Henneberg (Apotheker Jänner)
Hannes W. Braun (Inspektor Hellmann)
Josef Peter (auch: J. P.) Dornseif (Stolterhof)
Maria Besendahl (Frau Fenner)
Ellinor Vogel (Frau Tucht)
Else Korén (Frau Stolterhof)
Traute Sense (Frau Halbach)
Jürgen Degenhardt (Ingofred Halbach)
Paul Streckfuß (Polizeibeamter)
Harry Gillmann (Diener)
Hans Fiebrandt (Kommissar Wagner)
Wolfgang Wagner (Dieter Stolterhof)
Rolf Bergmann (Wachtmeister Klaffke)
Augustin Kovacz (Wachtmeister Priesel)
Ursula Thiele (Junge Laborantin)
Friedrich Voss (Klaus Tucht)
Manfred Dorschan (Werner Ticke)
Heinz Möller (Älterer Lehrer)
Paul Lipinski (Logenschließer)
Gerhard Lah (Halbstarker)
Isolde Rüger (Sekretärin bei Spieß)
Gerda-Luise Thiele (Junge Kellnerin)
Hansi Freiberg (Junge Kundin)

Assistant Director

Hans-Georg Thiemt
Werner Hartmann

Musical Performance

DEFA-Sinfonieorchester ("Les préludes" von Franz Liszt unter der Leitung von Adolf Fritz Guhl)

Make-Up

Hanns (auch: Hans) Wosnik (auch: Wosnick)
Charlotte Stritzke

Unit Production Management

Gerhard Freudel
Siegfried Nürnberger
Awards
Internationales Filmfestival der VI. Weltfestspiele der Jugend und Studenten Moskau (1957): Silbermedaille
Short Summary (German)
Schauplatz ist die kleine Stadt Benderath, irgendwo in Westdeutschland. Am Gymnasium gibt es eine Gruppe von Jungen, die sich "Trojaner" nennen und fest zusammenhalten. Als der faschistische Lehrer Päker den jüdischen Mitschüler Jakob als "feigen Orientalen" und "staatsfeindliches Element" beschimpft, fordern sie geschlossen die Rücknahme der Beleidigung. Da Päker sich weigert, verlassen sie die Schule, verschanzen sich auf einer Insel und stellen der Direktion ein Ultimatum. Die ganze Stadt ist in Aufregung, und die Eltern stellen sich hinter ihre Kinder. So gibt letztendlich auch der Stadtschulrat klein bei und erfüllt das Ultimatum: die Gymnasiasten kehren straffrei an die Schule zurück, Päker muß sich entschuldigen und wird an eine andere Schule versetzt.
(Quelle: Das zweite Leben der Filmstadt Babelsberg. DEFA-Spielfilme 1946-1992)
Short Summary (Other Languages)
Il liceo di Benderath, una cittadina nella Germania occidentale, è frequentato da un gruppo di ragazzi molto uniti che si fanno chiamare i "Troiani". Quando l'insegnante fascista Päker insulta Jakob, un loro compagno ebreo, definendolo "nemico dello Stato ", i ragazzi chiedono all'unisono che ritiri immediatamente l'insulto. Dal momento che l'insegnante si rifiuta, i ragazzi abbandonano la scuola, si trincerano su un'isola e danno al dirigente scolastico un ultimatum. L'intera città è in subbuglio e i genitori dei ragazzi si schierano con loro. Alla fine anche la dirigenza scolastica gli darà ragione. I ragazzi potranno ritornare a scuola e Päker sarà costretto a scusarsi con Jakob prima di essere trasferito altrove. (Italienisch)