DEFA and Copyright
German Title: Urheberrecht und DEFA-Film
Stefan Haupt
518 Pages
Paperback, 14,8 x 21 cm
Price: 5,00 Euro (plus shipping)
ISBN: 978-3-00-016728-7 (3-00-016728-5)

Obtainable at: info@defa-stiftung.de
The Book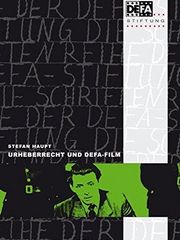 The lawyer Stefan Haupt outlines copyright problems concerning the film production of the GDR. Apart from important court decisions on copyright questions of exploitation rights there are many substantial documents attached as annex that elaborate on agreements and contracts. In addition, you can find a bibliography on copyright in the GDR.
Mehr als 15 Jahre liegt die Herstellung der Einheit Deutschlands zurück, die auch auf die Auswertung der Filmproduktion der DDR nicht ohne Wirkung geblieben ist. Die 1946 gegründete DEFA (Deutsche Film- und Aktiengesellschaft) setzte Maßstäbe für das Filmwesen der DDR. Als deren Rechtsnachfolger verwaltet heute die DEFA- Stiftung die Rechte des DEFA-Filmstocks und noch gültige Verwertungsrechte an ausländischen Filmen für die neuen Bundesländer.
Die vorliegende Dokumentation beschäftigt sich mit den urheberrechtlichen Problemen im Zusammenhang mit der Filmproduktion der DDR. Neben wichtigen Urteilen zu den Fragen der urgeberrechtlichen Nutzungsrechte sind im Anhang zahlreiche, für die Bestimmung des Inhalts der abgeschlossenen Verträge wesentliche Dokumente, wiedergegeben. Der Band wird mit einer Bibliographie zum Urheberrecht der DDR abgerundet.
Samples (in german):
The Author
[Translate to English:]
Dr. Stephan Haupt ist seit mehr als einem Jahrzehnt als Rechtsanwalt auf dem Gebiet des Urheber-, Medien- und Verlagsrechtes tätig. Er hat sich durch zahlreiche Veröffentlichungen sowie Lehr- und Seminartätigkeit einen Namen gemacht.