Anmut sparet nicht noch Mühe
Director: Winfried Junge, 105 Min., Color/Black-White, Documentary
Deutsche Demokratische Republik (DDR)
DEFA-Studio für Dokumentarfilme, 1979
Film/Video Format

35 mm

Length in m

2871

Other Title

Golzow VII. Die Geschichte der Kinder von Golzow

English Title

Spare No Charm and Spare No Effort

Release Date (for Cinema)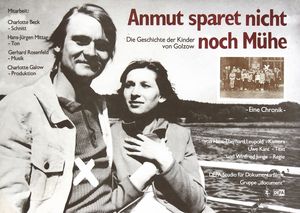 Short Summary (English)
The seventh part of the Golzow long-term observation project that started in 1961 is the first compilation of film material from the past eighteen years. The film team creates a group portrait of individuals who started out together, but who went their own way in their professional and personal lives.
(source: University of Massachusetts (UMASS) - DEFA Film Library)
Film Crew
Script

Winfried Junge
Hans-Eberhard Leupold

Camera

Hans-Eberhard Leupold
Hans Dumke
Walfried Labuszewski (auch: Labuczewski)
Helmut Gerstmann
Walter Roßkopf
Wolfgang Randel
S. Kühne
Peter Holz
Günter Bressler
Christian Lehmann

Film Editing

Charlotte Beck
Christel Hemmerling

Music

Gerhard Rosenfeld
Kurt Grottke
Peter Gotthardt

Sound

Hans-Jürgen Mittag
Manfred Zilinski
Karl-Heinz Schmischke
Harry Heinke
Rolf Rolke
Peter Sosna
Heinz Dinter
Ingrid Schernikau
Jochen Huschenbett

Production Management

Charlotte Galow
Gerhard Radam
Fritz Latzke
Horst Pukara
Dieter-Rolf Bierhals
Franz B. Romanowski

Content Editing

Andreas Voigt
Manfred Wolf
Manfred Uschmann

Design

Barbara Junge (Archivdokumentation)
Anneliese Dallmann (Archivdokumentation)

Consulting

Eckhard Trümpler (Historische Fachberatung)
Short Summary (German)
Rückblick auf 18 Jahre Leben der Heranwachsenden in Golzow, einer Generation, der der Frieden bewahrt blieb. Der Film zeigt die unterschiedlichen Lebenswege im Beruf und im privaten Leben.