Das Beil von Wandsbek
Director: Falk Harnack, 113 Min., Black-White, Feature Film
Deutsche Demokratische Republik (DDR)
DEFA-Studio für Spielfilme, 1950 - 1951
Film/Video Format

35 mm

Length in m

3025

English Title

The Axe Of Wandsbek

Premiere Date

Release Date (for Cinema)

Literary Source

Zweig, Arnold: "Das Beil von Wandsbek", Roman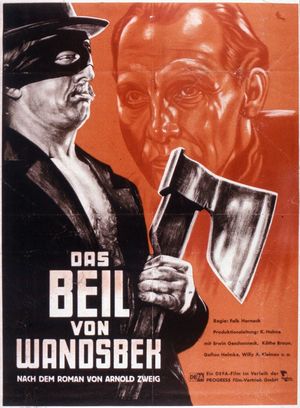 Short Summary (English)
The Axe of Wandsbek considers the role that common citizens played in Nazi crimes, while at the same time portraying a social climate of conflict and contestation. The film tells the story of a neigborhood butcher (Erwin Geschonneck) who accepts money from the SS to execute four political prisoners. The film is based on one of the most important works by Arnold Zweig, a German Jew who published the novel during his exile in Palestine in 1943. Director Falk Harnack, a member of the resistance group "White Rose", was the brother-in-law of Mildred Fish Harnack, the only American civilian ever executed on Hitler's direct order.
Source: DEFA Film Library - Shadows and Sojourners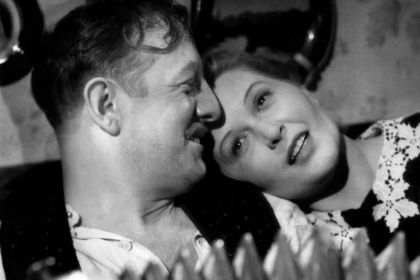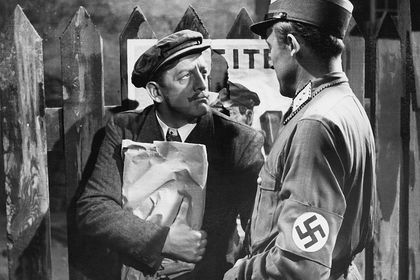 Film Crew
Script

Hans-Robert Bortfeldt
Falk Harnack

Cast

Erwin Geschonneck (Albert Teetjen)
Käthe Braun (Stine Teetjen)
Gefion Helmke (Dr. Käthe Neumeier)
Willy A. Kleinau (Hans Peter Footh)
Arthur Schröder (Dr. Koldewey)
Ursula Meißner (Annette Koldewey)
Helmuth Hinzelmann (Oberst Lintze)
Blandine Ebinger (Aga Lintze)
Hilde Sessak (Anneliese Bluthe)
Claus Holm (SA-Sturmführer Trowe)
Erika Dannhoff (Lene Prestow)
Fritz Wisten (Siegfried Mengers)
Albert Garbe (Otto Merzenich)
Hermann Stövesand (Friedrich Timme)
Gert Schäfer (Willi Schröter)
Friedrich Honna (Otto Lehmke)
Maly Delschaft (Frau Lehmke)
Gina Presgott (Dörte Lehmke)
Charlotte Küter (Geesche Barley)
Claus Peter Lüttgen (Tom Barley)
Raimund Schelcher (Karl Prestow)
Gisela May (Arbeiterfrau)
Albert Venohr (Straßenbahnfahrer)
Annemarie Hase (Frau Schmermund)
Otto Eduard Stübler (Herr Kralle)
Kurt Mikulski (Kostümverleiher)
Arthur Malkowski (Kapitän Karstensen)
Harry Riebauer (SA-Mann Fiete)
Gustav Püttjer (Schuhmacher)
Helene Riechers (Frau Michalke)
Herbert Richter (Hauptwachtmeister)
Kurt Mühlhardt (Schiffsoffizier Wendel)
Herbert Kiper (Ingenieur Kummerfeld)
Ilva Günten (Frau Kummerfeld)
Rochus Lankau (Prokurist Henseleit)
Thea Achenwall (Frau Henseleit)
Elfie Dugal (geb. Dugall) (Dienstmädchen Liesa)
Egon Vogel (Gehilfe im Kostümverleih)
Gerda von Rohde (Sekretärin Fräulein Willmann)
Nico Turoff (Müllkastenträger)
Wladimir Marfiak (Müllkastenträger)
Georg Kröning (Fliesenleger)
Klaus Miedel (Schneider)
Hugo Kalthoff (Wachtmeister)
Georg Helge (Wachtmeister)
Bruno Lopinski (Wachtmeister)
Käte Alving (Nachbarin)
Gertrud Paulun (Nachbarin)
Marga Becker (Schuhverkäuferin)
Erich Gühne
Werner Segtrop
Otto Stöckel

Production Design

Erich Zander
Karl Schneider

Costume Design

Walter Schulze-Mittendorff

Make-Up

Herbert Zensch
Gerda Stombrowski

Production Management

Kurt Hahne
Heinz Berg (Produktionsleitung-Assistenz)

Unit Production Management
Short Summary (German)
1934: Hamburg erwartet hohen Besuch: den Führer. Vorher gilt es noch einen Makel, der auf der Stadt liegt, zu beseitigen. Vier zum Tode verurteilte Kommunisten sind noch immer nicht hingerichtet. Es fehlt ein Henker. Durch Zufall stößt man auf den Schlächtermeister Teetjen. Sein Laden geht schlecht, und er bat den ehemaligen Kriegskameraden Footh um Hilfe. Der Reeder und SS-Standartenführer ist zu einem Geschäft bereit: eine beträchtliche Summe für eine "vaterländische Tat". Teetjen lässt sich überreden, die Scharfrichterrolle zu übernehmen, wenn es geheim bleibt. Er waltet seines Amtes, doch die Henkerarbeit spricht sich herum. Die Leute in seinem Viertel sind entsetzt, der Kundenkreis wird immer kleiner. Nachdem seine Frau sich erhängt hat, schießt sich Teetjen eine Kugel in den Kopf.
(Quelle: Das zweite Leben der Filmstadt Babelsberg. DEFA-Spielfilme 1946-1992)
Short Summary (Other Languages)
Nel 1934 Amburgo si prepara ad accogliere un ospite importante: il Führer. Prima del suo arrivo bisognerebbe giustiziare 4 comunisti condannati a morte, ma manca un giustiziere. Quasi per caso si arriva a Teetjen: il suo negozio va male e il macellaio ha chiesto aiuto a Footh, suo compagno di guerra ora armatore e caposquadra delle SS. Footh è disposto a dargli un'ingente somma di denaro in cambio di "un gesto patriottico". Teetjen accetta l'incarico a patto di rimanere nell'anonimato, ma una volta adempiuto ai propri doveri, la notizia si sparge in giro. La gente del suo quartiere è indignata e la clientela sempre più scarsa. Sua moglie s'impicca e Teetjen si spara un colpo alla testa. (Italienisch)