Das Luftschiff
Director: Rainer Simon, 116 Min., Color, Feature Film
Deutsche Demokratische Republik (DDR)
DEFA-Studio für Spielfilme, 1982
Film/Video Format

35 mm

Length in m

3178

English Title

The Airship

Premiere Date

Release Date (for Cinema)

Literary Source

Fries, Fritz Rudolf: "Das Luftschiff", Roman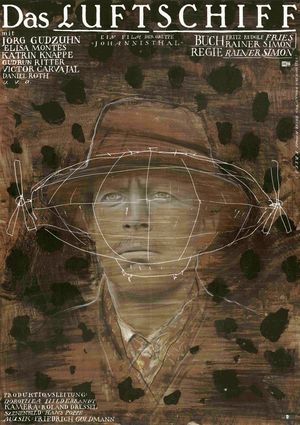 Short Summary (English)
Part genius, part dreamer, the inventor Franz Xaver Stannebein abandons his whole life to his illusions. His dream of flying is defeated by reality, and it eventually destroys him. This film is loosely based on Fritz Rudolf Fries's novel.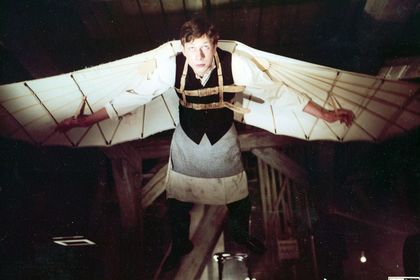 Film Crew
Script

Fritz Rudolf Fries
Rainer Simon

Cast

Jörg Gudzuhn (Stannebein)
Elisa Montés (Dona Matilde)
Victor Carvajal (Sorigueta)
Daniel Roth (Chico)
Katrin Knappe (Flora)
Gudrun Ritter (Polonia als Frau Jonas)
Johanna Schall (Johanna)
Hermann Beyer (Kießling)
György Lencz (Unger)
Jürgen Holtz (Schotte)
Arno Wyzniewski (Lewin)
Kurt Böwe (Psychologe)
Friedo Solter (Bürger)
Victor Deiß (Beamter im Patentamt)
Ute Lubosch (Teresa)
Franziska Ritter (Polonia jung)
Jana Simon (Flora als Kind)
Sylvio Horn (Stannebein als Jugendlicher)
Stefan Trampe (Paco)
Marianne Epheser (Singende Frau)
Rolf Martin-Kruckenberg (Zeisig)
Kurt Berndt (Mann mit Lebensmittelkarten)
Walter Herrmann (Clown)
Horst Lebinsky (Lehmann)
Manfred Möck (Jüngling Jonas)
Michael Jokisch (Jüngling Müller)
Karl-Heinz Weiß (Arbeiter an Barrikade)
Hans-Uwe Bauer (Student an Barrikade)
Timo Jacob (Junger Kranker)
Hernan Vega (Südamerikanischer Botschafter)
Juan Carlos Carvajal (Spanischer Attaché)
Reinhard Straube (Kaiser II.)
Rolf Colditz (Konsul Schulze)
Harald Warmbrunn (Wakonigg)
Andreas Wendland (Alfredo)
Sven Wagner (Alfredo als Kind)
Rex Wegner (Paco als Kind)
Peter Pauli (Kranker)
Magdalena Alvarez (Felipa)
Nani Carvajal (Eugenia)
Thomas Harme (Hotelboy)
Peter Wicke (Läufer auf dem Dach)
Günter Kotte (Kranker)
Günter Rüdiger (Kranker)
Detlef Bierstedt (Kranker)
Fritz Rudolf Fries (Kranker)
Manfred Hocke

Assistant Director

Karl Heinz Lotz (Assistenzregie)
Barbara Mädler

Assistant Camera

Siegfried Skoluda
Wolfgang Ebert

Music

Friedrich Goldmann
Karl-Ernst Sasse

Sound

Klaus Heidemann
Christfried Sobczyk (Tonmischung)

Make-Up

Kurt Tauchmann
Christa Seraphin

Unit Production Management

Viet-Peter Treuholz
Fritz Frost
Ursula Böhling

Animation

Lutz Dammbeck (Non-Camera Animation)
Awards
3. Nationales Spielfilmfestival der DDR Karl-Marx-Stadt (1984): Preis für Kamera - Roland Dressel
Short Summary (German)
Franz Xaver Stannebein schließt sich 1895 als 15-jähriger einem Luftfahrt-Verein in Leipzig an. Er wird zu einem besessenen Erfinder, dessen Traum ein Windmühlenluftschiff ist, an dem er arbeitet - auf dem Papier. Er wandert nach Spanien aus, gründet dort eine Familie, macht als Handelsvertreter Karriere. Seinen Träumen nachjagend, verlässt er die Familie, trifft in Berlin mit Großindustriellen zusammen, die angeblich sein Luftschiff-Projekt fördern wollen. Er baut in ihrem Auftrag in Spanien eine Landebahn, erkennt, dass er betrogen wurde und die Landebahn den deutschen Truppen im Spanischen Bürgerkrieg dienen soll. Auf seinem wechselvollen Lebensweg befreit er gefangene Republikaner und kehrt dann nach Berlin zurück. Er will sich über den Betrug mit der Landebahn beschweren und wird in eine Irrenanstalt gesperrt. 1945 sucht ihn dort seine Familie. Sie stellt fest, dass er der Euthanasie zum Opfer gefallen ist.
Filmtext: Das Luftschiff. Treatment, Drehbuch von Fritz Rudolf Fries und Rainer Simon. In: Das Filmbuch zum Luft-Schiff. Rostock: Hinstorff Verlag 1983.
(Quelle: Das zweite Leben der Filmstadt Babelsberg. DEFA-Spielfilme 1946-1992)
Short Summary (Other Languages)
A soli 15 anni, Franz Xaver Stannbein entra a far parte di un'associazione aeronautica di Lipsia. Instancabile inventore, progetta di costruire un dirigibile con le pale di un mulino a vento. Crescendo si trasferisca in Spagna, mette su famiglia e fa carriera come rappresentante commerciale, ma per realizzare il suo sogno, abbandona la famiglia per incontrare a Berlino degli industriali interessati a sovvenzionare il suo progetto. Costruisce su loro incarico una pista d'atterraggio in Spagna, ma capisce di essere stato truffato: la pista servirà alle truppe tedesche nella guerra civile spagnola. Liberati dei repubblicani, rientra a Berlino per lamentarsi della truffa, ma viene rinchiuso in un manicomio. Nel 1945 la sua famiglia, giunta in Germania per rivederlo, scoprirà che è rimasto vittima dell'eutanasia. (Italienisch)