Der Moorhund
Director: Konrad Petzold, 81 Min., Black-White, Feature Film
Deutsche Demokratische Republik (DDR)
DEFA-Studio für Spielfilme, 1960
Film/Video Format

35 mm

Length in m

2132

English Title

The Dog In The Moors

Premiere Date

Release Date (for Cinema)

Releases

DVD: ICESTORM Entertainment GmbH / www.icestorm.de
Short Summary (English)
Klaus is twelve years old and spends his holidays with his father, the captain of a border garrison. Together with his friend Fritzchen, Klaus searches the woods for the legendary marsh dog, which is the subject of many strange stories. When they realize that the dog is in fact very tame and friendly, they decide to bring him to the garrison. Suddenly, however, a whistle resounds from somewhere, and the dog runs away. As there is no human being to be seen, the boys are unable to explain the situation. Klaus' father, however, has an idea what might be behind it. When the soldiers - along with the children, who have secretly followed them - find the dog, they also track down an agent and arrest him.
(Quelle: filmportal)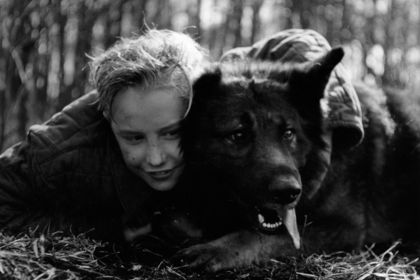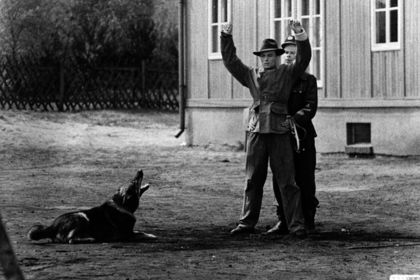 Film Crew
Cast

Wolfgang Glaser (Klaus)
Wolfgang Jochmann (Fritz)
Günther Simon (Oberleutnant Sutter)
Rolf Ripperger (Leutnant Neumann)
Horst Kube (Fischer)
Peter Sturm (Karl Schultz)
Elfriede Florin (Mutter Schultz)
Dieter Perlwitz (Paul Schulz)
Klaus Urban (Hinrichs)
Lotte Loebinger (Alte Frau)
Fred Krassnick (Hauptmann)
Maika Joseph (Köchin)
Monika Hahn (Junges Mädchen)
Erich Brauer (Major)
Horst Jagadzinski (Furier)
Konrad Petzold (Wachhabender)

Scenario

Signe Thiessen
Konrad Petzold

Props

Günther Puhlmann
Lichtenberg

Unit Production Manager

Heinz Bullerjahn
Wolfgang Bertram
Short Summary (German)
Der zwölfjährige Klaus verbringt die Ferien bei seinem Vater, dem Chef einer Grenzkompanie. Mit dem jüngeren Freund Fritzchen streift er durch die Wälder auf der Suche nach dem geheimnisvollen Moorhund, um den sich ein Aberglaube rankt. Eines Tages entdecken sie einen eingesperrten Schäferhund, gewinnen sein Zutrauen und wollen ihn zur Kompanie bringen. Bei einem mysteriösen Pfiff aber verschwindet das Tier. Klaus Vater ahnt die Zusammenhänge. Die Kompanie unternimmt eine Suchaktion, der sich die Kinder heimlich anschließen. Sie finden den Hund wieder, und gemeinsam mit den Soldaten können sie einen Agenten fassen: den Fischer.
(Quelle: Das zweite Leben der Filmstadt Babelsberg. DEFA-Spielfilme 1946-1992)
Short Summary (Other Languages)
Il piccolo Klaus trascorre le vacanze con suo padre, capitano di un battaglione di frontiera. Assieme all'amico Fritzchen vaga per i boschi alla ricerca del leggendario cane della palude. I due trovano un cane lupo chiuso in un recinto, conquistano la sua fiducia e vogliono riportarlo con loro al battaglione. Ma, sentendo uno strano richiamo, l'animale scompare. Capendo la situazione, il padre di Klaus organizza un'operazione di ricerca alla quale partecipano, in gran segreto, anche i bambini. I soldati ritroveranno il cane e con lui un agente segreto: il pescatore. (Italienisch)