Der Rat der Götter
Director: Kurt Maetzig, 109 Min., Black-White, Feature Film
Deutsche Demokratische Republik (DDR)
DEFA-Studio für Spielfilme, 1950
Film/Video Format

35 mm

Length in m

3025

English Title

The Council Of The Gods

Premiere Date

Release Date (for Cinema)

Releases

DVD: ICESTORM Entertainment GmbH / www.icestorm.de
DVD: University of Massachusetts (UMASS) - DEFA Film Library / www.umass.edu/defa
Short Summary (English)
The major German chemical corporation I.G. Farben helped supply Hitler's war effort and manufactured the gas used in the death camps. Based on Nuremberg Trial records, this startling film deals with the collaboration between big international business such as Standard Oil and Nazi Germany's scientists, whose research contributed to the deaths of millions. Featuring music by Hanns Eisler (Night and Fog) and a script by Friedrich Wolf (Professor Mamlock), the film is powerful in its depiction of moral dilemmas and in its employment of the war crimes trials for Cold War propaganda.
Quelle: DEFA Film Library - Shadows and Sojourners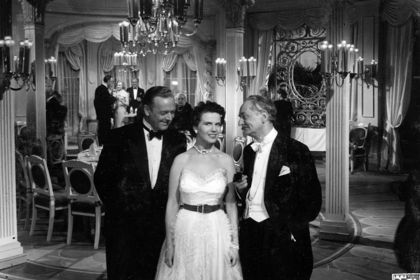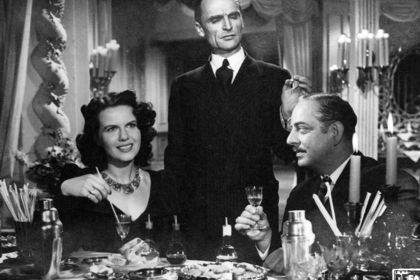 Film Crew
Script

Friedrich Wolf
Philipp Gecht

Camera

Friedl Behn-Grund
Ernst Kunstmann (Trick)

Cast

Paul Bildt (Geheimrat Mauch, Vorsitzender des "Rat der Götter")
Fritz Tillmann (Dr. Hans Scholz, Chemiker)
Willy A. Kleinau (Mr. Lawson)
Hans-Georg Rudolph (Direktor Tilgner)
Albert Garbe (Onkel Karl)
Helmuth Hinzelmann (Oberst Schirrwind)
Inge Keller (Edith Scholz)
Yvonne Merin (Claudia Mauch)
Käthe Scharf (Frau Scholz)
Herwart Grosse (Direktor von Decken)
Theodor Vogeler (Dr. Hüttenrauch, Chemiker)
Arthur Wiesner (Vater Scholz)
Karl-Heinz Deickert (Dieter Scholz)
Agnes Windeck (Frau Mauch)
Helene Riechers (Mutter Scholz)
Brigitte Krause (Kätchen, Tochter von Onkel Karl)
Eva Pflug (Mabel Lawson)
Albert Doerner (Amerikanischer Hauptanklagevertreter im Nürnberger Prozess)
Laya Raki (Rumba-Tänzerin)
Franz Weber (Hoelzli)
Gerd Kollat (Ten Boom)
Werner Pledath (Tilgners Anwalt)
Karl Hannemann (Arzt)
Gotthard Portloff (Gerichtspräsident)
Herbert Blechstein (Staatsanwalt)
Albert Venohr (Arbeiter Paul)
Olaf Torsten (Gert Scholz)
Friedrich Wilhelm Dann (Dr. Hardt)
Marion Gumpert (Sekretärin)
Hans-Joachim (auch: Hans) Schoelermann (Arzt im Sanatorim)
Albrecht (auch: Albert) Bethge (Untersuchungsrichter)
Brigitte Conrad (Laborantin)
Heino Winkler (Laborant)
Erich Gürtler (Laborant)
Alois Krüger (Journalist)
Wolfgang Heise (Journalist)
Edgar Jacoby (Dolmetscher)
Edith Voigt (Fräulein Weber)
Knut Hartwig (Werkmeister)
Jean Brahn (Arbeiter Ede)
Hugo Kalthoff (Arbeiter Franz)
Wolfried Lier (Arbeiter)
Paul Wölfling (Arbeiter)
Werner Kreiseler (Arbeiter)
Ludwig Anschütz (Polizist)
Eduard Matzig (Gestapo-Mann)
Conrad Kloss (Gestapo-Mann)
Nico Turoff (Gefängniswärter)
Walter Kröter (Arbeiter Robert)
Erich Fritze (Arbeiter Emil)
Gerhard Gläser (Arbeiter Klaus)
Liesel Eckhardt (Krankenschwester)
Elfie Dugal (geb. Dugall) (Hausmädchen)
Ilse Markgraf (Hausmädchen)
Walter Bechmann (Diener)
Barbara Adolph (Dienstmädchen)
Kurt Getke (Pförtner)
Uwe-Jens Pape (Fähnlein-Führer)
Dietmar Hauser (Junger Dieter Scholz)
Curt Lucas (Direktor)
Bruno Lopinski (Direktor)
Chares O'Montis (Direktor)
Georg Dücker (Direktor)
Axel Triebel (Direktor)
Henri Vahl (Direktor)
Elisabeth Wendt (Dame der Gesellschaft)
Hilde Sonntag (Dame der Gesellschaft)
Ruth Weimar (Dame der Gesellschaft)
Marie Köhler (Dame der Gesellschaft)
Ellinor Saul-Gerlach (Dame der Gesellschaft)
Lilo Bergen (Dame der Gesellschaft)
Henrik Goerner (Offizier)
Dieter Angermann (Offizier)
Kurt Fritsch (Offizier)
Maria Besendahl (Arbeiterfrau)
Isolde Laux (Arbeiterfrau)
Ilse Trautschold (Arbeiterfrau)
Maria Haupt (Arbeiterfrau)
Hans Fiebrandt (Soldat)
Franz Gesin (Soldat)
Hans Lorscheiter (Soldat)

Music

Hanns Eisler
Erwin Lehn (Rumba-Nummer)

Make-Up

Gerhard Petri
Ludwig Ziegler
Ilse Schulz-Heidrich

Production Management

Adolf Fischer
Karl Gillmore (Produktionsleitung-Assistenz)

Unit Production Management

Hermann von Rhode
Gerhard Lücke
Karl Gillmore
Awards
Nationalpreis I. Klasse (1950): Drehbuchautor - Friedrich Wolf
Nationalpreis I. Klasse (1950): Architekt - Willy Schiller
Nationalpreis I. Klasse (1950): Regisseur - Kurt Maetzig
Nationalpreis I. Klasse (1950): Kameramann - Friedl Behn-Grund
V. Internationales Filmfestival Karlovy Vary (1950): Sonder-Ehrendiplom
Short Summary (German)
Grundlage des Films, der den Weg des IG-Farbenkonzerns von der Wahlunterstützung Hitlers bis in die Nachkriegszeit verfolgt, sind eine aufsehenerregende, 1947 erschienene Dokumentation von Richard Sasuly und die Akten des Nürnberger Kriegsverbrecherprozesses. Im Mittelpunkt der Handlung stehen der Vorstandsvorsitzende Mauch und der Chemiker Dr. Scholz. Sie sind mitverantwortlich für die Entwicklung des Konzerns, seine Rüstungsproduktion und Giftgasherstellung, ohne die weder Krieg noch Massenvernichtung in den Konzentrationslagern möglich gewesen wären. Geheimrat Mauch geht es um Expansion und Gewinn um jeden Preis. Dr. Scholz ist ein Mitläufer, der aus Angst um Stellung und Familie die Augen vor der Wahrheit verschließt. Erst 1948 ist Scholz nicht mehr still, als eine verheerende Explosionskatastrophe in Ludwigshafen beweist, daß der Konzern sich trotz Verbotes wieder mit Sprengstoffen befaßt.
Filmtext: Friedrich Wolf: Filmerzählungen. Berlin: Aufbau-Verlag 1959 (Treatment). - Außerdem: Der Rat der Götter. Nacherzählt nach dem gleichnamigen DEFA-Film von Franz Fabian. Berlin: Deutscher Filmverlag 1950.
(Quelle: Das zweite Leben der Filmstadt Babelsberg. DEFA-Spielfilme 1946-1992)
Short Summary (Other Languages)
Il film, che ripercorre la storia della multinazionale tedesca IG Farben, prende spunto da un sensazionale documentario di Richard Sasuly, trasmesso nel 1947, e dagli atti dei processi di Norimberga. Al centro della trama l'amministratore delegato dell'azienda Mauch e il chimico Dr. Scholz. Entrambi sono responsabili per la produzione di armamenti e di gas tossici, senza i quali non ci sarebbero state la guerra e gli eccidi dei campi di concentramento. Mauch punta solo a espandere l'azienda e al profitto. Il Dr. Scholz in pena per il suo posto di lavoro e per la sua famiglia, decide di assecondarlo. Solo nel 1948 a seguito di un'esplosione devastante a Ludwigshafen, che conferma come, nonostante il divieto, l'azienda abbia ripreso a produrre esplosivi, Scholz decide di parlare. (Italienisch)